Advantages of the PREFA square downpipe

with continuous fixing rail for fasteners on the back

Elegant minimalist design
suitable for use in modern buildings

thanks to 1.6 mm thick, powder-coated extruded profiles

with continuous fixing rail for fasteners on the back

Elegant minimalist design
suitable for use in modern buildings

thanks to 1.6 mm thick, powder-coated extruded profiles
The innovative aluminium products are outstanding due to their robust design. Thus, the square downpipe with 80 mm or 100 mm side length made of 1.6 mm thick, powder-coated extruded profiles is ideal for any construction project.
In addition to the innovative design, the concealed fastening by means of the fasteners with M10 thread on the back emphasises the reduced appearance on the façade.
The perfectly coordinated range of accessories supports easy and quick installation on the building.
Continuous fixing rail for fasteners
Fastener
Cover cap
Drive screw pin hot-dip galvanized according to standard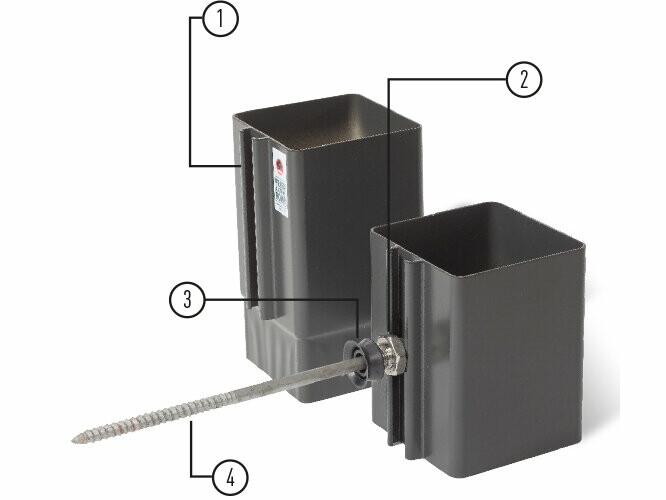 Tip from the experts: Use rainwater sensibly

:
Also save money and resources in the garden.
The valuable rainwater does not have to seep away unused or be fed directly into the sewage system. Rainwater is perfect for watering plants because it doesn't contain any lime. To enable rainwater to be used as irrigation water, the PREFA water collector is recommended for the square downpipe: it diverts the rainwater into a rain barrel. Good to know: If the rain barrel is full, the water runs off in the downpipe and overflowing of the collection container is thus prevented.
Please note: Rainwater flowing over certain roof and drainage materials (e.g. copper or zinc) should only be used to a limited extent. If you have large copper or zinc surfaces, you should check the rainwater to see if it is contaminated with heavy metals. Tar paper roofs with a bitumen coating could also be potentially harmful to plants, garden ponds, or the environment. It is best to obtain information from the manufacturer!
The square all-in-one system for your roof drainage
Regardless of whether the square downpipe is used in combination with a leader head or a parapet outlet connector for drainage of a flat roof or in combination with the curtain-type box gutters for drainage of a pitched roof, PREFA provides you with a comprehensive all-in-one system as usual.
Colour range of the PREFA square downpipe
The PREFA square downpipe is kept in stock as standard in the P.10 colours brown, anthracite and light grey.
It is available to order in the colours P.10 black, P.10 Prefa white, P.10 nut brown, P.10 dark grey and in all other RAL colours. Please allow for delivery times and a surcharge.
| | | |
| --- | --- | --- |
| Colour | Code | ~ RAL |
| | P.10 brown | 7013 |
| | P.10 anthracite | 7016 |
| | P.10 black | 9005 |
| | P.10 light grey | 7005 |
| | P.10 prefa white | 9002 |
| | P.10 nut brown | 8019 |
| | P.10 dark grey | 7043 |
| | metallic silver | 9006 |
| | plain aluminium | |
Notes
The RAL values stated are merely approximate values (~), some of which may differ vastly from the original PREFA colour and, under certain circumstances, may not reflect the subjective perception of the colour.
Above all for colour quality P.10, it is almost impossible to define values due to the surface structure.
Plain aluminium: The guarantee does not cover surface appearance alterations caused by processing and environmental influences. Follow the instructions.
Metallic colours may vary in shade.
To identify exact colours for complementary components please consult original samples.
Be inspired by reference properties already implemented with the PREFA square downpipe!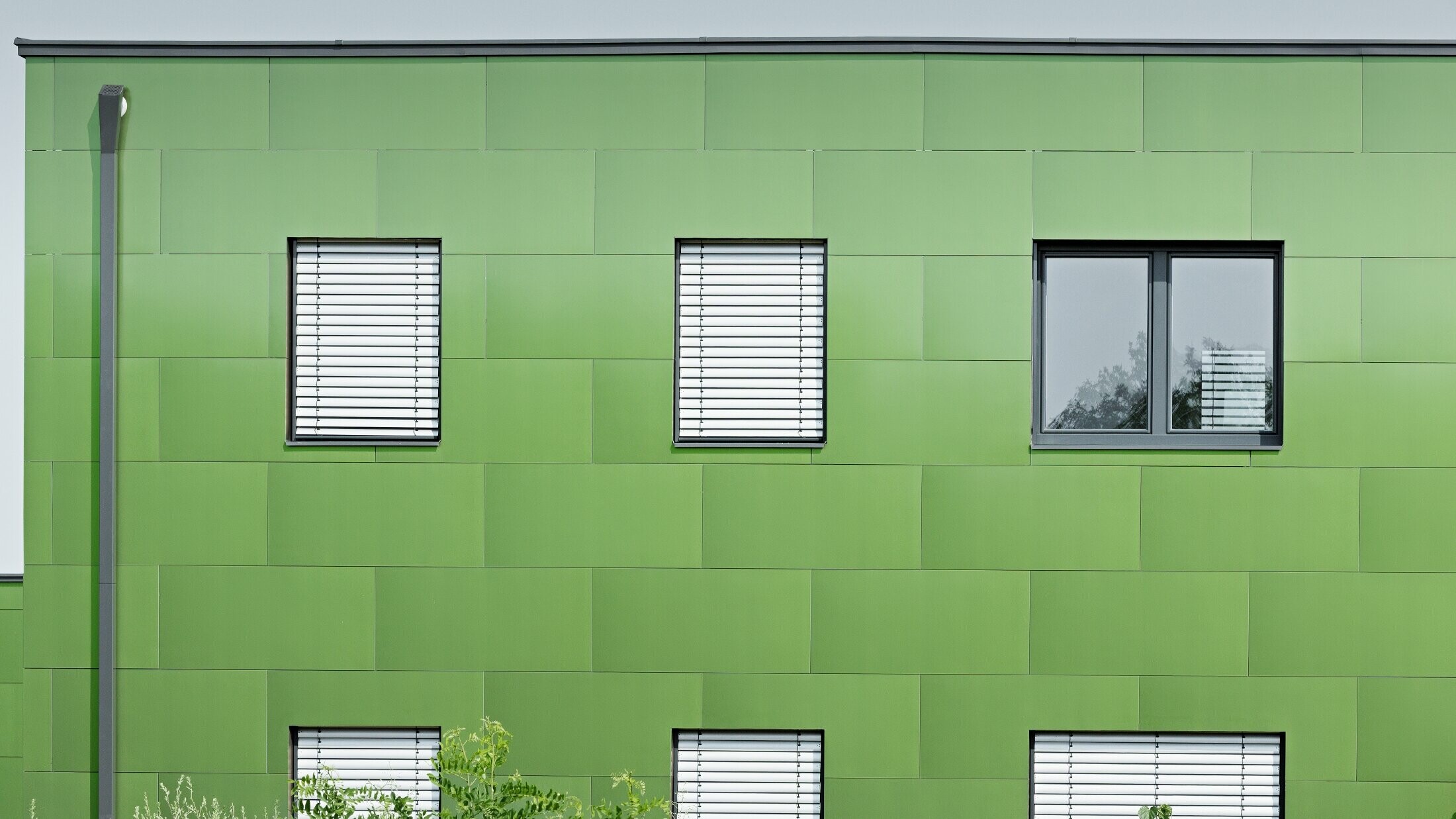 PREFA square downpipe (left) combined with aluminium composite panel in Spring lake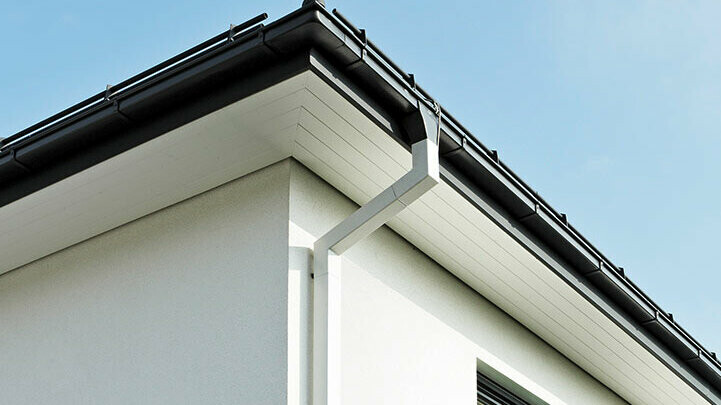 Square downpipe in Prefa white combined with the box gutter in anthracite
Square downpipe dimensions (piece lengths: 3 m and 1.5 M)

100 × 100 mm (square)
80 × 80 (square)
radii corresponding to PREFA box gutters

Square downpipe thickness

1,6 mm. With continuous fixing rail for fasteners (similar function to brackets)
Our installers and architects can download specification documents for the PREFA square downpipe here. Installation instructions and mounting instructions for roof drainage, ÖNORM guide, information sheets on roof drainage and a calculation guide for dimensioning roof drainage can be found by our installation partners in the Service Area. (For tinsmith and roofing partner firms only – please have your log-in details ready. Not received your log-in details yet? Please contact your Local Sales Manager).
The perfectly coordinated range of accessories comes from a single source and supports quick and easy installation on the building. The radii of the square downpipes are adapted to the radii of the box gutters. Various downpipe elbows with a 72° bend, parapet outlet connectors and leader heads with a square outlet result in a consistent drainage system that was well thought out from A to Z.
For a complete, detailed list of accessory products, see our price list (only for processors).