Demountable flood barrier made of aluminium
Sealing the profile with replaceable UV-resistant EPDM foam rubber seals
Provides protection as soon as the first panel has been laid
Aluminium barrier panels are pushed into the mounting profiles or upright (anchored in the ground sleeves)
Barrier panels are stacked on top of one another via the tongue and groove system
The components are fixed at the top by a compression clamp
The barrier panels fill up as the level of the water rises, preventing them from floating
Property and perimeter protection
The length of the safety barrier can be extended as necessary
Existing safety barriers can be extended following a static test
Individual adaptation of the length of barrier panels
The Advantages Of Prefa Flood Protection
Can be installed by one person
Made from robust aluminium
Lightweight & easy to store
Can be installed by one person
Made from robust aluminium
Lightweight & easy to store
Flooding is a natural phenomenon and cannot be prevented. However, modern flood protection systems can prevent flood water from causing a disaster. We would be delighted to advise you about PREFA's flood protection systems!
Barrier Panels (Property And Perimeter Protection)
The panels are available in two thicknesses (50 mm und 80 mm). Taller designs and wider span widths are possible with the 80-mm system. The aluminium profile of the panels can be easily stacked together via the tongue and groove system. This ensures that they interlock, guaranteeing high stability and maximum security. Finally, compression clamps fix the whole assembly in place.
The profiles are available up to a length of 6.5 m and can generally be built up to a height of 3 metres. The static load must be calculated. The inserted system seal is made of EPDM foam rubber and can easily be replaced if necessary. After use, it is essential to clean and inspect the profile and seals to make sure that they can be used again in the future.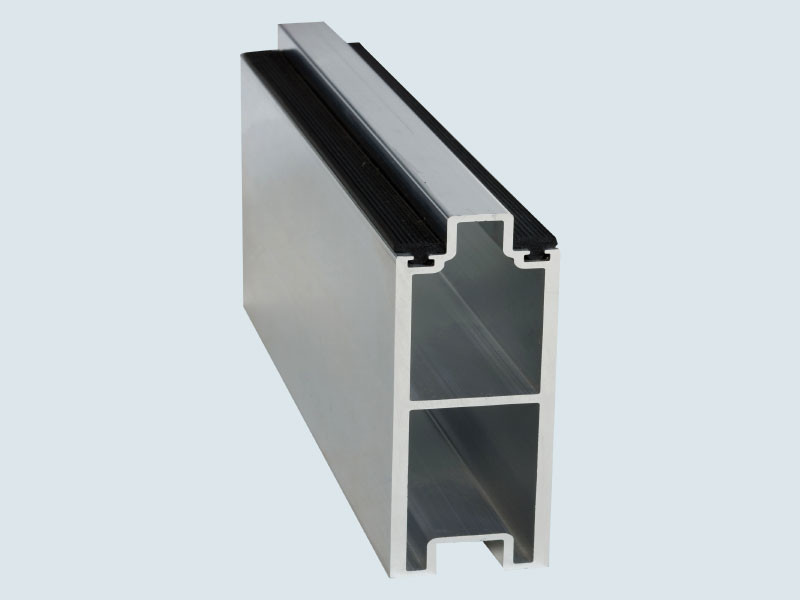 | | |
| --- | --- |
| Barrier panel thickness (50-mm system): | 50 mm |
| Barrier panel thickness (80-mm system): | 80 mm |
| Barrier panel weight/metre (50-mm system): | 5.60 kg / 4.12 kg |
| Barrier panel height (50-mm system): | 150 mm / 200 mm |
| Barrier panel joint (50-mm system): | 15 mm |
Mounting Profile (Property Protection) And Upright (Perimeter Protection)
The permanent mounting profiles can be installed in three ways: in the reveal, flush with the reveal, or in front of the reveal. Choose the mounting profile size suitable for the overall system and according to static requirements. Inserted system seals prevent water from penetrating.
Mounting uprights: The 50-mm system weighs only 9.4 kg, and the 80-mm system weighs 11.3 kg per metre. When installing the system for the first time, a ground sleeve should be mounted in advance on a suitable supporting structure. The uprights can be easily anchored to the ground sleeve with a bayonet locking device.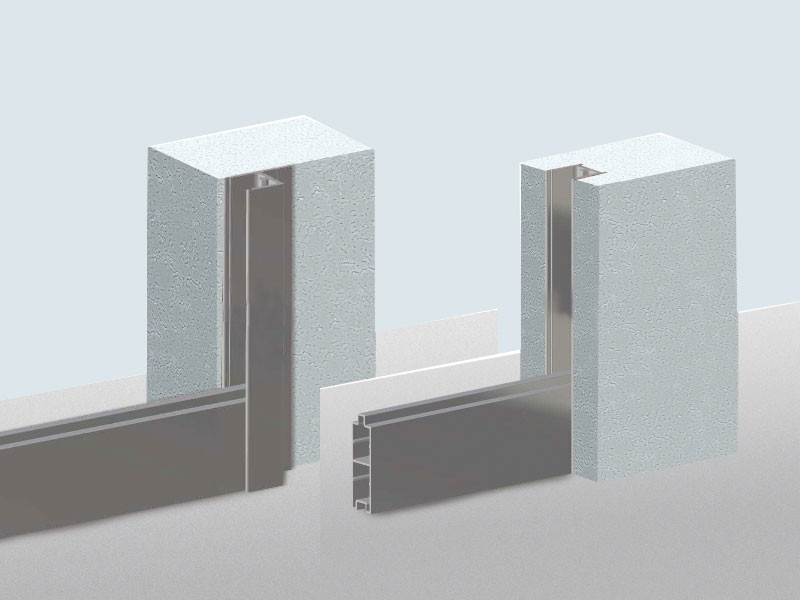 Mounting profile for property protection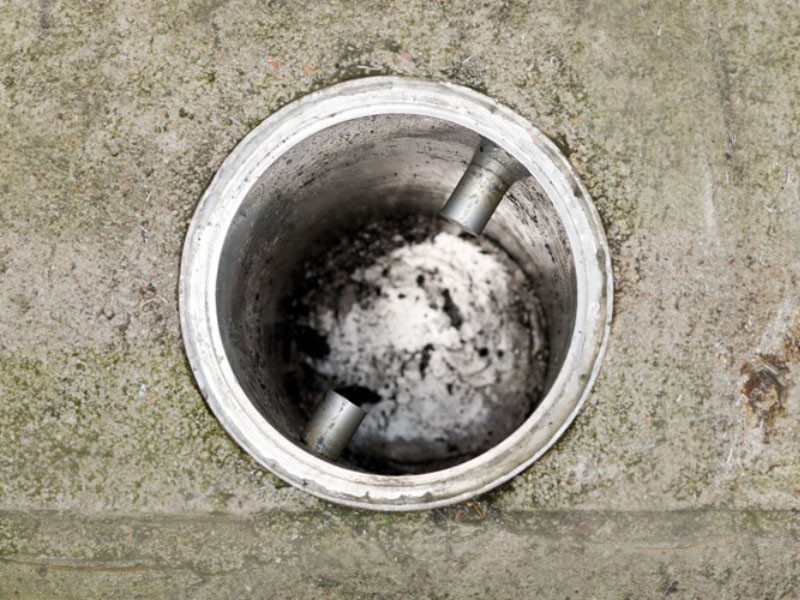 Mounting upright for perimeter protection
| | |
| --- | --- |
| Centre column diameter: | 140/186 mm |
| Centre column height: | 750–2150 mm (special lengths available on request) |
| Centre column thicknesses: | 50 mm or 80 mm |
| Ground sleeve diameter: | 170 mm / 230 mm |
| Ground sleeve depth: | 420 mm |
Compression Clamp (Property And Perimeter Protection)
The panels are fixed at the top by compression clamps. The compression clamp screws are gently tightened using an Allen key (alternatively: screws with a cross handle). The compression clamps prevent the profile from floating until the panels fill with water, increasing the contact pressure of the seals. The compression clamps can be removed during use – and more panels can be added to increase the system if necessary.
| | |
| --- | --- |
| Compression clamp length: | 160 mm |
| Compression clamp weight: | 0.45 kg |
With the special aluminium barrier panels, windows, doors and door openings through which water can penetrate can be quickly sealed off.
Permanent mounting of the mounting profiles flush with, or in front of, the reveal.
When used in the event of flooding, the barrier panels are pushed into the fastener and fixed at the top with a compression clamp.
Mounting profiles and barrier panels can be colour-coordinated with the façade.
Rapidly deployable, ideal for storing and easy to install individually with very little effort.
Safety barriers can be used as new constructions or to increase the height of existing protection systems.
When used in the event of flooding, the centre columns (supports) are anchored into the sunken ground sleeve and the barrier panels are then inserted. After use, everything can be easily removed again. Ground sleeves can be sealed with cover plates.
The safety barrier can adapted to the final level of the water at any time.
Garage door with safety barrier mounted in the reveal
Mobiler Hochwasserschutz von PREFA als Schutz der Garage vor Überflutungen. Die Aluminium Dammbalken werden individuell an das jeweilige Objekt angepasst.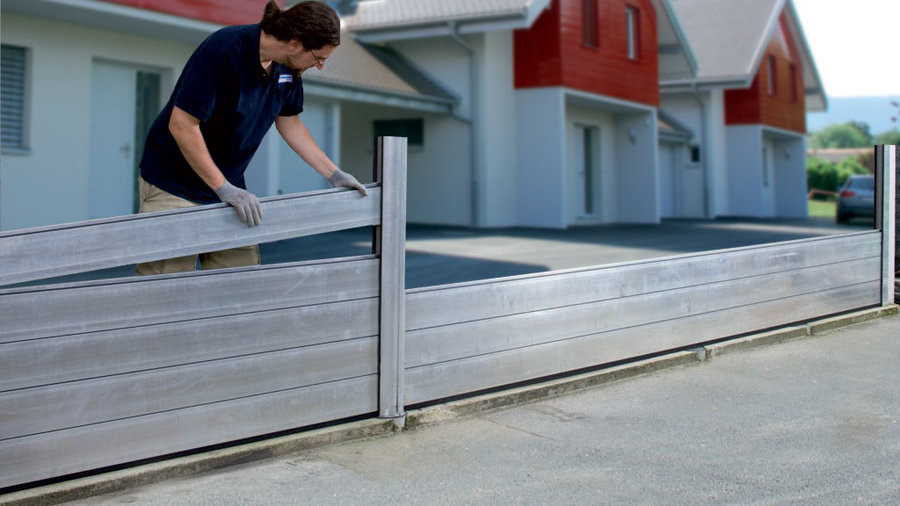 Perimeter protection: Quick and easy mounting by one person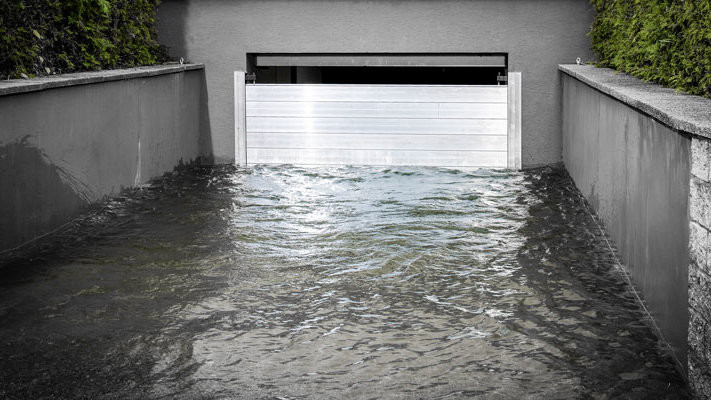 Property protection by PREFA's flood protection system
100 % einsatzbereit: Quick & easy!
Completely demountable: Any time, anywhere!
The PREFA flood protection system comprises:
(1) Ground seal in the lowest barrier panel
(2) Barrier panels
(3) Mounting profile (U- or h-profile; property protection)
(4) Centre column with ground sleeve (perimeter protection)
(5) Compression clamp for fastening the individual panels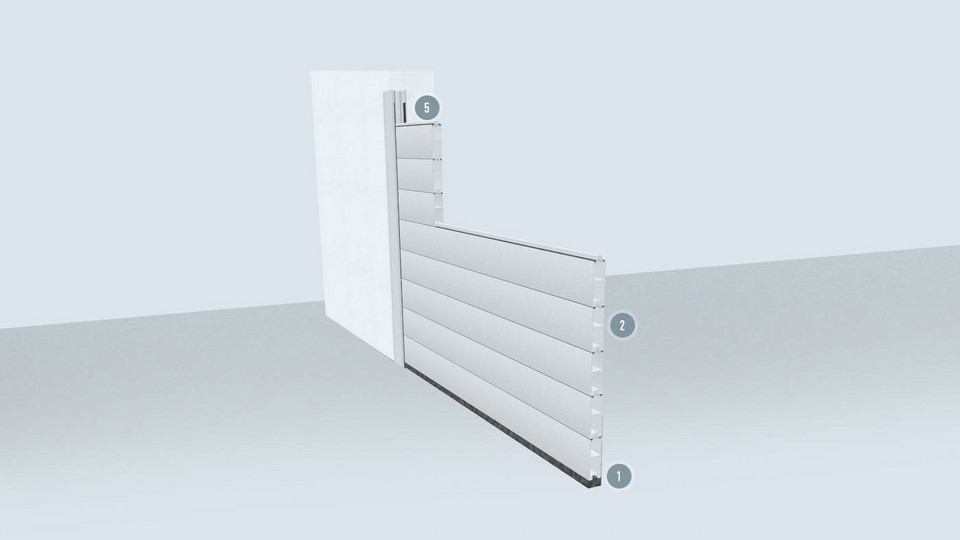 (1) Ground seal in lowest barrier panel
(2) Barrier panels
(5) Compression clamp for fastening the individual panels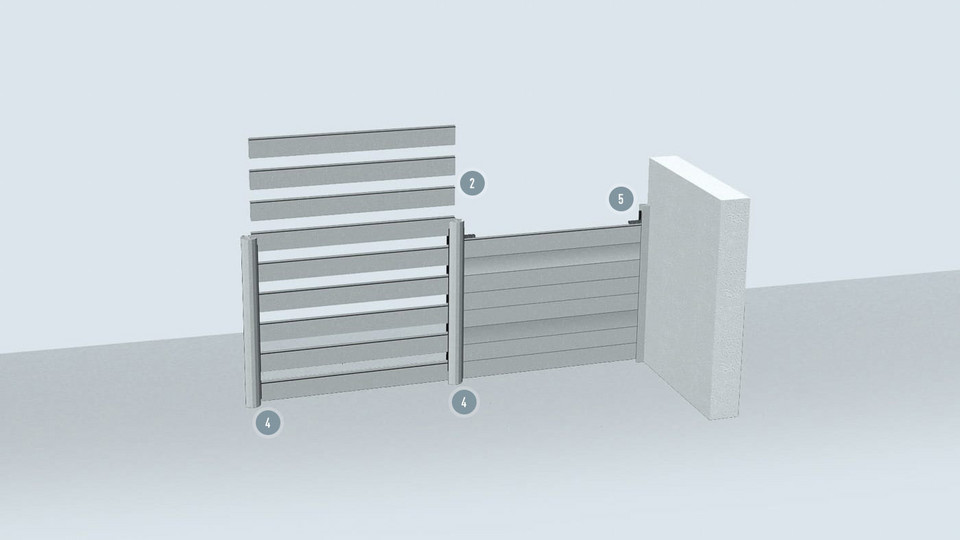 (2) Barrier panels
(4) Centre column with ground sleeves (perimeter protection)
(5) Compression clamp for fastening the individual panels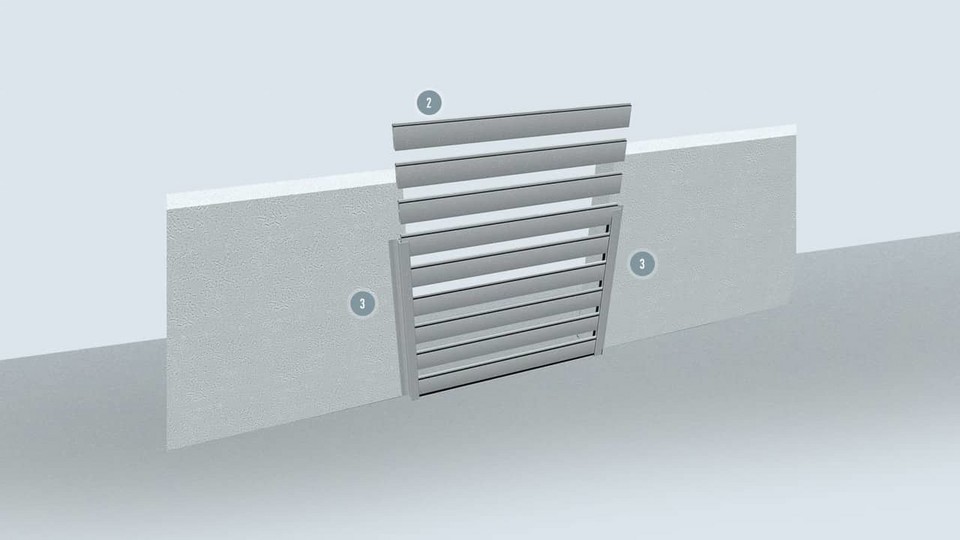 (2) Barrier panels
(3) Mounting profile (U- or h-profile; property protection)
Planning and installation
PREFA planning guide for flood protection solutions