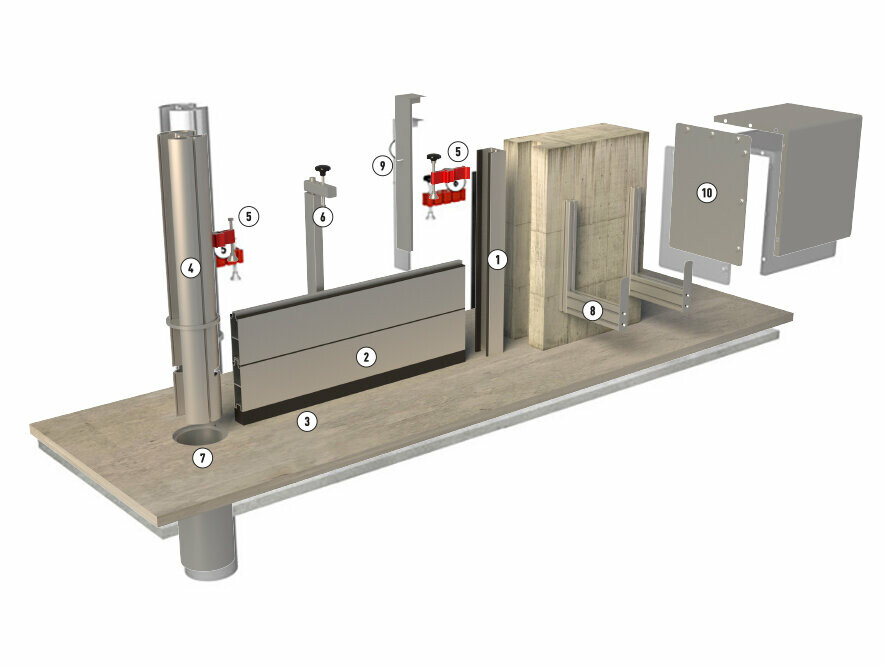 GROUND SEAL
In flood protection, the ground seal provides the seal between the lowest barrier panel and the subsoil (ground). If the flood protection is to remain in place permanently, a special permanent ground seal must be used.


GROUND SLEEVE for CENTRE COLUMN
The fastening device for the flood protection must be set in concrete. The ground sleeve is the base set in concrete and the insertion point for inserting the centre column.


BARRIER PANELS
Barrier panels are the profiles in the flood protection system which are inserted into the wall profiles or centre columns. The barrier panels are stacked by means of a tongue and groove system, whereby the profiles are sealed with special, replaceable rubber seals (barrier panel seals) and fixed at the top by means of a compression clamp.


BRACKET FOR BARRIER PANELS
Storage element: When not in use, a maximum of six barrier panels (depending on the flood protection system) can be stored in the handy bracket for barrier panels.


COVER
Storage element: Protects the barrier panels stored in the holder from the effects of the weather such as UV radiation. The individual segments are screwed together to form a stable cover.


CENTRE COLUMN with GROUND SLEEVE
For flood protection in larger areas, centre columns are used. These are special uprights that serve as intermediate supports. The uprights are inserted into the ground sleeves concreted into the ground by means of a bayonet lock.


RETAINER
As an additional measure for very wide solutions, the retainer presses the barrier panels and ground seal (centrally mounted) downwards.


COMPRESSION CLAMP
In flood protection, the compression clamp is used to tension the barrier panels. It fixes the barrier panels in place and presses the ground seal against the subsoil.


WALL PROFILE
A flood protection element that is permanently installed in the masonry or in front of, in or flush with the jamb.


EDGE PROTECTOR/WALL PROFILE COVER
Covers the wall profile when not in use to keep the slot for the barrier panels clean and ready for use and to protect the seals from UV radiation.