Discover PREFA façade systems

:
High-quality façade systems, manufactured in Germany & Austria
A building façade does more than just protect against the elements like snow, rain, wind and sun. When done properly, its heat insulation properties can also help to cut down on energy use. In addition, the cladding used on a façade is key to the character of any building. Choosing PREFA aluminium façade products means getting a high-quality, great-looking and cleverly designed all-in-one system for generations to come – produced in Germany and Austria.
Function and structure of a PREFA façade
Some of the most spectacular constructions of our age have aluminium shells. Which is hardly surprising since aluminium is such a versatile material that is virtually unmatched. Aluminium is a very lightweight and yet solid and durable building material. Corrosion-resistant, recyclable and super easy to work with – behind every PREFA aluminium façade lies a host of outstanding properties. Read more about the advantages of aluminium as a building material.
In addition, all PREFA aluminium façade systems are produced as rainscreens. A system that has stood the test of time for over a century, the rainscreen originated in the harsh environments found in mountain regions, and also has a positive impact on the indoor climate thanks to its special structure. Air is allowed to circulate between the masonry and the PREFA façade, wicking away any occasional moisture behind the metal façade (instead of letting it creep into living spaces as condensation, for example).
In addition to being so robust, PREFA façade systems are also gorgeous to look at and allow almost limitless design combinations. The diverse range of colour and shapes speaks for itself. Whether you're executing brand new visions or sprucing up older façades but want to keep the existing look, there are no limits to how creative you can get.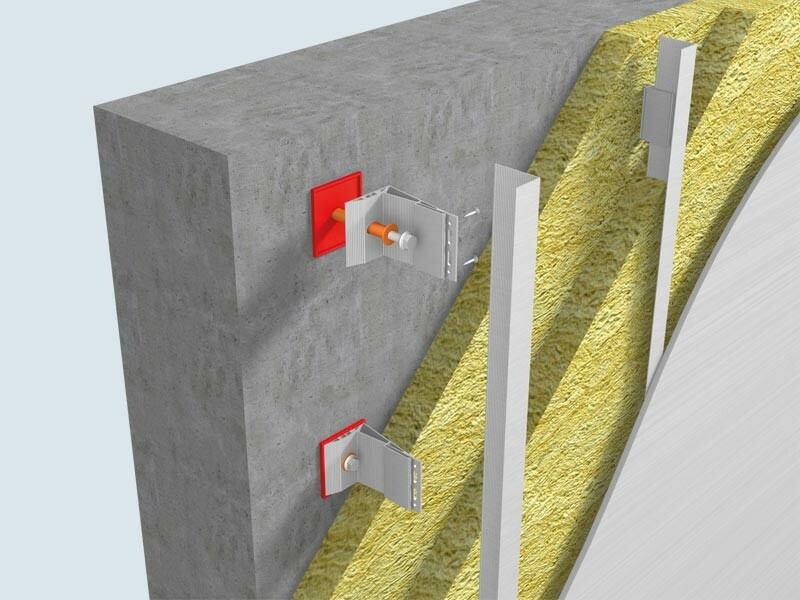 PREFA façade products are all-in-one systems
That means: all façade elements and all installation components are coordinated and manufactured to the PREFA standard of quality you've come to expect. To ensure proper installation with a 40-year guarantee, PREFA façades may only be installed by trained professionals. Giving developers and renovators ultimate peace of mind. You can get prices for your new façade from installation partners near you:
The advantages of a PREFA aluminium façade
Versatile façade design – from eye-catching to reserved, your creativity will know no bounds.
Wide range of colours – choose from countless standard colours.
All-in-one system – perfectly coordinated accessories, all from a single supplier
Easy to work with – aluminium is easy to shape, making rounded designs easy to execute.
Back-ventilated façade – to improve the indoor climate in your home.
Durability – aluminium won't crack or rust and is weather-resistant.
Aluminium – Durability, Sustainability
All our PREFA products are made predominantly from secondary, or recycled, aluminium. PREFA systems boast an extremely long lifetime and won't weather, crack or rust. However, should you ever wish to freshen up your PREFA façade or roof, our products can be sorted according to type, making them easy to recycle – again and again (and again) without ever losing their quality. The light weight of aluminium products also makes for resource-efficient transport and has a positive impact on construction time.
Below you will find an overview of all our high-quality PREFA façade products with examples of real-life projects:
PREFA rhomboid façade tiles

:
Modern classics reinterpreted
PREFA rhomboid façade tiles can spruce up traditional façade designs with a discreet scale effect. Available in three sizes – 20 × 20 cm, 29 × 29 cm und 44 × 44 cm – and with stucco or smooth surface layers. Requiring almost zero maintenance and with an innovative PREFA P.10 surface coating, the aluminium gives cladding an elegant, matte structure.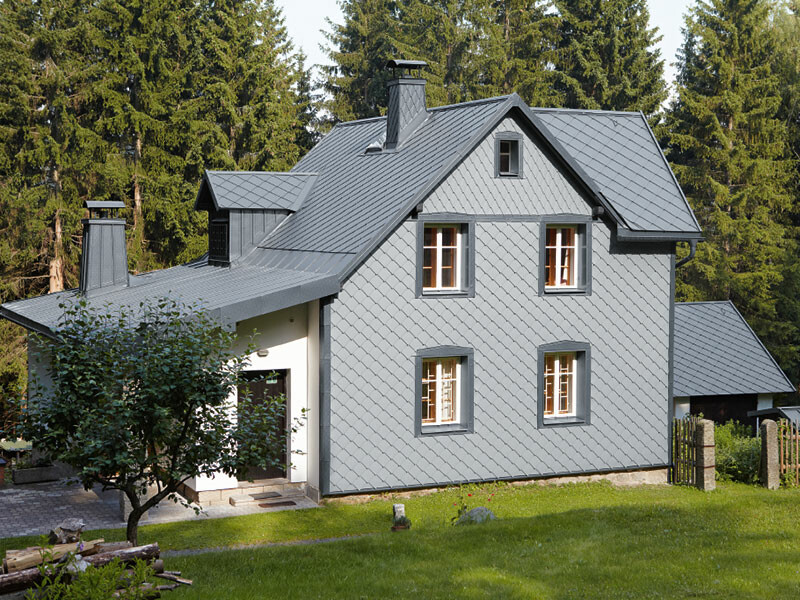 PREFA façade schingles

:
A much-loved classic
façade schingles are among the most popular classics when it comes to façade design, combining the time-honoured rhomboid shape with the high-tech material of aluminium. With its fold-in-fold system and concealed fastening, the shingle is incredibly stormproof and weather-resistant. Choose from two different sizes, with the PREFA small-format façade schingle and XL façade schingle.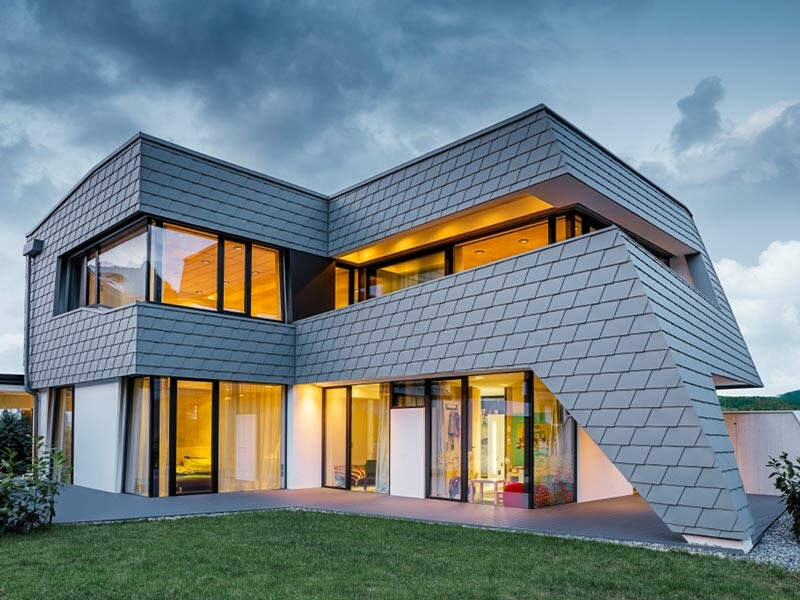 PREFA FX.12 façade panel

:
Make your cinema a reality
Experience the building shell of the future today. The FX.12 facade panel has a unique surface design thanks to its parallel and transverse cants. Depending on the time of day, the angle of the sun and the lighting, this building façade gleams in ever-changing colours, creating a fascinating look. This breathtaking effect and the irregular appearance of the façade will make every building truly unique.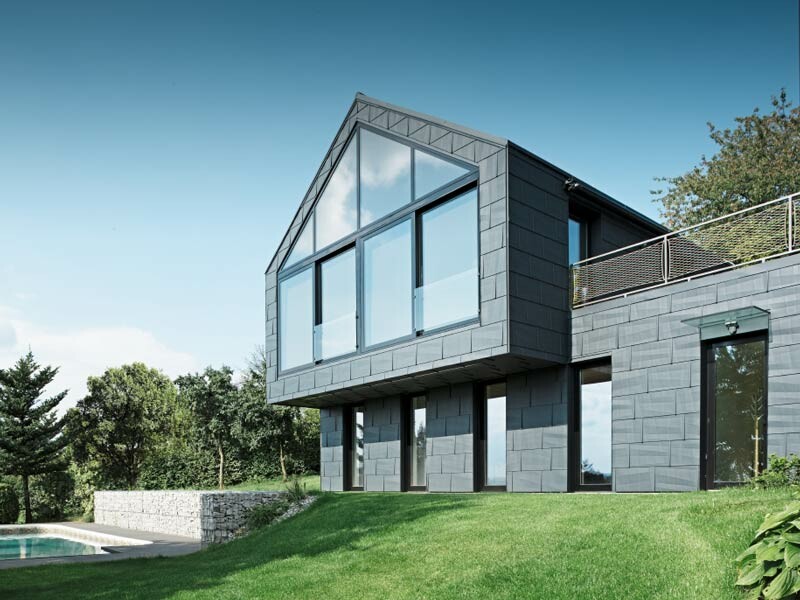 PREFA Siding and Siding.X

:
Façade design for lateral thinkers
Diagonal, horizontal or vertical, smooth, stucco or linear – even with PREFA Sidings, it's modern architecture that takes the wheel. Looking for a new wood-effect façade? Want protection for the weather side or easy-care gable cladding? No matter what direction you go in, with PREFA Sidings you've made the right choice.
Want to spice up your façade cladding even more? The PREFA Siding.X façade panel will give your façade the distinctive look it deserves! In the Siding.X from PREFA, the many advantages of tried-and-tested sidings have been complemented with striking parallel and transverse cants, all whilst retaining their unique appearance.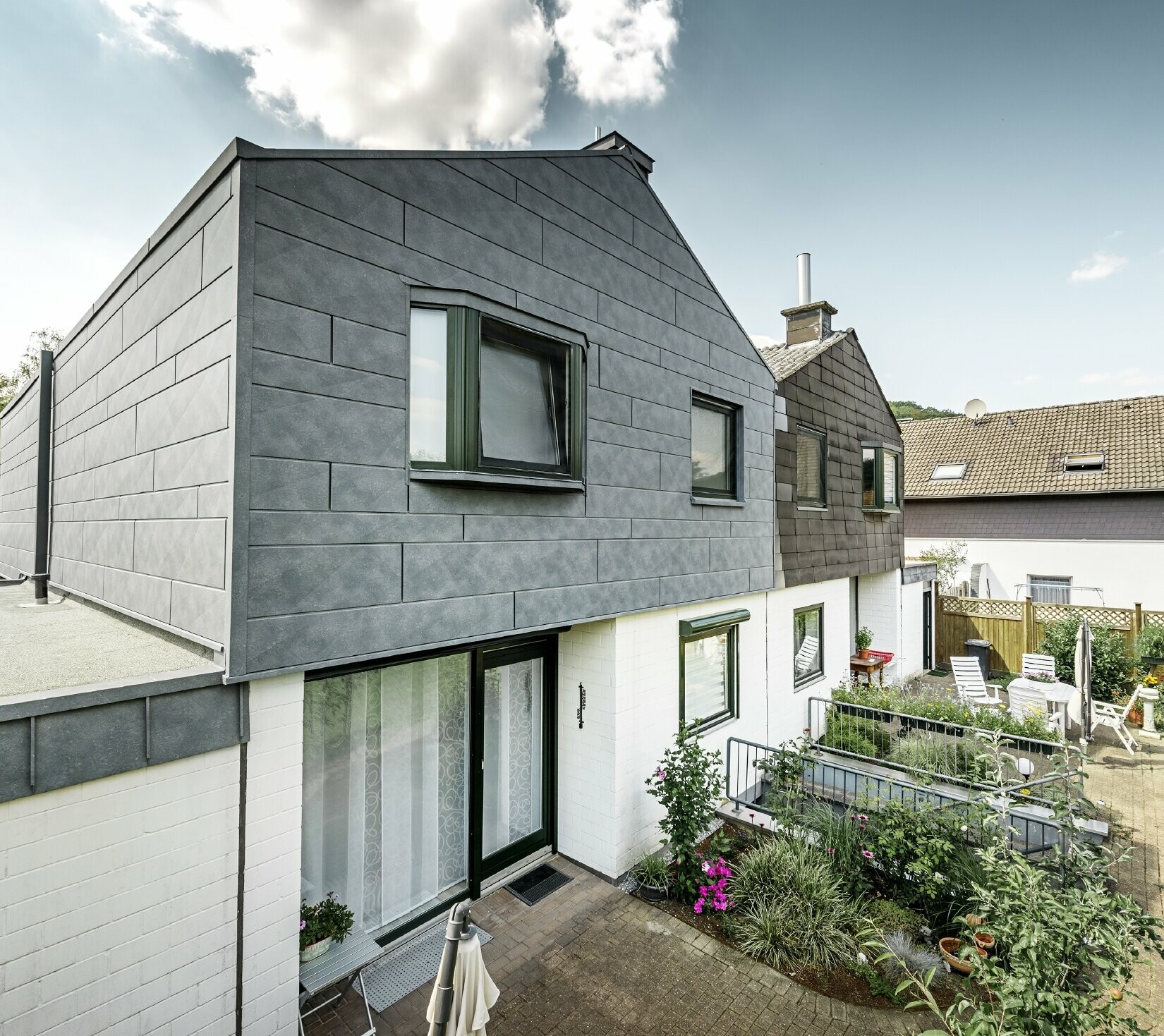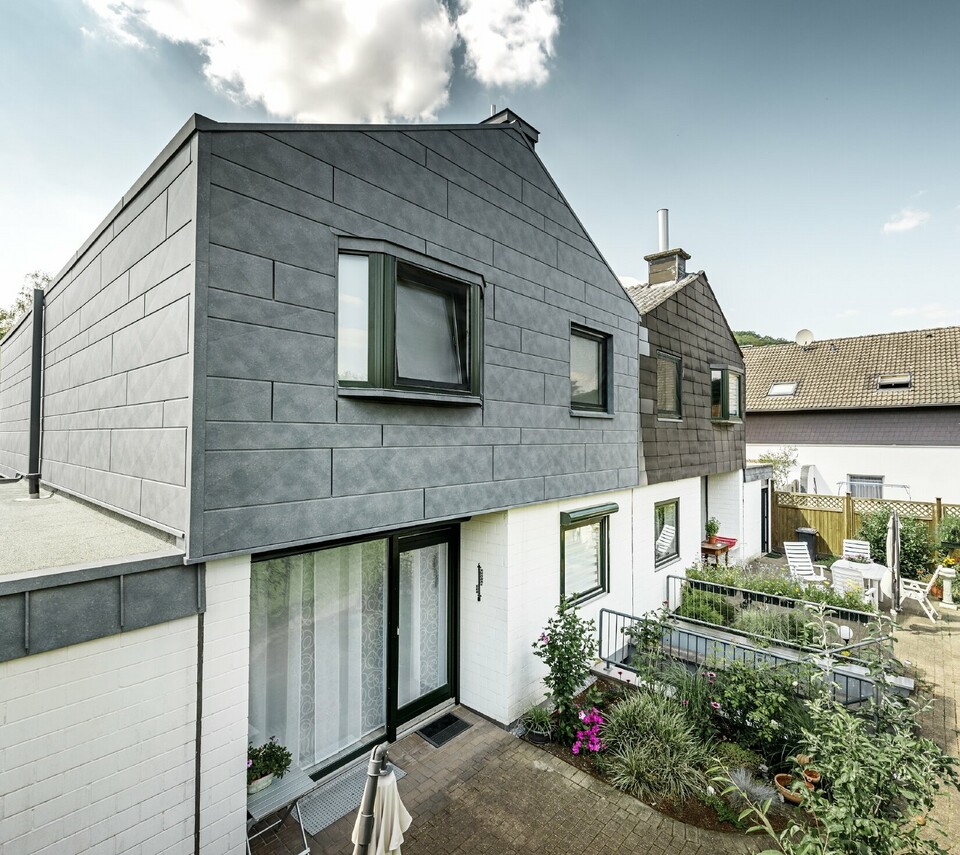 Examples of properties with PREFA Siding and Siding.X façade panels

:
Inspiration
Detached house with PREFA Sidings in P.10 Brown, Bronze and Ivory
With PREFA Sidings, building façades can be cleverly spruced up, maintained and modernised for decades to come.
Detached house with combination aluminium and timber façade
For this detached house, the PREFA Siding.X Façade in P.10 Anthracite was combined with a larch-wood façade.
New-build with PREFA façade elements
PREFA Siding.X in P.10 Anthracite was used on the garage and as a highlight between windows. The roof is covered with the PREFA roof tile, also in P.10 Anthracite. The larch-wood façade and white plaster façade are the perfect match for the aluminium elements.
Façade with PREFA Sidings in Beige-Grey Oak
This modern residential complex has been partially clad with high-quality PREFA Sidings in a Beige-Grey Oak tone.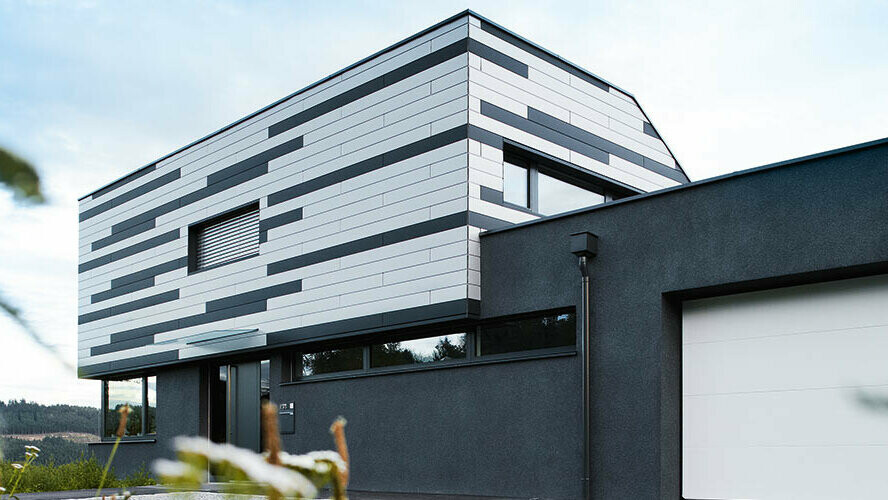 Creativity knows almost no bounds thanks to the wide range of colours
For this modern detached house, PREFA Sidings were laid in a mixture of Silver and Anthracite matte.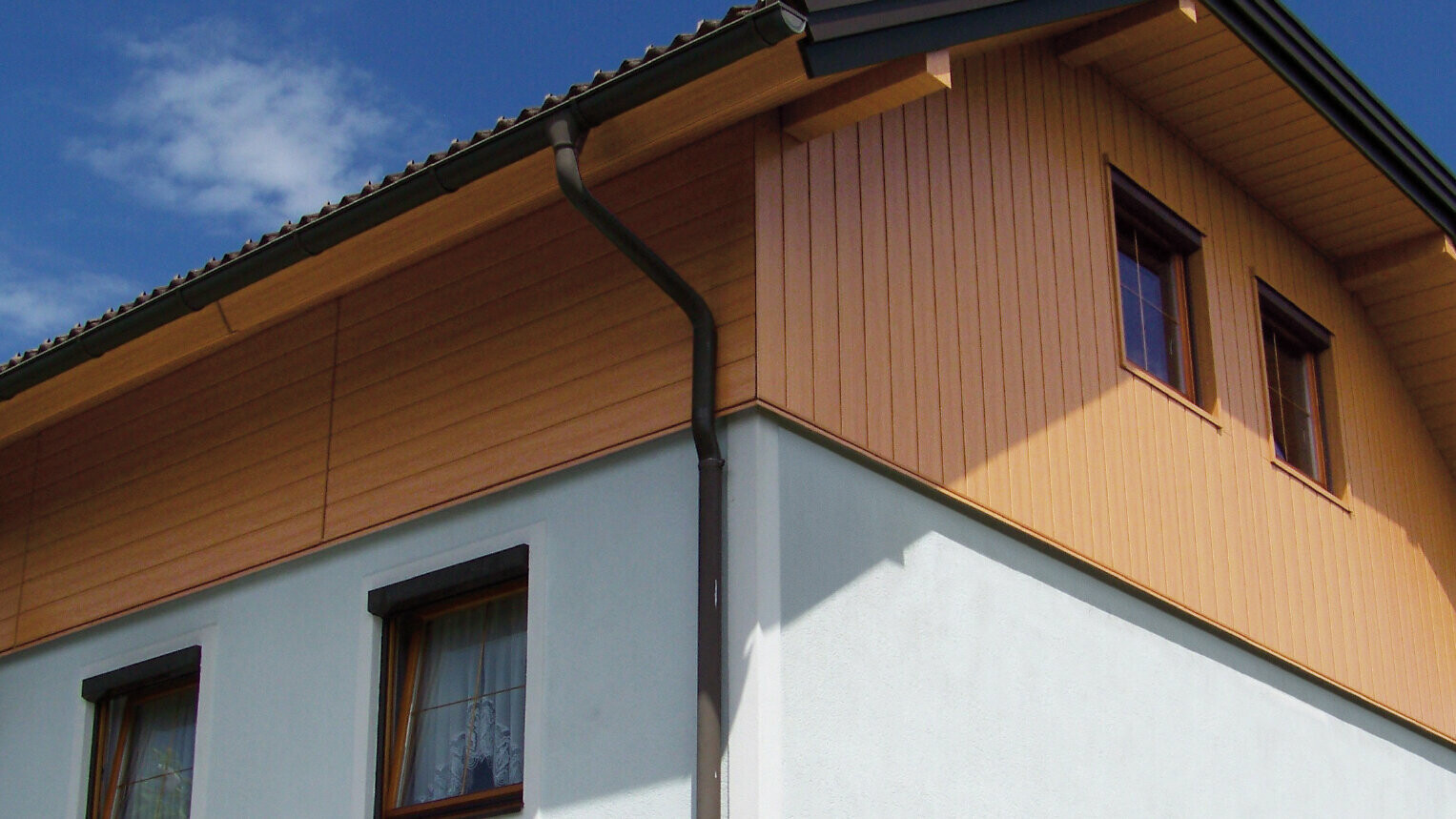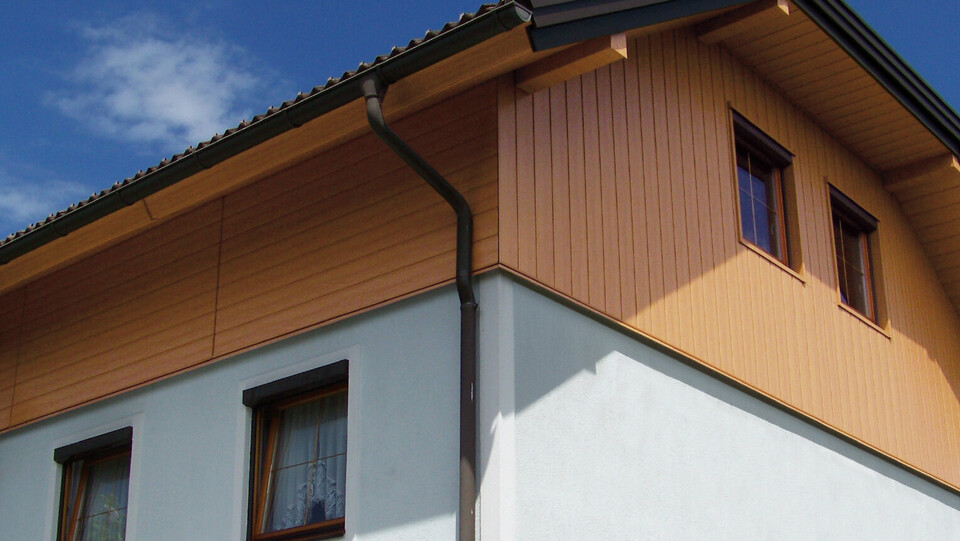 Detached house with gable cladding in Natural Oak
Traditional detached house with façade cladding made from PREFA Sidings in Natural Oak; soffit also clad using aluminium in Natural Oak
PREFA Siding.X in P.10 Stone Grey
PREFA aluminium products can be used on new-builds and renovation projects alike. The façade on this home was renovated using the durable Siding.X façade panels in Stone Grey, giving the property a modern appearance.
PREFA Siding.X in Dark Grey and Bronze
The parallel and transverse cants give the aluminium façade a truly modern look that is constantly changing depending on how the light falls.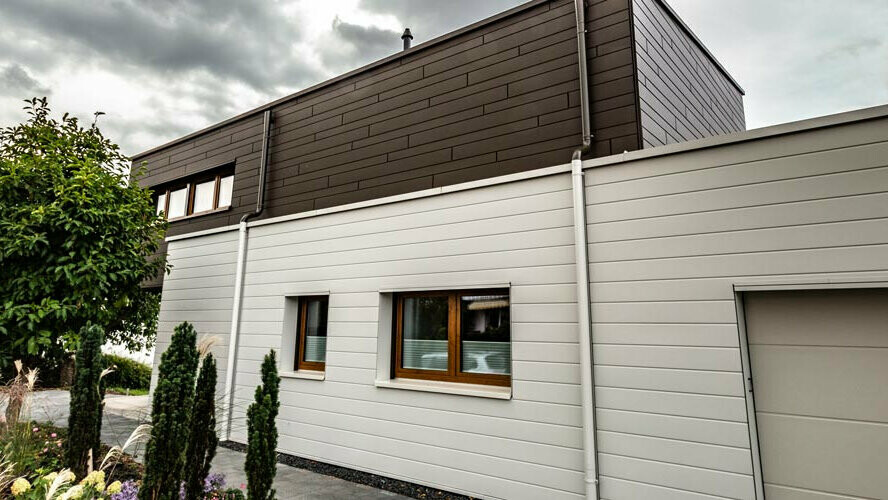 PREFA Sidings and drainpipes in Brown and Prefa White
The PREFA all-in-one system is perfect for coordinating your roof, façade and drainage. For this residential building, PREFA Sidings in Brown and Prefa White were combined and matched to the gutters.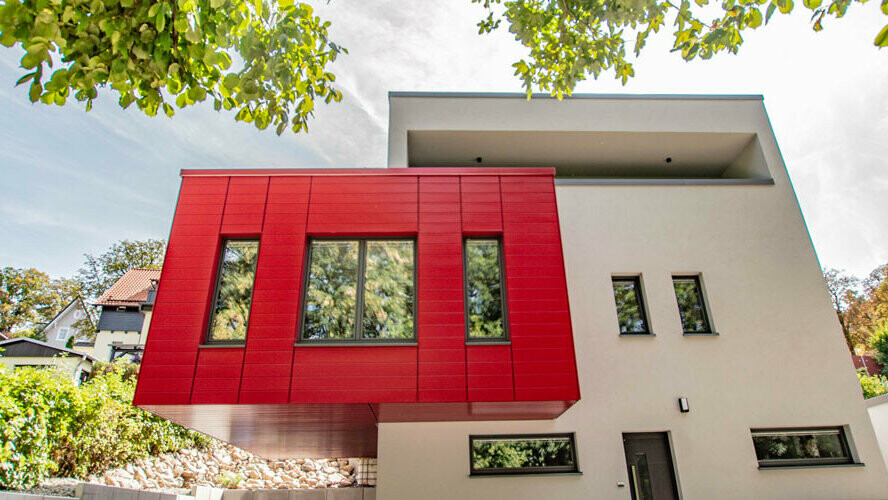 PREFA Sidings in Ruby Red
PREFA Sidings can be used to create heavily contrasting accents. For this modern detached house, Ruby Red Sidings were combined with a beige building façade. Sidings from PREFA are available with smooth or lined surfaces.
PREFALZ from PREFA

:
A Sea(m) of Possibilities
The variety of shapes and colours from PREFALZ is impressive but also easy to explain. Made from aluminium, PREFALZ is more elastic than most comparable seam materials. Which also makes it easy to shape the way you want it. Whether you're going for curves or perfect straight lines – shaping a curved façade won't affect the paint quality at all. This means countless individual design combinations for this versatile and super lightweight façade product, a versatility almost unmatched by any other product.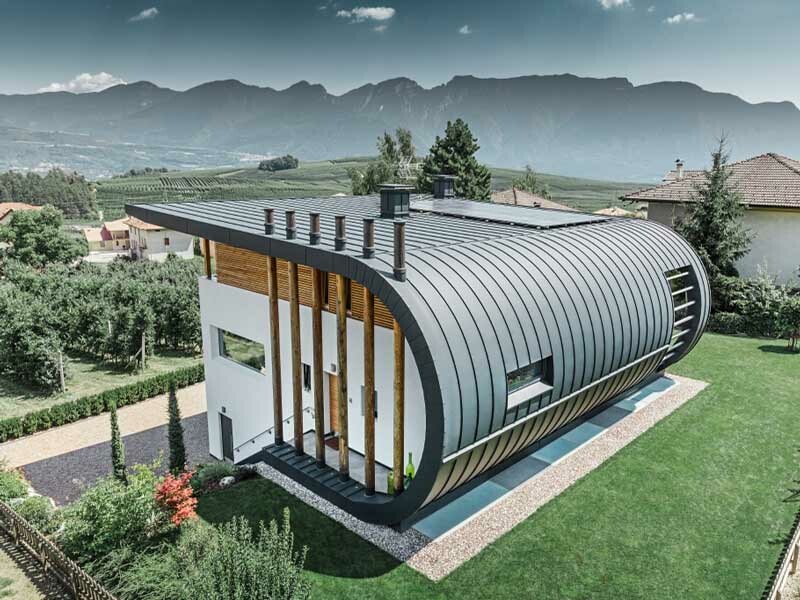 PREFA aluminium composite panel

:
The façade is what gives your house its look
Thanks to the structure of the material, the aluminium composite panel is a particularly stable façade panel for small or big façades alike on detached houses, loft extensions or office buildings. A variety of different colours, sizes and gloss levels* combined with the ability to choose your fasteners individually – screws, rivets or adhesives – allow you to create an elegant and uniform appearance. Got big plans, visions and dreams? Make them a reality with modern aluminium composite panels.

*from 500 m²
Examples of properties with aluminium composite panels

:
Inspiration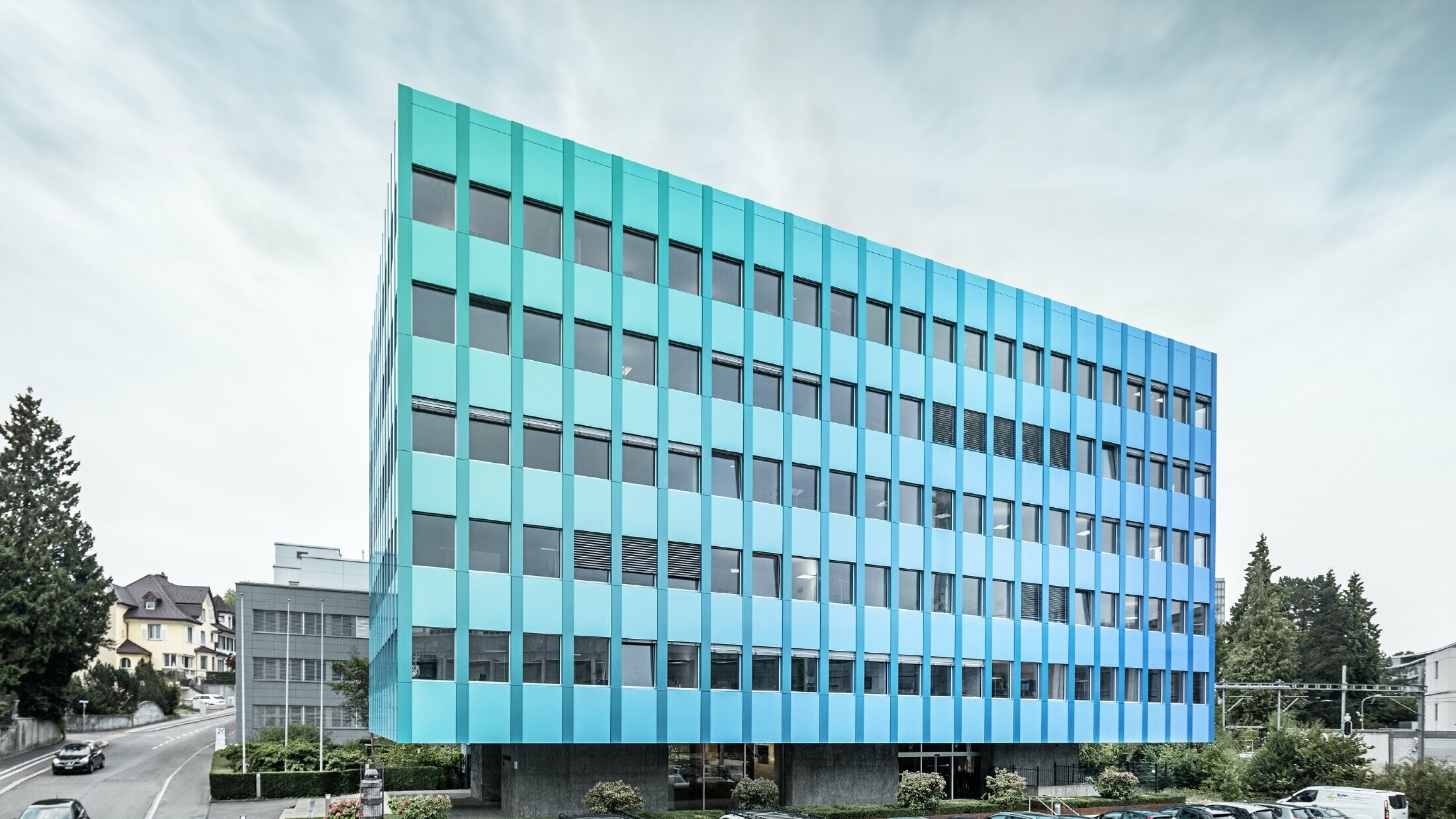 Parish centre with PREFABOND in bronze