The perfect roof for your detached home:

:
All the information you need on roof shapes, structure, costs and implementation
Are you currently planning a modern or traditional home? If you have clear ideas about what you want and high quality standards, and aren't willing to accept any compromise when it comes to shape, colour and design, then we've got the solution for you. Together, we can finish off all your hard work with its crowning glory – an individual and durable house roof to suit your personal style.
Looking for inspiration? Here's your guide to a perfectly designed roof that's bursting with colour and detail.

:
Trends
Be brave enough to stand out from the crowd of identikit houses with unremarkable roofs and façades. Regardless of whether an architect is planning your home or you are personally involved in the visual design: even with simple floor plans, clear lines and shapes, your house will attract plenty of attention with the right roofing and roof drainage. Top quality materials and professional installation are the most important factors here.
Ultra-modern or more traditional - which is the style for you?
It's no exaggeration to say that aluminium plays a key role when it comes to building houses. Even at the installation stage, it's an important factor. First of all, top-quality aluminium sheet scores highly when it comes to the pliability and formability of the material, making it the perfect re-roofing solution not just for challenging shapes on futuristic buildings, but also for uneven roof trusses of old or historic buildings. Aluminium as a material can be used to create rainproof connections quickly and easily, without having to screw, glue or weld. The well-designed, smart products by PREFA come in a range of colours, shapes and sizes to create the perfect look. Now all you have to do is decide on your ideal product ...
Of course, the surroundings, adjacent houses and other conditions that influence the architectural design cannot be ignored. After all, modern architecture should fit in well with its surroundings and take regional features into consideration. The shape and colour of the roof often play a major role in the overall impact of the design. And the solution doesn't always have to be super-modern: traditional, tried-and-tested methods can be combined with – and perfectly complemented by – contemporary materials and techniques.
Anthracite, moss green, nut brown or oxide red – so many colours to choose from, but which do you like best?
PREFA's extensive range of shades includes numerous colours in P.10 quality as well as many other standard colours. The wide range of shades offers architects, builders, restorers, planners and master builders countless possibilities. This ensures that every property is unique. Let your creativity run free!
The large choice of colours can be matched very well with existing components on your house (window frames, shutters, shades, fences, etc.) Do you live in a region where there are many buildings with tiled roofs, meaning you are looking for a high-quality metal sheet roof with a tile-like appearance? If so, a storm-proof, durable and lightweight aluminium roof covered with PREFA roof tiles in P.10 brick red, is ideal for your new roof or roof renovation. What's more, the wide variety of colours allows you to create beautiful highlights.
Colour-fast P.10 surface: PREFA expert tip
With P.10, PREFA has developed a colour-fast surface that also meets the most exacting quality standards. The material can withstand external influences and stresses, and, in addition to being colour-fast, it is highly resistant to UV radiation and weathering.
Click through a whole variety of properties and be inspired!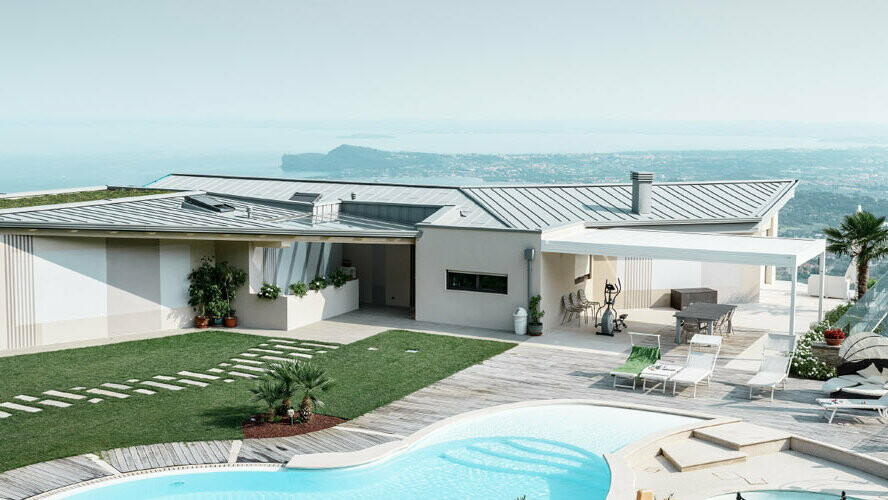 Beautiful villa in italy with modern prefalz roof covering in patina grey
Modern villa in Italy with a flat roof. Prefalz sheets in the colour patina grey were used to cover the shallow sloping roof.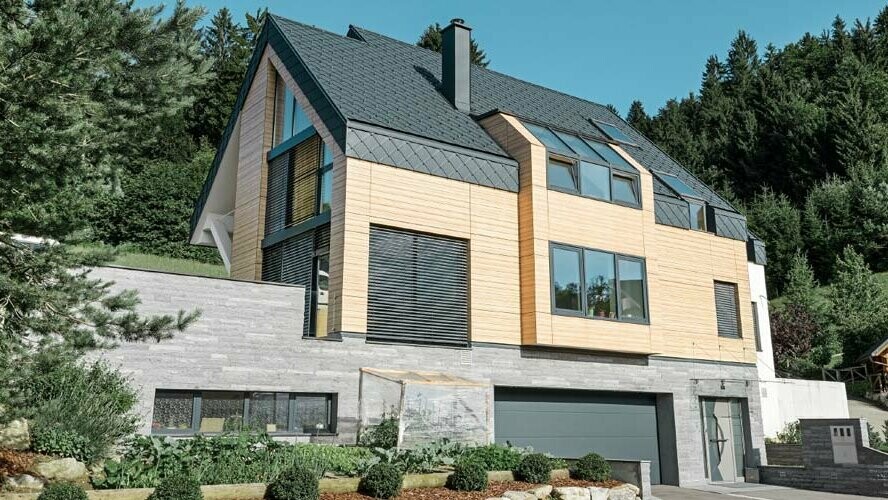 Slovenian home with 29 × 29 rhomboid roof tiles in anthracite
PREFA roof and façade products can be used to clad unique properties. The flexible, high-quality material can be perfectly adapted to all manner of building conditions.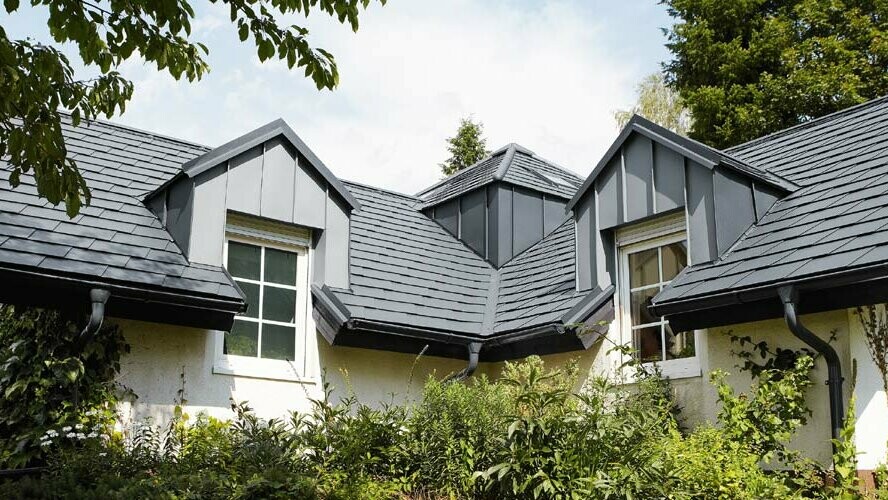 Modern roof covering with prefa shingles in P.10 Anthracite
The top-quality PREFA shingles in the colour P.10 anthracite adorn this home in the Czech Republic.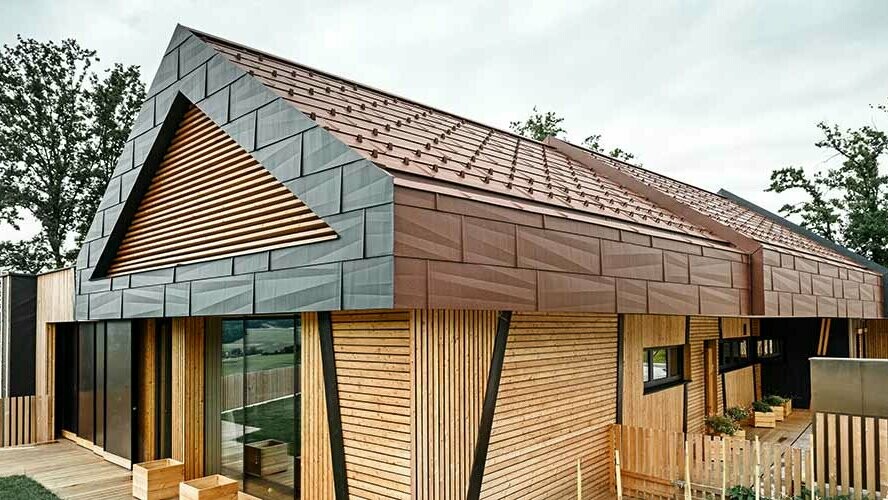 Detached house with PREFA FX.12 Roof and façade panels
FX.12 is a unique, innovative panelling product boasting a futuristic surface design.
Classic detached home in italy with R.16 Roof tiles in P.10 Nut brown
Traditional home in Italy with a rustic timber façade. Nut brown PREFA R.16 roof tiles were used for the roof covering.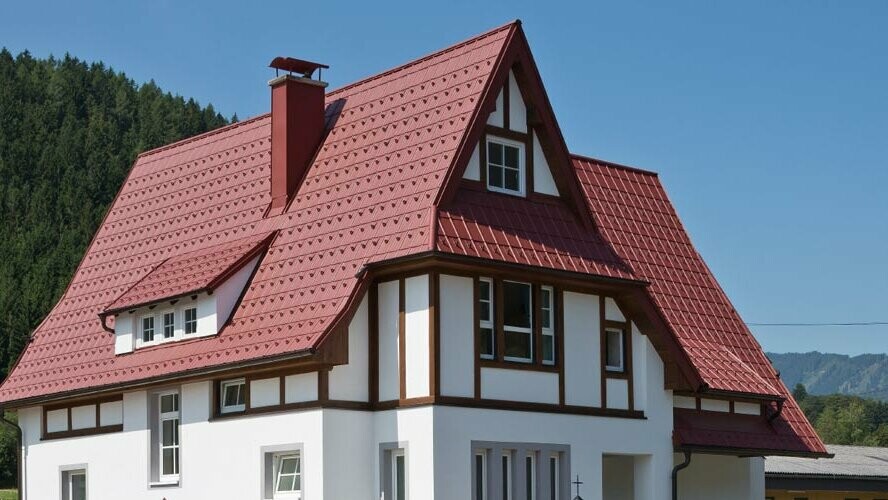 Two-family home with tiles in P.10 Oxide red
Two-family house in Rottenmann with top-quality, lightweight PREFA aluminium roof tiles in P.10 oxide red.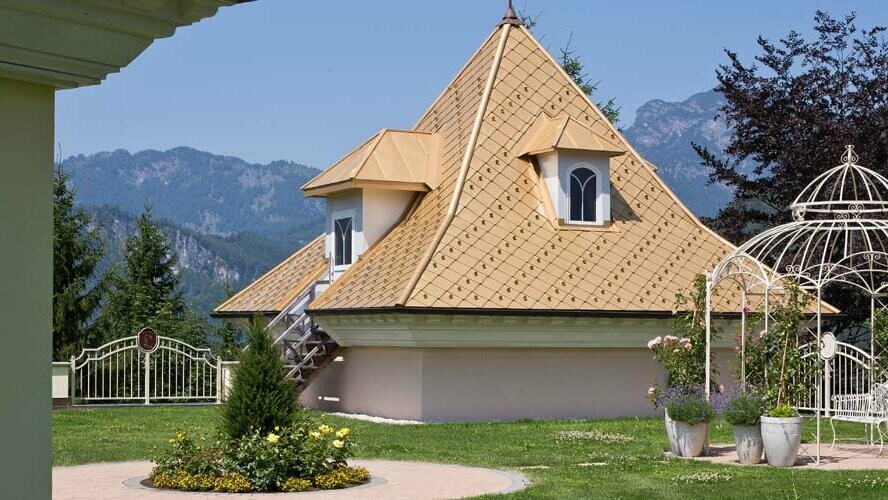 29 × 29 Rhomboid roof tiles in the special colour mayan gold
Small annexe with newly covered PREFA roof. 29 × 29 rhomboid roof tiles in the special colour Mayan gold were used for the covering.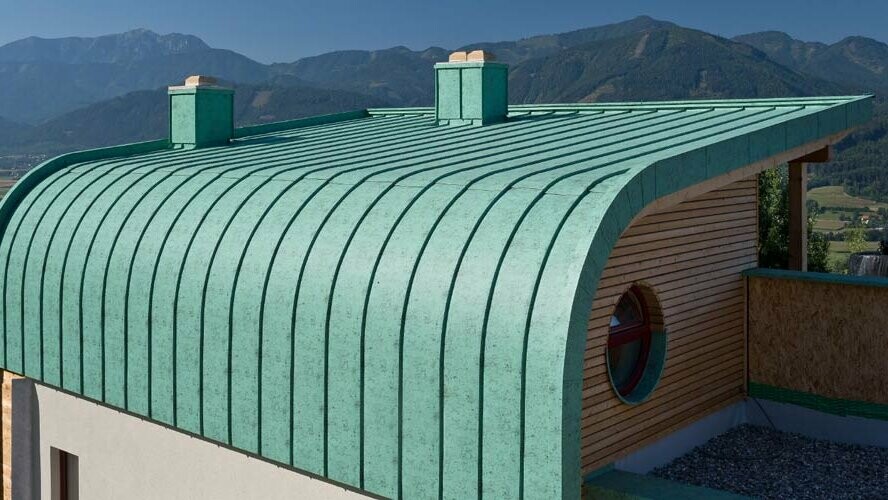 Prefalz roof covering in patina green
The flexibility of aluminium makes it a perfect match for curved surfaces. This special roof has been covered with a Prefalz double standing seam roof in patina green.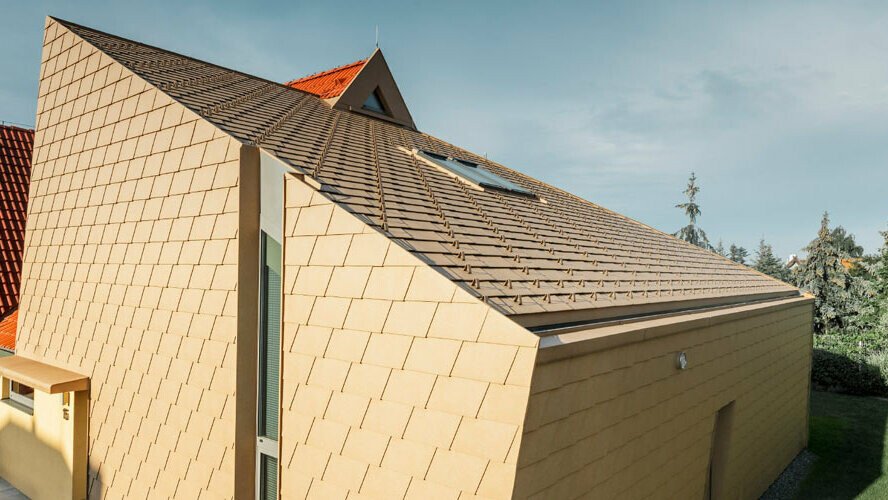 Modern detached home with PREFA roof and façade system
Modern extension to a detached home in Prague. The PREFA shingles in the special colour P.10 sand brown have been used to cover the roof and façade.
PREFA DS.19 Shingles in P.10 Oxide red
PREFA roof products in the colour oxide red integrate seamlessly into areas featuring many tiled roofs.
Detached house with prefalz
Thanks to its pliability, Prefalz is an easy-to-install seam material offering a range of creative renovation options, whether as a roof or a façade.
Classic home with prefa shingles in anthracite
Classic detached house with curved dormers, covered with storm-proof PREFA shingle, with a 40 year material guarantee.
Modern roof covering with prefa R.16 Roof tiles in P.10 Stone grey
The PREFA product range can be used to cover a wide variety of roof shapes. In this classic gable roof, stone grey R.16 roof tiles were used in P.10 colour quality.
Prefa shingles in the colour P.10 Oxide red
This detached home was covered with PREFA shingles in P.10 oxide red. The top-quality aluminium PREFA shingles are especially lightweight and robust.
Roofing: history, roof types and functions

:
Basic facts
It used to be the case that roofs offered a purely protective function from wind and the weather, while the loft was mainly used as a storage area. Nowadays, it's a different story: on the top floor of many houses, you can find lofts that have been converted into stunning rooms with a feel-good atmosphere and a wide range of possible uses.
Roof fires, snow and ice - a trip through time...
In the past, roof coverings had to meet a completely different set of requirements, since they were primarily functional in nature. People were happy when the rain did not get in, while snow (or rather the drifting snow that was blown into building joints by the wind) was simply removed from the loft again. Materials such as straw or wood were generally used on the roof. Not only did the weather wear them down quickly, they were also a major fire hazard. A little later, simple concrete tiles and clay tiles began to be used on roofs. They did last longer, but they were still not immune to weathering. Over time, they would become brittle and crumbly, with hairline cracks beginning to form. These cracks were a breeding ground for unattractive mosses and the perfect place for ice to accumulate in winter, which can cause of cracks.
One of the most modern roof materials is aluminium. It is break-proof, robust and durable, and can withstand all weather conditions. It even protects itself against corrosion. When it reacts with the oxygen in the air, a natural oxide layer is formed that covers the material like a protective armour. A superficially damaged aluminium roof or façade shell will therefore always regenerate itself again and again. In addition, the base material of aluminium is protected by a stove enamel coil-coating finish. Working in harmony with the strong properties naturally found in aluminium, the concealed fastening technology and installation in a bond provides strong support. This means that the building shell is completely rain-proof and bad weather stays where it belongs – outside. In addition, the roof can be professionally cleaned if required.
Function before beauty?

:
PREFA expert tip
The steeper the roof pitch, the faster and more safely rainwater can be directed over the roof covering to the drainage system, and the lower the danger that water will enter in the event of heavy contamination or ice. The result is a long-lasting roof covering. Roofs not only protect against weather such as wind, rain or snow, but also, when combined with professional thermal insulation, against low or high temperatures. This saves heating costs in winter and cooling costs in summer.
An overview of the different roof shapes and structural designs:
There are many roof shapes, including: gable roof, single-hipped gable roof, single-pitch roof, hipped roof, half-hipped roof, gambrel roof, mansard roof, gambrel roof with hipped main roof surface, pavilion roof, barrel roof, shed roof, cross roof, pyramid tower roof, cone tower roof, hipped gable tower roof, onion tower roof, domed roof
One of the most common types we see is the gable roof. This involves two surfaces angled towards each other with ridge, gableboard, eaves and gable. Meanwhile, the single-pitch roof has just one roof surface, usually with a low pitch. The upper edge forms the single-pitch roof end piece, while the roof eaves can be found below. The single-pitch roof is also laterally limited by the gableboard. The hipped roof, on the other hand, features four roof surfaces, with an eaves on all four sides and the roof surfaces intersecting at the ridges.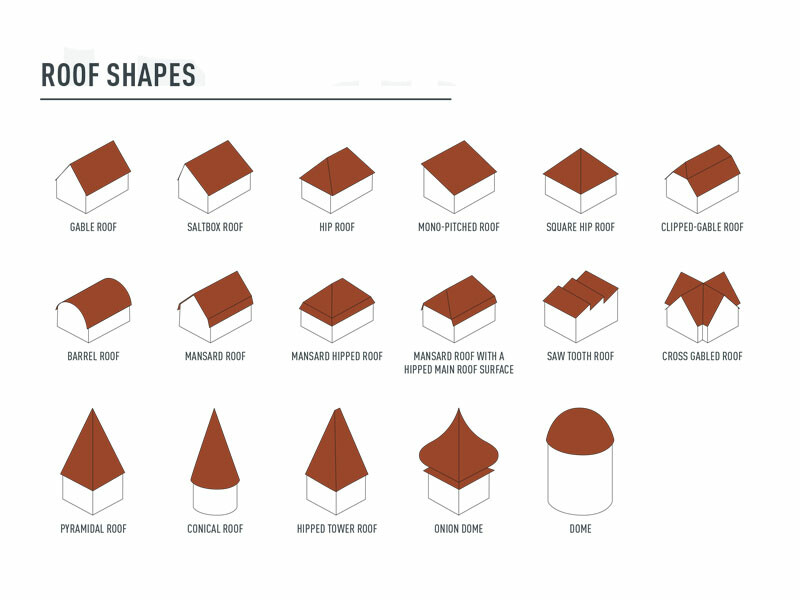 Which roof shape would you like your future home to have?
Find inspiration among a wide array of modern and traditional residential buildings here...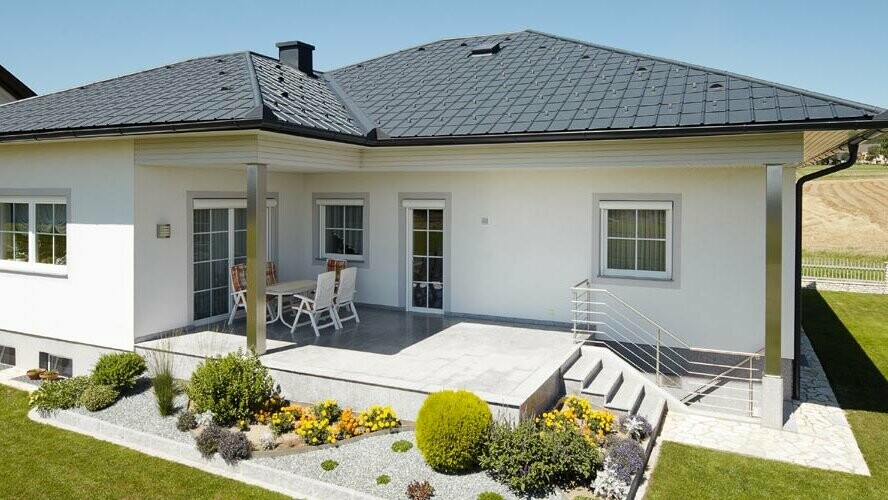 Newly built detached home with hipped roof, covered with prefa roof tiles
Detached home with hipped roof and L-shaped floor plan. The roof was covered using PREFA rhomboid roof tiles in the colour P.10 anthracite.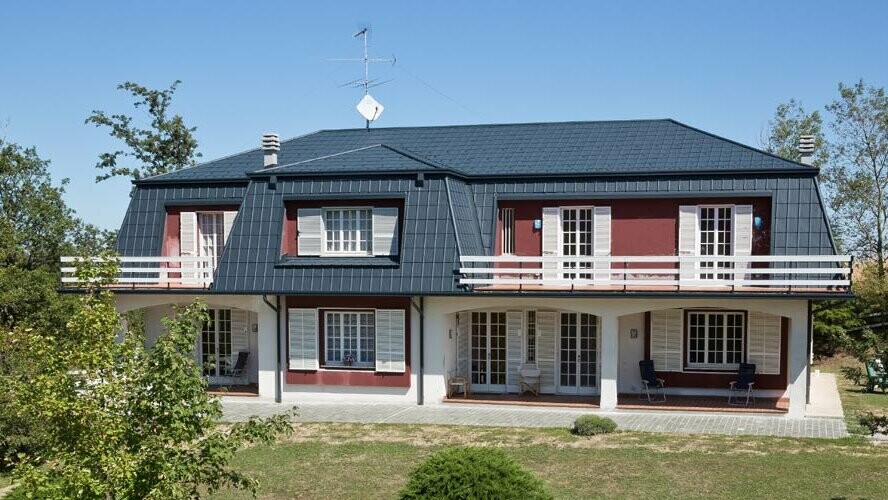 Villa in italy with mansard roof, covered with prefa roof tiles
With a mansard roof, the surface of the upper floor can be used to its full potential. The roof of this Italian villa was covered with PREFA roof tiles in the colour P.10 anthracite.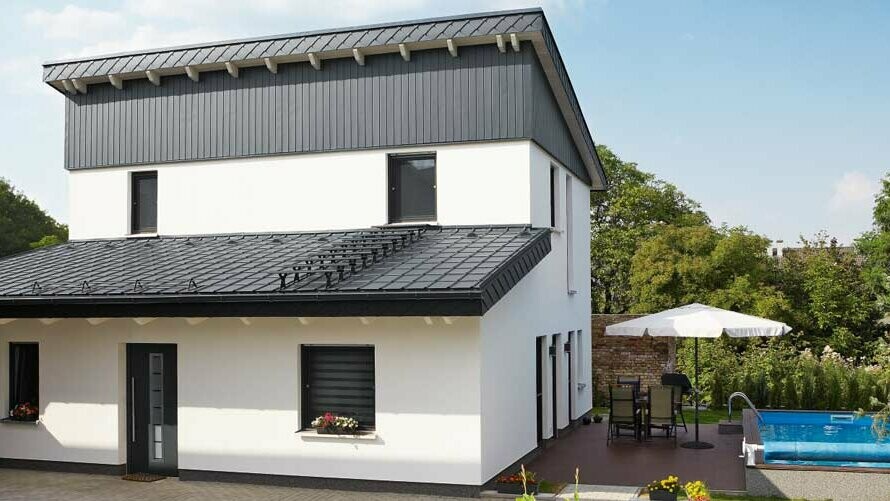 Detached home with modern single-pitch roof with modern prefa aluminium roof tiles
Detached home in Potsdam with two single-pitch roofs arranged offset from one another. Both roofs have been covered in top-quality PREFA roof tiles in P.10 anthracite. PREFA sidings and 29 × 29 rhomboid façade tiles, also in anthracite, have been used for the façade cladding.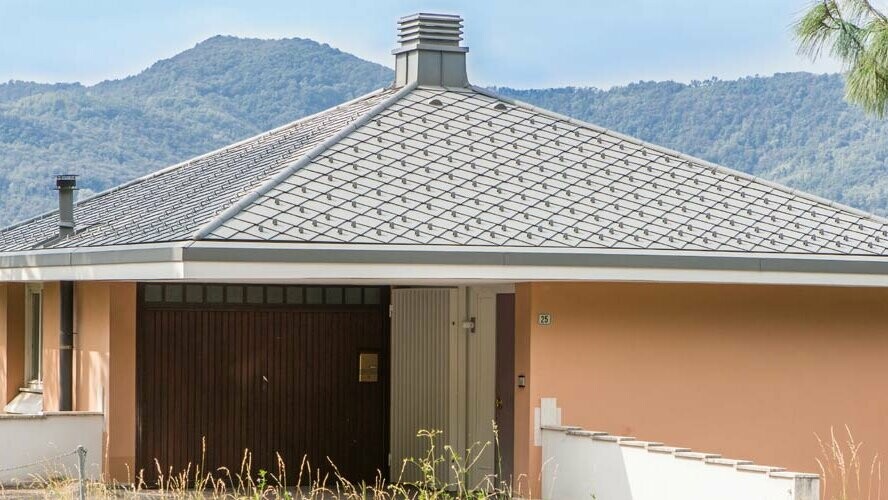 Detached home with a pavilion roof, covered with prefa aluminium rhomboid roof tiles
Italian home with pavilion roof in an idyllic location. The roof was covered using PREFA 29 × 29 rhomboid roof tiles in the colour P.10 light grey.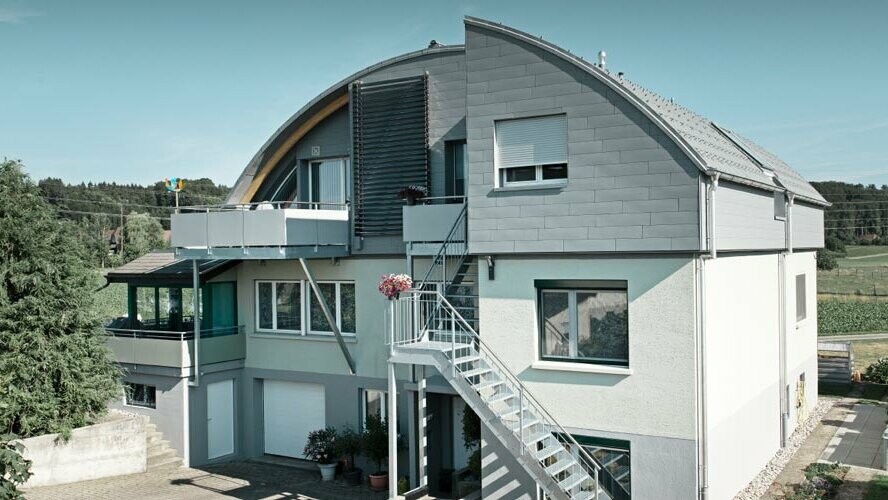 Two-family home with barrel roof and prefa roof tiles and prefalz
During renovation, the barrel roof of this house was re-covered with roof tiles and Prefalz sheets from PREFA. The façade was clad with colour-coordinated sidings.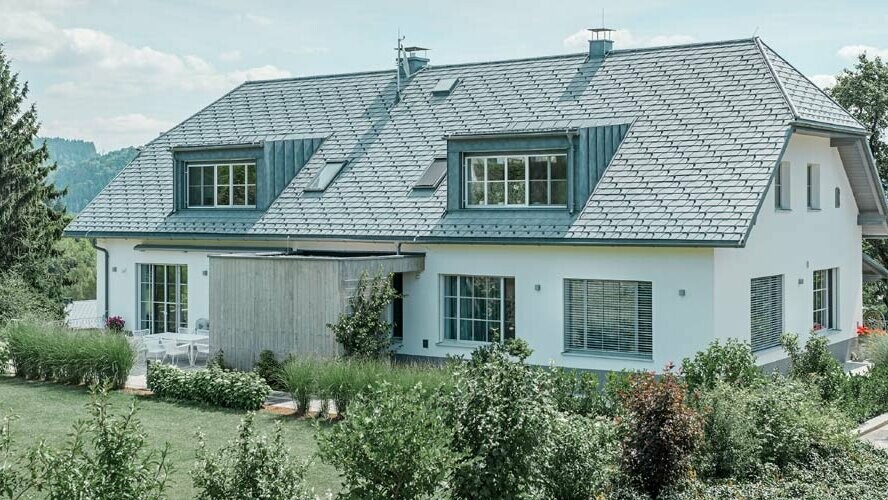 Detached home with half-hipped roof, covered with prefa shingles in the colour P.10 Stone grey
Newly refurbished detached house with half-hipped roof covered with PREFA shingles in the colour P.10 stone grey. The dormers are clad in Prefalz.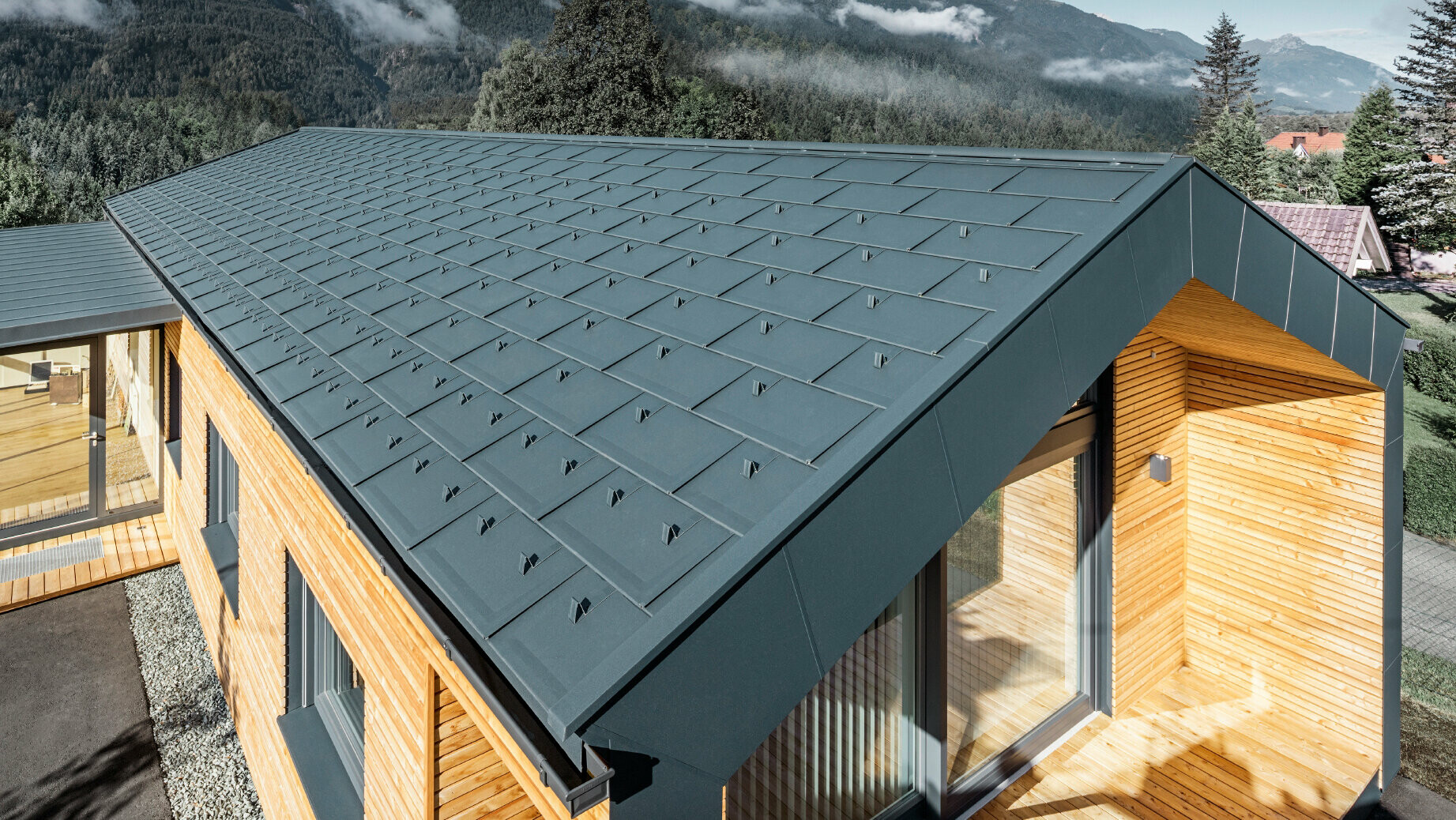 Gable roof with R.16 Roof tile in P.10 Anthracite
The large R.16 roof tile is ideal for use on a gable roof. Furthermore, aluminium products in anthracite combine perfectly with a larch wood façade.
Would you like more light and structure? There are even more roof design options:
Roof loggias and roof balconies
Additional openings on the roof not only allow more light into buildings, they also create even more sunlit surfaces with a feel-good factor.
Roof windows and skylights
Windows do more than just act as a source of light – they also ventilate rooms. Roof windows can be installed horizontally or vertically, as individual windows or in a group. Generally speaking, a horizontal window has the same pitch as the roof, while a vertical window is installed upright in the dormer. Skylights are used in flat roofs. And with modern daylight spots, the light beam is directed precisely into the corners where it is needed.
Dormers and edges
The shape of a dormer means it is possible to gain more living space with steep roofs. But it is also used for aesthetic reasons, as it provides the roof with more structure.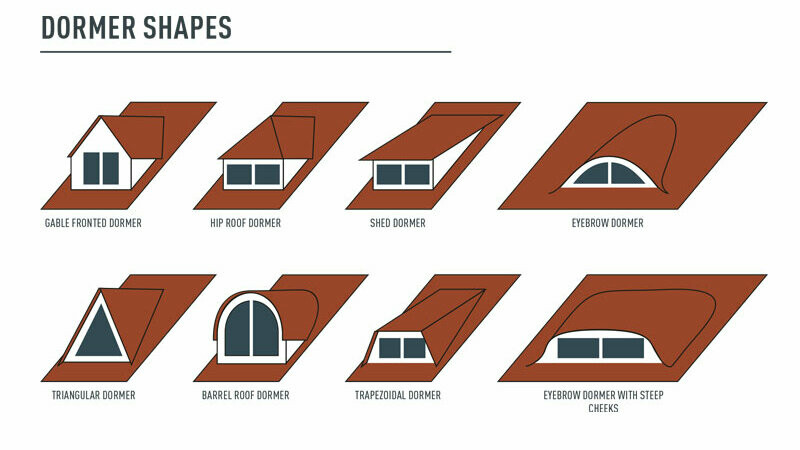 The use of dormers allows additional living space to be gained. This overview provides you with some dormer design options.
PREFA roof covering on a gable roof with eyebrow dormer
Dormers can be used to gain more living space. As a visual design element, they give the roof added structure.
soffit and roof overhang

:
PREFA expert tip
The roof overhang is more than just an architectural design element: the size of the soffit also has a positive impact on the durability and weather resistance of the façade. In principle, the larger the roof overhang, the more protection it offers for the façade below against weathering due to rain or snow. When it comes to creating long-lasting façades, aluminium is also the perfect material for house walls – durable, robust and available in a range of colours and designs.
Why PREFA? Here are 10 good reasons.
PREFA aims to offer top-quality materials, beautiful design and intelligent solutions for builders, architects and tinsmiths alike. Over the years, we have done plenty of learning, examining and listening, and have never stopped improving our products. Our first objective is to create quality that lasts for generations.
Storm-proof: for a little calm during the storm
The interlocking of the individual elements and the concealed fixing to the substructure mean that a PREFA roof can withstand even the most extreme of storms.
Rustproof: a flawless finish
With a PREFA roof, you can play it safe in any weather. The dense oxide layer created by aluminium protects it against weathering, meaning that your roof stays as it always was: rust-free.
Light: time to shine
Not only can our roof products be installed by a professional in a flash, they are also easy to transport. This is because a PREFA aluminium roof weighs only a fraction of a conventional roof.
Break-proof: tough inside and out
For your roof to be up to the job of withstanding the elements, it needs to be tough. PREFA roofs make use of aluminium's unique properties to keep large quantities of snow and temperature fluctuations at bay.
Beautiful: show your colours
Depending on the type of product you want, you can select from a wide range of colours for all PREFA roof systems. In addition, PREFA offers you freedom of design in the form of rhomboid roof tiles, shingles, roof tiles, roof panels or Prefalz sheets. This means that there's nothing to stop you from creating your ideal image of the modern, high-quality and contemporary PREFA aluminium roof. After all, PREFA aluminium roofs and aluminium façade systems are all about modern, contemporary architecture.
Colour-fast surfaces: varnished for a longer-lasting finish
PREFA sheets are treated with a coil coating process for great-looking colours that really last. This is thanks to the varnish layer, which is malleable and permanently temperature- and weather-resistant.
Ideal for renovations: out with the old, in with the PREFA
The low weight of a PREFA roof reduces your chances of having to pay out for an elaborate substructure as part of your renovation work. Regardless of whether you previously had a slate, tile or concrete roof, reinforcing the roof truss is usually not required thanks to the low weight of PREFA aluminium roofs. Only the boarding or battens have to be adapted to accommodate the respective elements.
Complete system: more than just a roof
The PREFA complete system creates a perfect harmony between the roof, guttering and façade, along with photovoltaic and solar installations as well as flood protection. In addition, the system offers snow protection, roof security, window surrounds and much more. In most cases, it is not necessary to use third-party products that aren't specially made for the PREFA system.
Sustainable: Aluminium is 100% recyclable.
Aluminium can be recycled as often as necessary without loss of quality — and the best thing about it: PREFA products already consist of up to 87% recycled aluminium. In addition, 100% of the electrical power used at the Marktl production site comes from renewable energy. Furthermore, 99% of the aluminium production waste is returned to the starting point.
40-year guarantee: on the safe side
Aluminium provides life-long quality. This is why we give a 40-year colour and material guarantee on our products: on the base material against breakage, corrosion (rust) and frost damage and on the paint against chipping and blistering. Requirements can be found under the conditions stated on the warranty certificate.
It goes without saying that a PREFA roof and a PREFA façade, if properly installed, will easily last for 40 years. This is demonstrated by numerous reference projects, which are already even older than that. In our environmental product declarations, independent institutes have also specified a reference service life of over 70 years.
Roof tiles, shingles, roof panels, rhomboid roof tiles and the Prefalz roof system

:
the PREFA roof materials at a glance
A perfect fit for a long-lasting roof: a complete system of hundreds of perfectly matching accessories

:
complete system
roof coverings, roof drainage systems, façade solutions or flood protection – could you ever want any more? Choose from over 5000 PREFA products and put together your own complete system.
When it comes to protection against snow or roof security, accessories play an important role alongside the main products. PREFA accessories are simply the perfect fit. The system as a whole works in perfect harmony – and also benefits from continuous further development. This means that all individual components work well together and all the elements stay where they belong: securely attached to the roof and the façade. Aluminium is also used as a secondary material for other roof coverings. This means that even if you opt for a tiled or fibre cement roof, the surrounds, gutters, chimney surrounds or other accessories and supplementary products are very often made of aluminium.
Coordinated roof systems
Dormers, skylights and domes – aluminium can be used to bring even unconventional architectural ideas to life for a technically superior finish with low maintenance costs.
Roof drainage can be beautiful too
The PREFA roof gutters feature technical solutions that go right down to the smallest detail where necessary, and have been delivering great results for decades. The wide choice of colours for your rain gutters and the corresponding downpipes can be used to implement an elegant tone-in-tone solution for your building project, or to add stylish colour highlights.
Aluminium – not just for roofs
Long-lasting, non-rusting and easy to clean when dirty – surely this is enough to convince any developer to clad the façade in aluminium as well. In addition, aluminium offers maximum creative freedom and the opportunity to bring any creative idea to life.
All about sustainability: durability, roof insulation and photovoltaics

:
sustainability
40-year colour and material guarantee
The weather forecast for the next 40 years: roughly 75,000 hours of sun and 35,000 litres of rain water per square metre. Stormy weather – it's a good idea to opt for PREFA. This is because we give you a 40-year colour and material guarantee for roofs and façades. So you can rest easy knowing you have the best possible insurance against breakage, corrosion (rust), frost damage, chipping and blistering.
How are we able to give you this firm guarantee?
Because PREFA aluminium roofs and façades are completely high-tech products, that are only produced in Austria and Germany.
Because each PREFA product has to be laid or installed by professional specialist companies.
Because we have decades of experience (including in alpine areas) and the products have proven themselves under extreme weather conditions.
Thermal insulation and energy saving
Good thermal insulation, and roof insulation in particular, makes a major contribution to saving thermal energy. A well-insulated roof prevents heat from escaping in winter and keeps it from penetrating in summer. Proper roof insulation not only has a positive impact on the household budget, but also significantly increases living comfort.
There are various types of roof insulation available, along with different insulation materials: Essentially, a distinction is made between under-rafter, between-rafter and above-rafter insulation, depending on where the insulation material is installed or where the ventilation is. Classic insulation materials include mineral wool, wood wool and Ceralith. However, eco-friendly and renewable natural insulating materials are also becoming increasingly important. These include cellulose, seaweed and hemp. Installation is carried out by the specialist company, and an energy consultant can also be called in for an even greater sense of security.
We recommend that PREFA aluminium roofs are designed with a ventilated substructure, in accordance with the applicable building standards. The roof cover and thermal insulation layer are separated by a ventilated intermediate space. The advantage of this is that any intermittent dampness is removed. Essentially, the roof membrane has a ventilated design. However, the entire loft area can also be ventilated.
Photovoltaics and solar thermal energy – let your roof work for you.
While fossil fuels are finite and also pollute the environment through higher CO2 emissions, the sun is a near-inexhaustible source of energy. Each year, we receive about 28,000 times more radiation energy than we currently use. This energy can be easily utilised through photovoltaics and solar thermal systems.
Solar energy is not only the most environmentally friendly type of energy, it also saves building contractors money. With solar thermal energy, water and rooms can be heated at next to no cost using solar radiation. Its extraction neither consumes valuable raw materials nor does it release harmful carbon dioxide. In addition, depending on the location and any quotas in force, there are also some state subsidies available for fitting houses with a photovoltaic and solar thermal system.
With the PS.13 solar installation system, PREFA offers a sophisticated solar installation system that integrates seamlessly with the roof covering. Compared with many other means of installing photovoltaic modules, this system does not limit the function and durability of the roof covering. Thanks to continuous developments, the solar installation system remains right at the cutting edge of technology. The installation is available on all PREFA roof systems, from small formats all the way to large-scale Prefalz applications. Safety always comes first, which is why advice and planning is carried out exclusively by PREFA application technicians or verified sales partners. The installation is also carried out by professionals.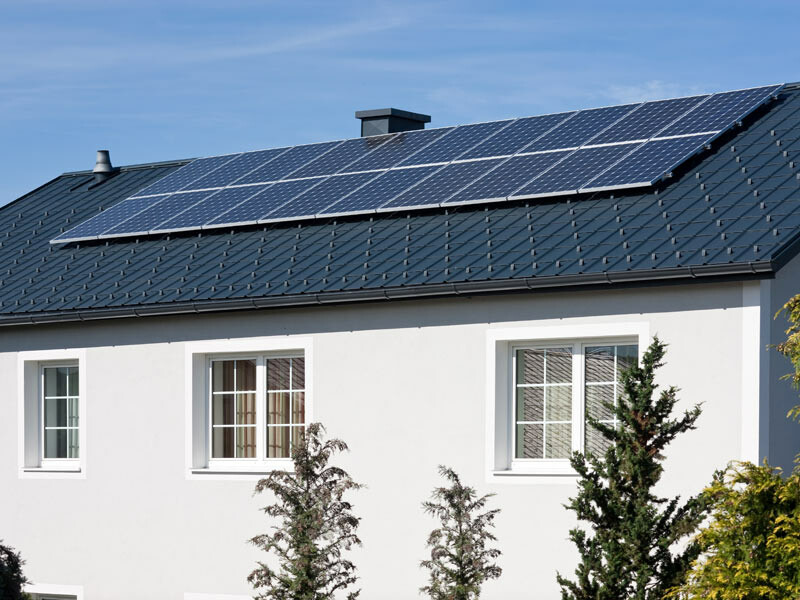 Who will install my PREFA roof? Only qualified tinsmiths and roofers.

:
installation
The PREFA brand has represented durability, longevity and security for over 70 years – even under the most extreme weather conditions. Installation by a PREFA partner company forms an important basis for this claim. So if you want a strong roof or a durable façade with a 40-year guarantee, contact our PREFA installation partners.
PREFA roof and façade products are only sold to licensed tinsmiths and installed by trained craftsmen. This is because improper use, incorrect processing and faulty installation may lead to serious defects, which in turn can mean high subsequent costs.
PREFA offers regular training sessions to its installation partners at the PREFA Academy. In a range of courses, tradesmen are kept up to date on current standards, technical rules and manufacturer's guidelines, while PREFA roof and façade trainers also provide them with important input and further tips and tricks on using the products. Our 40-year guarantee on our products only applies if your PREFA roof and façade products have been installed by a professional (in accordance with the warranty conditions).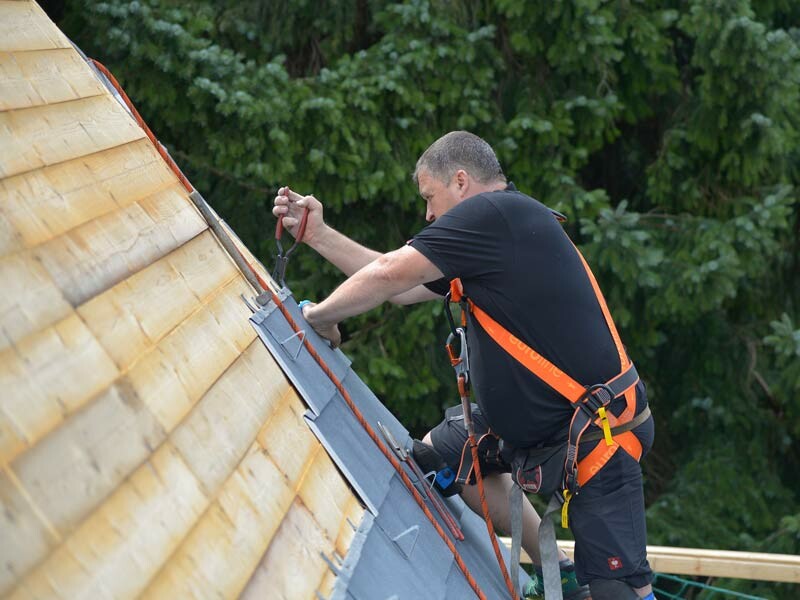 What does it all cost? The costs of a new roof covering

:
costs
Numerous building projects prove that PREFA is a reliable product that spans the generations. Low maintenance costs combined with a long service life ensure that investment costs pay off.
A whole range of factors influence the cost of your new roof. This is why it is necessary for our roofing professionals to put together an individual quote for you that fits precisely with the needs and conditions of your home. The calculation for a new roof takes into account a range of factors such as the roof landscape, the planned pitch, and any particular aspects of your local region. Furthermore, the size of the roof and the desired product also influence the total costs.
Owner-occupied housing subsidy, housing renovation, housing assistance and redevelopment support
Frequently asked questions from our customers

:
FAQ
PREFA aluminium roof elements are extremely light, weighing no more than around 2.3 to 2.75 kg/m2. This means they only weigh a fraction of a conventional roof or roof tiling made of brick, clay or concrete. The advantage here is that due to the low weight of an aluminium roof, an older roof truss often does not need to be specially reinforced prior to renovation. In addition, a PREFA roof can be easily laid by a trained specialist and is also easy to transport, which can significantly reduce construction time on site, in turn saving time and money.
The roof and façade are parts of a building that are placed under particular strain by the weather. Sun, wind, rain and snow, as well as constant moisture (in wooded or shaded locations), have an impact on the building shell. Dirt deposits (e.g. dust, foliage or pine needles) can impair the function and the appearance of the roof, the façade or the roof drainage (e.g. blockage). It is therefore advisable to check roofs, façade cladding and roof drainage systems (gutters and downpipes) at regular intervals. This way, any emerging changes, damage or dirt can be identified and remedied in good time. You can find more information on cleaning and maintenance here.
Metal roofs can be integrated into the exterior lightning protection system in accordance with the standard ÖVE/ÖNORM EN 62305-3. PREFA flat band roof panels (Prefalz and Falzonal) are therefore permitted as a natural part of the arrester and PREFA small format components (roof tiles, shingle, roof panels, rhomboid roof tiles) as natural components of the conductor (installation of an additional arrester and connection to the earth). Some standards stipulate exceptions according to which, for example, property at increased risk (e.g. potentially explosive premises) must be specially designed. The integration of PREFA roof and façade systems in the exterior lightning protection system must therefore be planned depending on the specifics of property in question. Information on the necessity and type of lightning protection on a property can be obtained from a lightning protection system engineer or approved electrician. Find out more about lightning protection here.
Small hailstones cannot damage a PREFA roof with a stucco surface. There may be some functional damage to the roof in the event of extremely large hailstones, as with any roofing material. However, even under the most extreme hail conditions, it is almost certain that hail will not penetrate PREFA roofing. In case of visual defects after heavy hail in the form of slight dents, even if the functionality of the roof is not impaired, make sure that you take out special insurance that also covers visual damage. If you have an existing insurance policy, make sure that there is no exclusion of liability for visual damage.
What do I need to know about fire safety? PREFA roof and façade products (small format as well as Prefalz and Sidings*) are classified as non-combustible in accordance with EN 13501-1 with fire behaviour class "A1". Fire behaviour class A1 means that products made from aluminium are not flammable. Find out more about fire safety here.
* except products in the colours walnut, grey oak and natural oak (fire class "A2-s1, d0" - non-flammable).
Not only does aluminium last longer and have lower maintenance costs, it is also much lighter than a conventional tiled roof. If you live in a region with large numbers of tiled roofs and are therefore looking for a top quality sheet-metal roof with a tiled look, then a PREFA roof system in brick red in P.10 quality is ideal for your new roof or roof renovation.
Depending on the product, PREFA surfaces are available either in a smooth finish or with stucco embossing. The material is further strengthened by the stucco embossing created by embossing rollers, making the aluminium less sensitive to machining marks and therefore easier to install.
PREFA's extensive range of shades includes numerous colours in P.10 quality as well as many other standard colours, for example:
01 P.10 brown, 02 P.10 anthracite, 03 P.10 black, 04 P.10 brick red, 05 P.10 oxide red, 06 P.10 moss green, 07 P.10 light grey, 08 P.10 zinc grey, 10 P.10 prefa white, 11 P.10 nut brown, 17 P.10 pure white, 19 P.10 dark grey, 41 P.10 rust brown, 42 P.10 sand brown, 43 P.10 stone grey, 46 P.10 patina green
And when it comes to the PREFA façade elements, there are even more colours to choose from – including rarer colours such as ivory and bronze. You can find all PREFA products and the available colours here.