As a part of the building shell, a façade not only protects your house from external influences, but also contributes significantly to the appearance of your home. Whether you want a simple, unobtrusive façade which fits into the townscape or something that really stands out, the design possibilities for a façade are as diverse and individual as the developers themselves.
In the following, we would like to provide you with some useful information about façade materials, façade designs and façade renovation. We will also answer some frequently asked questions about non-bearing, rear-ventilated façades.
The building shell has always been the crucial feature when it comes to the durability of a house. Its primary role is to protect the house from the elements: snow, rain, wind and sun. Since extreme weather phenomena have increased significantly in recent decades, it is particularly important to be prepared for various weather conditions and to provide house walls with sufficient protection.
In addition to protecting the building, the façade has another important and useful function which the developer should definitely consider: An ideal façade reduces energy consumption by acting as thermal insulation. It also provides a pleasant indoor climate, offers improved fire protection and insulates against external sound and noise. However, many of these functions can only be ensured with the right insulation.
In addition to function, the choice of façade cladding also determines the appearance and character of the house. The façade is the visible part of the building shell which can be customised by the homeowner. A range of different materials, colours and shapes offer a great deal of creative freedom and customisation. With a rendered façade, for example, different accents can be used than would otherwise be possible with large-size aluminium façade panels or wooden façade profiles. Larger sizes give the house a modern, industrial look, whereas a façade covered with smaller products can emphasise the finer details. Custom façade designs can create visual statements on a range of buildings, whether it's an idyllic detached house, a modern company building, a secure garage or rustic summer house.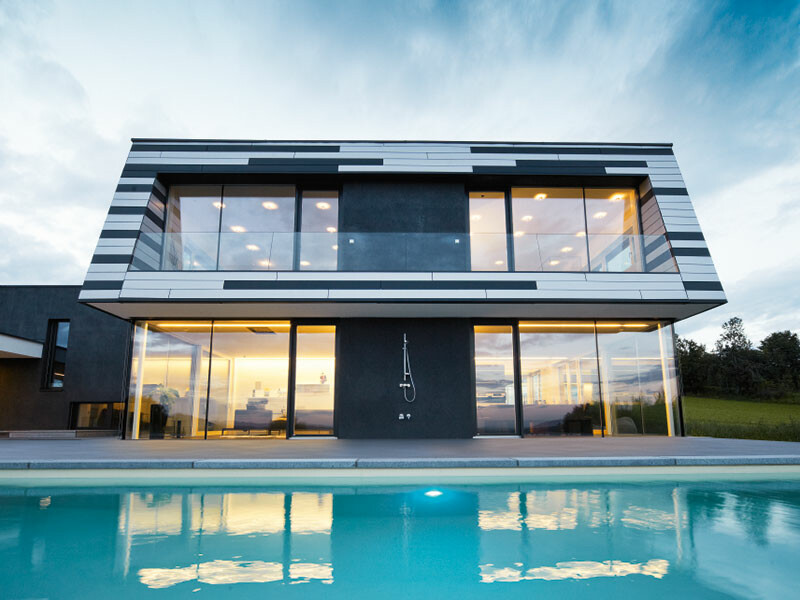 The design of your façade
For both façade renovations and new buildings there is a wide selection of different materials on offer for cladding the external wall. The material you choose is, on the one hand, a matter of taste. However, you should compare the advantages and disadvantages of the different materials in order to find the best solution for your project.
The most popular materials for renovating façades include:
Render
Wood
Metal or sheet (e.g. aluminium, zinc, copper, titanium zinc)
Stone (e.g. sandstone, natural stone)
Slate
Fibre-cement panels
Glass
Design possibilities for a PREFA aluminium façade
Thanks to their design and the variety of colours and product types, aluminium non-bearing, rear-ventilated façades by PREFA offer a wide range of design possibilities. For example, complementary or high-contrast colour combinations can be used to create different patterns and a combination of differently sized façade panels in different arrangements can be used to emphasise distinct features. If you want to create a design highlight with a curve in the external wall, aluminium is a great choice as a cladding material due to its flexibility. The flexible material in the PREFA façade products can be seamlessly adapted to the curved wall.
Each of the PREFA façade products has different visual properties and can be used in different ways. The large-sized aluminium composite panels can be mounted on the façade horizontally, vertically and diagonally and can be given unique details and patterns using CNC milling. In addition, there are is a wide range of joint design options for aluminium composite panels and sidings. Depending on which size and type of joint is used, a different effect can be achieved. For example, different-coloured joints can create visual accents on the metal façade. PREFA sidings can be combined in different widths and mounted horizontally, vertically or diagonally on the building wall using the tried-and-tested tongue and groove system. Aluminium composite panels can also be used to create custom configurations and patterns on the façade. This is why they are particularly popular in modern architecture, large-scale construction projects and company buildings. You can find inspiring examples of such projects in our Reference Gallery.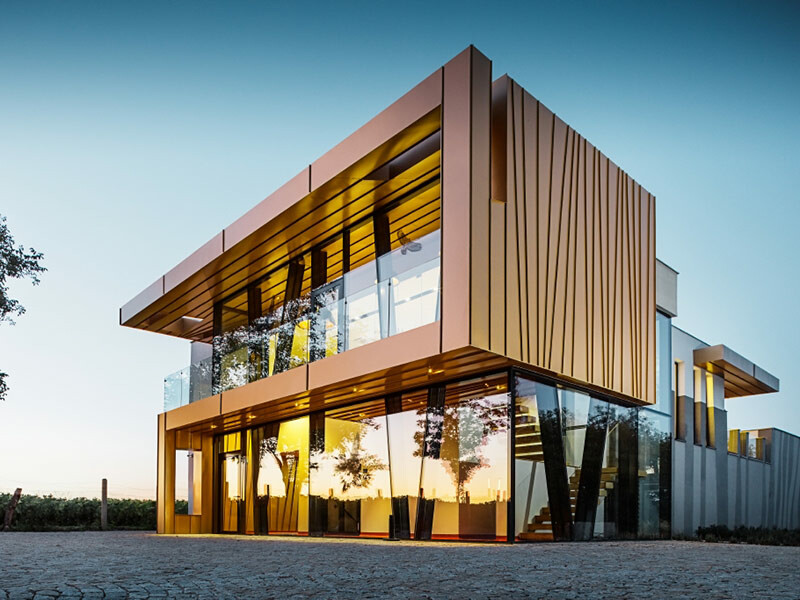 With the small format PREFA products (façade shingle, rhomboid façade tile and FX.12 façade panel), creativity knows no bounds. For example, the PREFA rhomboid façade tiles, which are available in the dimensions 20 x 20, 29 x 29 and 44 x 44, can be used to create a unique scale effect on the façade.
The unusual edgings on the Siding.X and FX.12 façade panels give the building a particularly elegant and modern look. The appearance of the façade changes depending on the way the light falls, the time of day and the environment, making every building unique.
And if you want to give your façade a stone or concrete look, PREFA products are available in a range of suitable colours. The lightweight PREFA sidings and Siding.X façade panels are available in the colours P.10 stone grey and P.10 light grey and can achieve a similar appearance.
Anthracite-coloured PREFA façade shingles combined with wood
PREFA aluminium façades are perfect for combining with other materials. This detached house has been clad with PREFA shingles in P.10 anthracite and wood.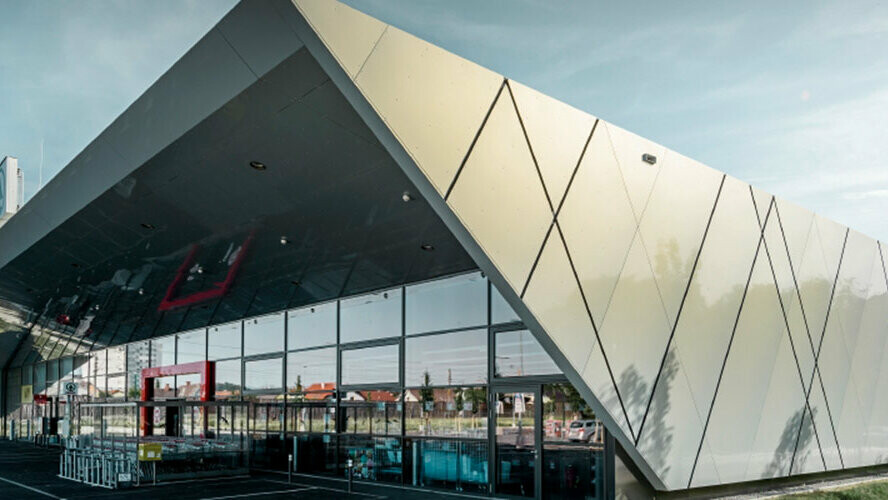 Eurospar branch in Wels with PREFA composite panels in silver gold
The Spar branch in Wels was clad with PREFA composite panels in silver gold. The creative lines on the façade transform the building into a visual highlight.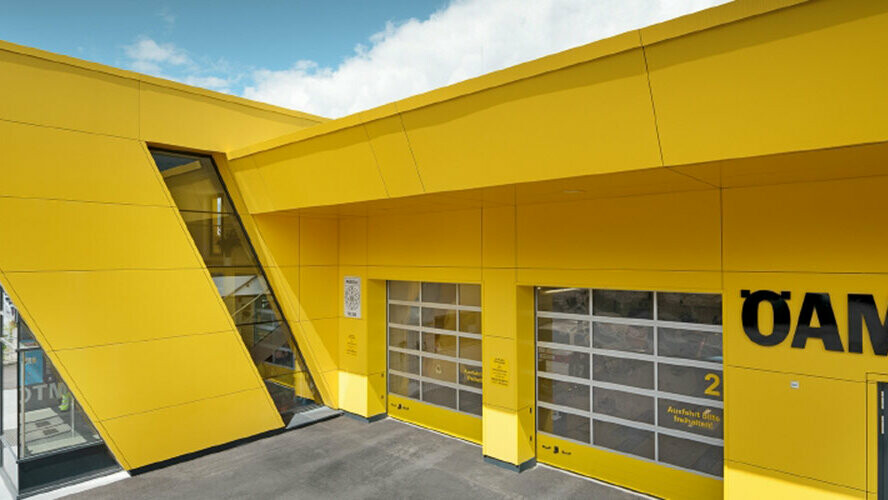 ÖAMTC company building with PREFA composite panels in rapeseed yellow
ÖAMTC in Telfs with non-bearing, rear-ventilated façade cladding. The building was clad with PREFA composite panels in the colour rapeseed yellow.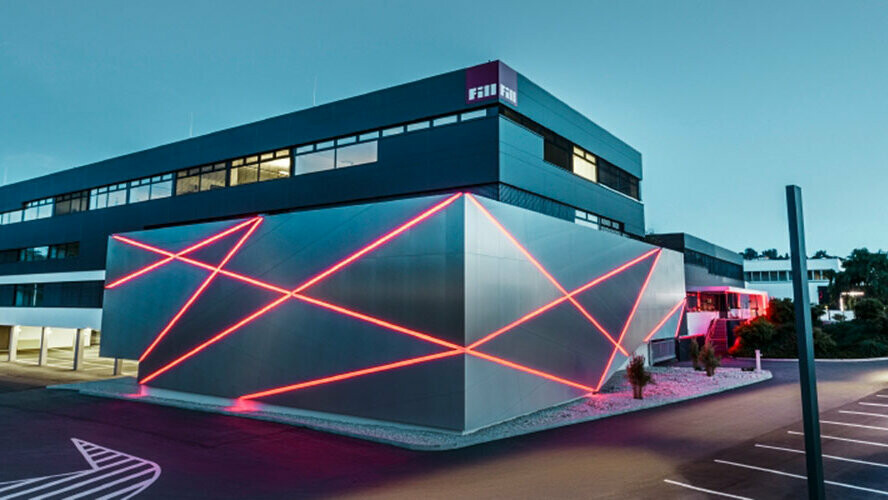 Façade of a company building with aluminium composite panels by PREFA
Brushed aluminium adorns the unique façade of the Fill company building. The flexible composite panels were seamlessly adapted to the curved façade.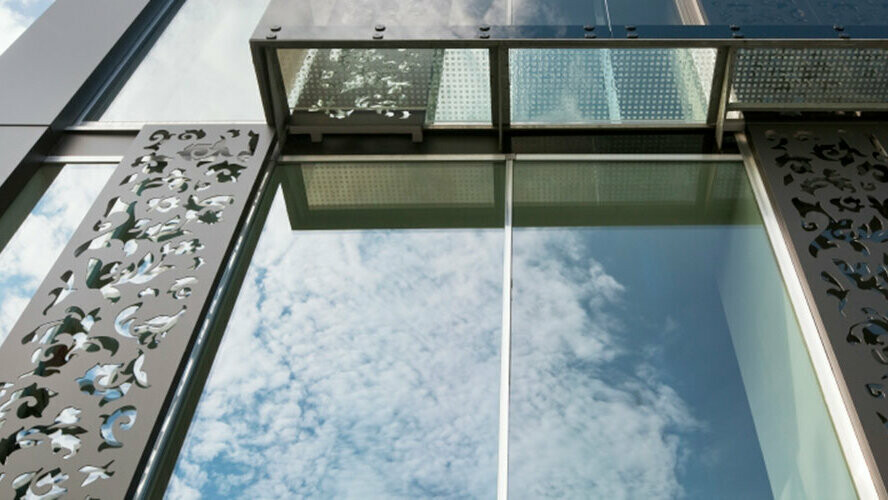 PREFA composite panels in black grey with a milled floral pattern
Unique façade cladding with PREFA composite panels in black grey. A unique floral pattern was milled into the façade panels.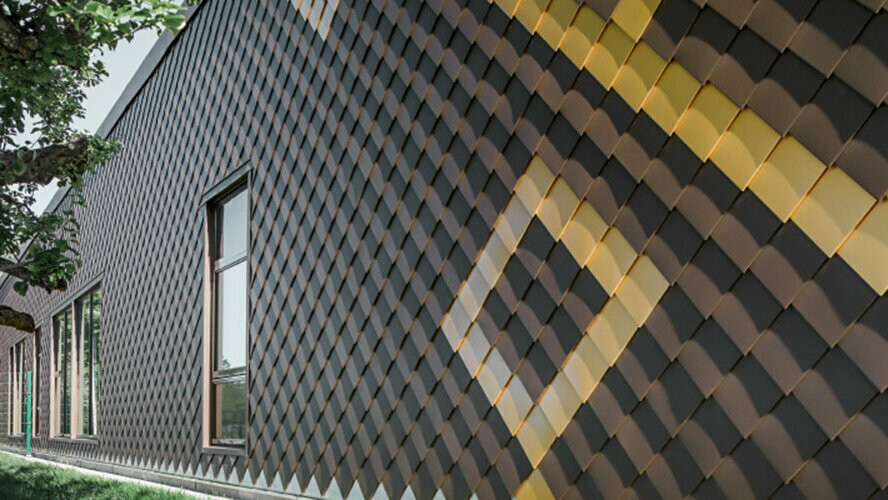 Façade cladding with PREFA rhomboid façade tiles in brown and Mayan gold
Robust 20 x 20 PREFA aluminium rhomboid façade tiles in brown and Mayan gold were used for the façade cladding of a nursery school in Stockholm.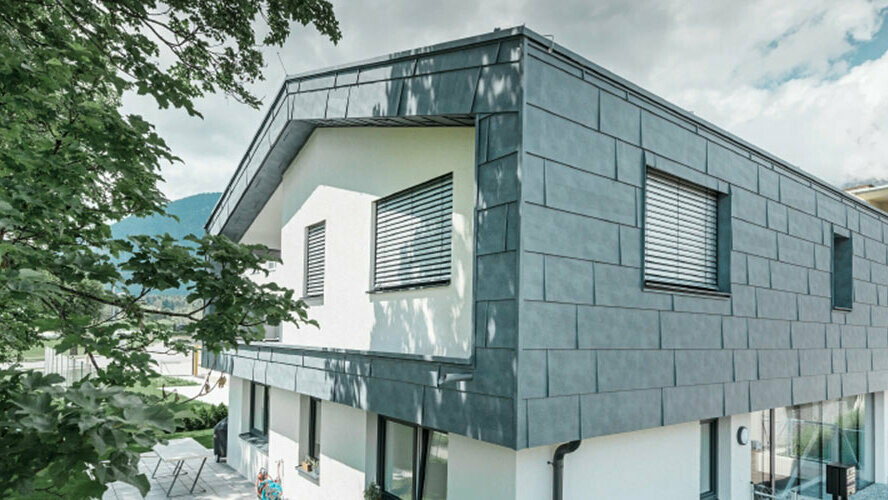 PREFA façade cladding with FX.12 façade panels in P.10 stone grey
Modern cladding of the exterior wall of the upper section of a building with PREFA FX.12 aluminium façade panels in the colour P.10 stone grey.
Another advantage of PREFA products and one which is greatly appreciated by many developers, contractors and architects is how well the high-quality material goes with other materials, such as wood or glass, thanks to the large colour palette. From an architectural point of view, there are many different possible combinations, which means the developer, planner and façade builder have a wide variety of design options. With such a broad range of colours available from PREFA, you are sure to find a colour for your façade which perfectly matches and complements existing or new windows, doors and other house features. Thanks to the different surfaces available, you can create special emphasis where desired. With a PREFA complete system, the most diverse components of a house, from the base cladding to the gable cladding and roof overhang, can be designed together with your desired product in the right colour. Even the colour of your building's roof drainage system (gutter, downpipe, etc.) can, depending on your taste, either blend in with the overall look of the building and appear almost invisible or stand out and emphasise the building's architecture. The PREFA roof drainage system includes round and square aluminium gutters which can be selected according to your preferences. The PREFA complete system ensures that all components go perfectly together – from the roof and roof drainage system to the façade and all the accessories.
With PREFA cladding, not only does your façade have an individual appearance, it is also has the best possible weather protection. As you can see, you and your creativity have almost no limits when it comes to designing the surface of your new façade with PREFA façade systems. For more façade ideas and inspiration, whether for a new building or a façade renovation, have a browse through our Reference Projects and Renovation Gallery.
The non-bearing, rear-ventilated façade
The non-bearing, rear-ventilated façade (abbr. RVF) may sound complicated and like a new invention but it is in fact a centuries-old, proven and sustainable system which has its origins in mountainous regions with harsh climates. It is a multi-layered external wall structure with rear ventilation. The façade cladding is not directly mounted onto the house wall but is fixed to a substructure. On a structural level, the weather layer, i.e. the façade cladding, is separated from the thermal insulation of the façade, creating a rear ventilation space. This rear ventilation space regulates the moisture balance. Thanks to this structure, these façades are far less susceptible to moisture damage compared to non-rear-ventilated façade systems. These versatile PREFA aluminium façade elements are available exclusively in a rear-ventilated design and are therefore ideally suited to structures of this kind.
Composition of a non-bearing, rear-ventilated façade
A non-bearing, rear-ventilated façade consists of four components: the supporting structure, thermal insulation, substructure and non-bearing façade cladding. Each component is described in more detail below.
The supporting structure (masonry, wooden beams, etc.) takes most of the weight and also contributes to the insulation. For supporting structures made of bricks, depending on the thickness and material of the bricks, it may be the case that no additional insulation is required.
The thermal insulation is attached to the supporting structure behind the visible façade cladding. It usually consists of mineral materials such as glass or mineral wool. However, if you value sustainability and want to minimise your ecological footprint, a range of alternative insulating materials is available, such as hemp or cork. The thickness of the insulating material is variable and mostly depends on the desired insulation value. It should be noted that each building material has its own insulation values. The desired insulation value is achieved through a combination of the thickness of the insulating material and the respective façade material. The main role of the thermal insulation is to minimise the flow of heat between the living space and building exterior and to prevent thermal bridges from forming. This means that the thermal energy cannot be lost and the wall does not become cold in winter. Thermal bridges can form if there is not enough insulation. Thanks to the special design of the non-bearing, rear-ventilated façade, the thermal insulation is protected against external weather conditions. It also offers effective protection against external sound and noise. The U-value (heat transfer coefficient) is the most important factor in terms of thermal insulation. It indicates the heat output which flows per square metre from a construction element when the temperature difference between the interior and exterior of a building is constantly 1 °C. The better the thermal insulation of a component, the lower the result of the U-value.
The substructure is the link between the supporting structure and the façade cladding. This is where the rear ventilation occurs. The façade profiles are attached to the substructure with sufficient distance to the insulation, whereby a constructive separation of the two components is present and an air gap is created. The gap between the two components regulates the moisture balance in the structure. The substructure can be made out of wood or aluminium or a combination of both materials. If an aluminium substructure is chosen, it is possible to permanently compensate for any unevenness in the external wall.
The non-bearing façade cladding protects against rain and other weather conditions and is the most external part of the façade. There is a wide range of options for customisation.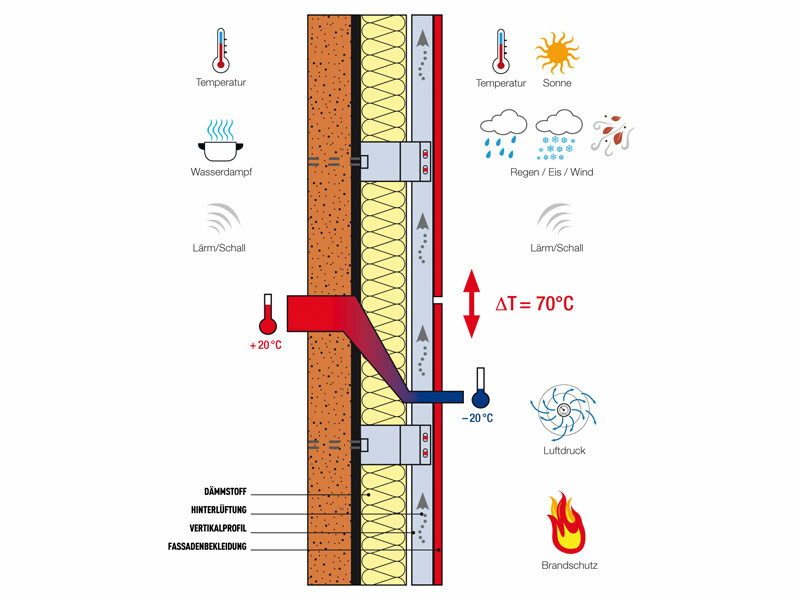 Functions of a non-bearing, rear-ventilated façade
Thanks to its special design and the existing components, the non-bearing, rear-ventilated façade has some important protective functions which are explained in more detail below.
The thermal insulation minimises heat flow between the interior and exterior of the building. During the summer, hot air cannot accumulate behind the façade because it rises through the rear ventilation and is transported away, creating an optimal temperature balance. This allows for a pleasant and balanced indoor climate in summer, winter and throughout the rest of the year. The rear ventilation also transports away any water vapour which accumulates in the living spaces caused by cooking, bathing, showering or washing clothes, for example.
Furthermore, a non-bearing rear-ventilated façade reduces noise and provides sound insulation. All system components of the structure can also be chosen so that they comply with fire protection requirements in accordance with construction legislation, thus ensuring optimum fire protection.
Thanks to the special design, the insulation is protected against rain, moisture and wind. The insulating material also protects the living space from heating up in summer and cooling down in winter. The insulation therefore acts as a thermal store in the cool season, as it keeps heat inside, which can lead to savings in heating costs.
In addition to the design, which has a range of benefits, the great deal of creative freedom offered by rear-ventilated façades makes them a popular option. The wide selection of different materials and colours makes it possible to create unique façade claddings.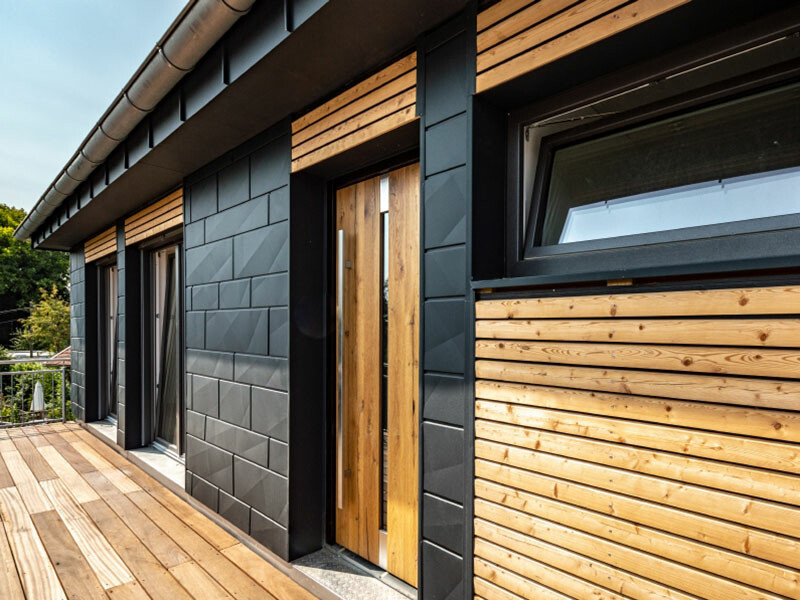 What are the differences compared to a 'normal' façade without rear ventilation?
A 'normal' façade without rear ventilation is called an external thermal insulation composite system (ETICS).
An external thermal insulation composite system is a structure which insulates the exterior walls of a building. The insulation is glued, dowelled or fixed directly to the supporting structure using a rail system, followed by the render base layer and then the surface layer, which can be a finishing coat or brick slips, for example.
External thermal insulation composite systems can be used in both new buildings and renovation projects and are often chosen because they are regarded as a good basic solution when on a limited budget, especially in combination with insulating materials such as EPS and XPS. However, the use of these insulating materials is questionable for environmental reasons, as petroleum – a limited resource – is needed for their production. When using more sustainable building materials for the insulation of external thermal insulation composite systems, the price can multiply rapidly, which is why any cost advantages over a non-bearing, rear-ventilated façade with regard to a more sustainable insulating layer are in part negligible.
The disadvantages of external thermal insulation composite systems:
The main problems associated with external thermal insulation composite systems are caused by moisture. Water, for example, which could enter the façade as a result of small cracks or poor workmanship, might not escape as well later on. In addition, any moisture in the insulation could lead to a considerable reduction in the insulating effect of the system. There is also the risk of mould forming inside the building due to moisture in the brickwork. This can lead to health problems and require costly drying, renovation and repair work to the house and walls.
Another disadvantage is that condensation can cause increased moss and algae formation on the house, which is why herbicides are often incorporated into façade paints and renders as a preventative measure. However, these herbicides are quickly washed away by rain and dew and can seep into the ground, which could in turn pose a risk to health and the environment, and consequently lead to unsightly discolouration of the façade surfaces, especially on the weather side.
When renovating or repairing older buildings, it is also important to remember that, before installing an external thermal insulation composite system, all possible decorations must be removed to obtain a flat façade.
Insects and small animals, such as birds and mice, are also a problem, as they can penetrate through the outer layer of the façade and make their nests behind the façade cladding, causing damage. Even spiders, which like to make their webs in weather-protected areas of the external wall, can leave dark stains and unsightly spots on the rendered façade.
The advantages of a PREFA non-bearing, rear-ventilated façade
PREFA aluminium façade systems are designed as non-bearing, rear-ventilated façades.
Although many people like to do work to their homes themselves and are more than just DIY enthusiasts, PREFA façade solutions can only be installed by trained professionals and qualified tradesmen. This applies to both PREFA façade solutions and PREFA roof systems.
PREFA non-bearing, rear-ventilated façades offer a range of advantages. These include:
Reliable protection against the weather
The façade is one of the building components most exposed to the weather. This can lead to dirt accumulating on the cladding, which can impair its appearance and function. Rendered or wooden façades are particularly susceptible to this and require regular maintenance or repair in order to avoid extensive damage. Although PREFA aluminium façades are very well protected in this respect, we also recommend regular inspection and maintenance to eliminate the potential build-up of dirt. In the event of a build-up of dirt, PREFA roofs and façades can be cleaned very easily by following the cleaning instructions. Aluminium is a material characterised by its longevity and, when combined with a colour-fast P.10 surface coating, can withstand external influences and pressures.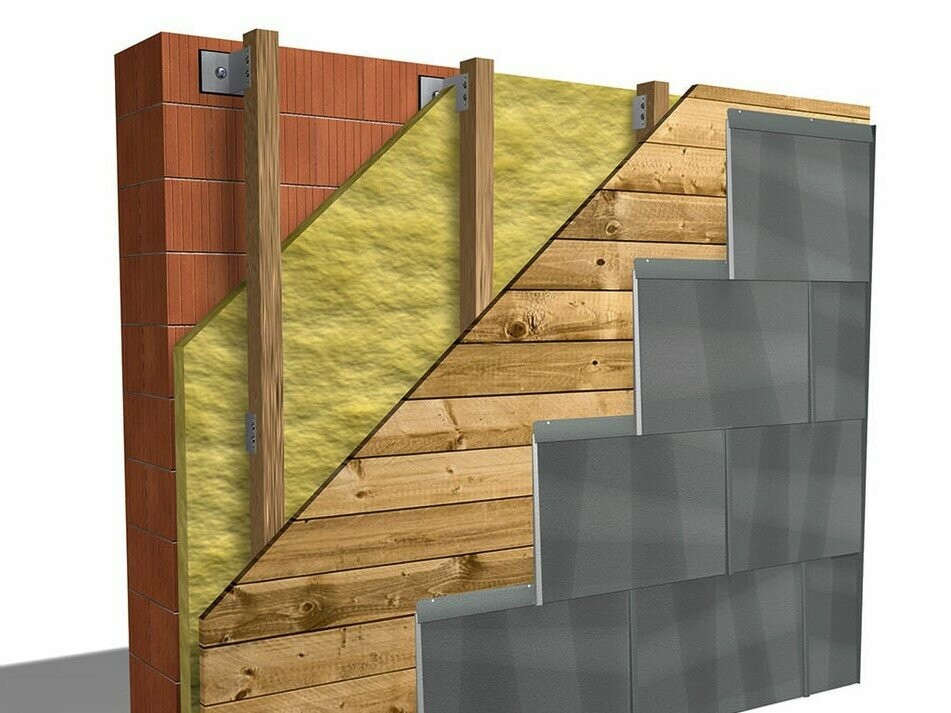 The flexible aluminium cladding offers excellent protection against rain and storms. With closed joints, the insulating material is protected against the weather. If rainwater does permeate behind the façade cladding, it will dry out in the rear ventilation space and cannot penetrate through to the layer of thermal insulation. This means that aluminium exterior wall cladding is also well suited for use on the weather side of a residential building.
Ideally, the purpose of the roof overhang is to protect the façade cladding as much as possible from the effects of the weather. However, in modern building designs with very little or no overhang, this protection is often insufficient. PREFA metal façades are ideal in this case, as they are extremely weather-resistant.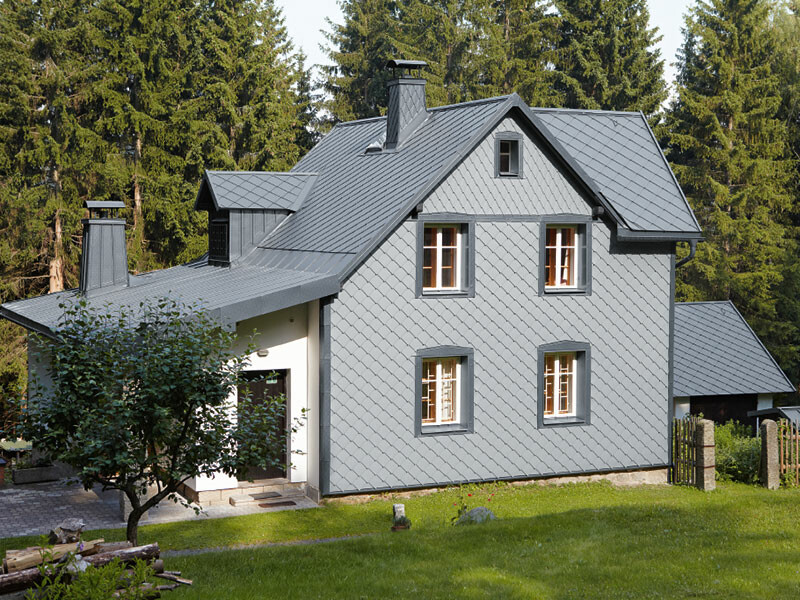 Wooden elements are very popular when it comes to façade design because they give the building a certain sense of character. If you would like a wooden façade but don't like the look of weathered wood or the idea of frequent repainting, you are better off choosing an aluminium façade with a wood look. PREFA sidings are available in the colours light wood and dark wood and are a perfect choice for low-maintenance aluminium façade cladding with a wood look. To achieve the most realistic wood effect, the elements should have a joint. With gable cladding, the wood-effect sidings are often installed vertically and with a joint, depending, of course, on the region and the developer's taste. Sidings are also perfect as soffits, as they are low maintenance and the colour can be matched perfectly to the façade. Repainting, which is necessary with wooden façades, is no longer required with a PREFA façade.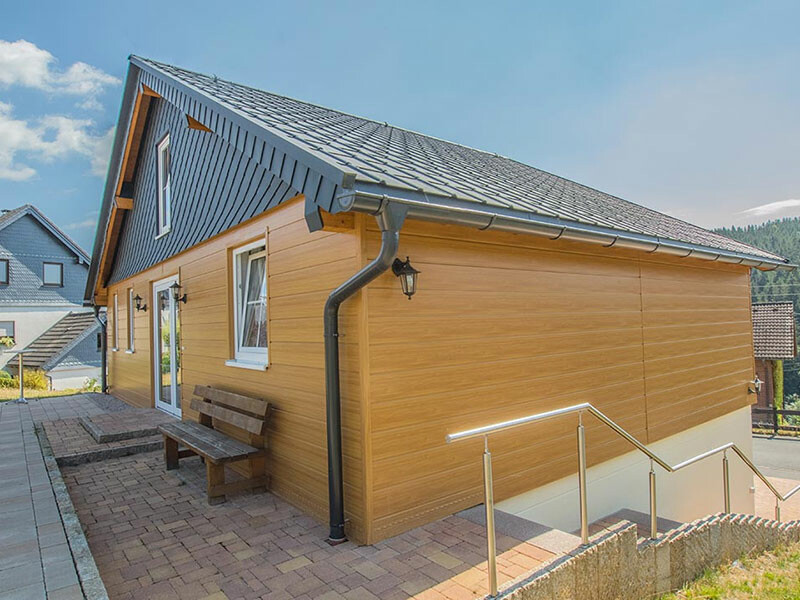 Countless design possibilities
Another useful advantage is the adaptability of aluminium: existing shutters, windows, house gables, garage doors, etc. do not present a problem in a façade renovation, because the façade can be easily adapted to the existing elements.
PREFA aluminium façade cladding can be used on all types of buildings: detached houses, apartment blocks, company buildings and various extensions such as garages, carports and conservatories.
The wide range of products from PREFA, such as the large-size composite panels, Prefalz sheets and small-format products (façade singles, rhomboid façade tiles and FX.12 façade panels), as well as the variety of available colours, mean there are endless design possibilities for façade construction with PREFA.
Advantages of aluminium as a material
Aluminium is adaptable, non-flammable and offers , as 95% of aluminium substructures are already manufactured to discharge lightning. Detailed information on lightning and fire protection can be found on the respective information pages.
In addition, the ecological aspect should also be considered: the material is particularly sustainable. The production of PREFA products mostly uses secondary aluminium. This is aluminium that has already been recycled. The advantage: recycling only requires about five percent of the energy used in the original manufacturing process. Another advantage of the system is that disposal is easy. The parts are easy to disassemble and the individual components can be recycled according to type.
For houses with aluminium cladding, the material itself is of particular value. If you decide to take it down, you can recover a residual value when recycled.
The advantages of the PREFA roof systems also apply to PREFA aluminium façades: the material is light, rust-free and corrosion resistant to a large extent. The elements are flexible when it comes to installation and are low maintenance. It is robust and durable, offers almost limitless design possibilities, can be recycled and poses no risk to health. It has been used in construction and renovation projects for generations. That is why PREFA offers a 40-year colour guarantee on products with the P.10 paint quality against chipping, peeling, blistering and breaking, as well as a 40-year material guarantee on the base material against breaking, corrosion and frost damage. Details on the guarantee and the guarantee certificate, which you can request after the completion of your new façade by a PREFA professional, can be found here.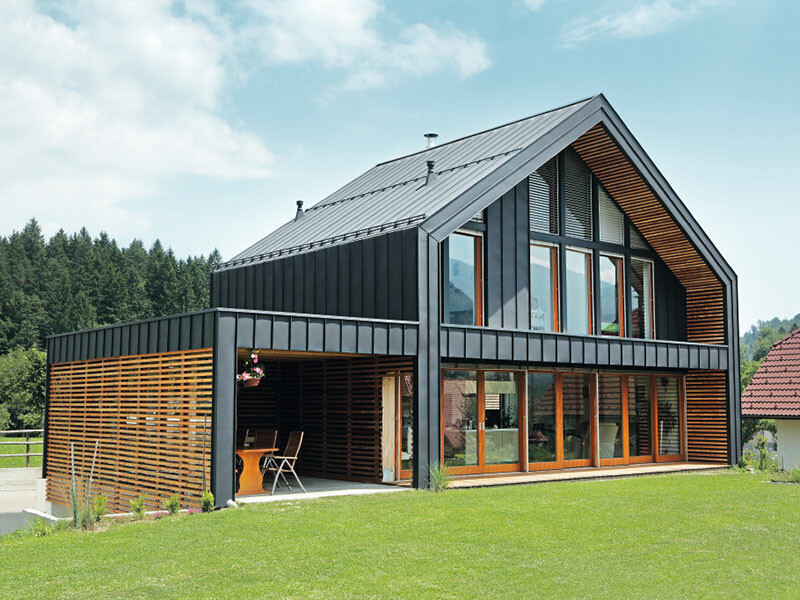 How much does a rear-ventilated aluminium façade cost?

:
Costs
In principle: each quotation is individual and requires a separate calculation by one of our trained partners. There is no fixed price per square metre for a PREFA façade because the price depends very much on how many windows, doors and other individual details have to be taken into account.
For façade renovations, the extra costs of removing and disposing of the old façade material must also be taken into account in the quotation. If, for example, the old façade material consists of fibre-cement boards containing asbestos, then it must be removed and disposed of professionally.
Cost of a façade during its life cycle
A façade is often chosen on the basis of the construction costs (for material, design, etc.), without considering the consequential costs incurred during use. A study by the Danube University Krems (Austria) (see ÖFHF (2015): ÖFHF: Lange Lebensdauer der VHF überzeugt, p. 1f [The impressive longevity of rear-ventilated façades]) from 2015 shows that the life-cycle costs of non-bearing, rear-ventilated façades are usually lower than those of external thermal insulation composite systems over a period of 50 years. Even if the construction costs of a non-bearing, rear-ventilated façade (e.g. with aluminium sidings) initially seem higher compared to an external thermal insulation composite system, these are amortised due to the longevity of use. This is one of the most significant findings of the study. On the one hand, the maintenance costs are lower for non-bearing, rear-ventilated façades. On the other hand, savings can be made in comparison to a rendered façade, as the render has to be reapplied or repaired after a certain period of time. The low maintenance costs and high durability of non-bearing, rear-ventilated façades therefore make them a sensible investment. The positive side effects of many façade materials used in non-bearing, rear-ventilated structures include low susceptibility to damage and special protection of the building fabric. The long-term increase in value or preservation of the building must be included in the calculation in order to obtain a true cost estimate.
There are many reasons to renovate your façade. These include, for example, high heating costs due to poor or insufficient exterior wall insulation. Valuable energy from inside the house is lost through the façade. Other reasons for renovating your façade might include damage caused by storms, impacts, animals or insects, or damage caused by ageing (such as peeling or faded render), which occurs over time. However, damage does not always have to be the reason for renovating a façade. Sometimes it is simply the wish to modernise or modify the house after many years.
When does a façade have to be renovated?
Small cracks and minor damage to the old rendered façade can be partially repaired by the owner and may not require a façade construction specialist. However, if more considerable damage is visible, for example broken pieces of wall or large leaks with moisture ingress, then renovation is necessary.
Can the old façade be covered with a new PREFA façade? 
A PREFA façade must first be fixed to a stable substructure which has been constructed in a professional manner. In principle, it can be mounted to the existing façade material but it is vital to check the old façade and existing supporting structure in advance.
Can a façade be renovated without insulation?
It is often the case that the insulation is repaired when the façade is renovated. On the one hand, intact insulation helps to reduce heating costs and, on the other hand, it can increase living comfort and the value of the house.
Frequently asked questions from our customers

:
FAQ
PREFA products cannot be purchased and assembled by end users themselves, as they are not suitable for self-installation. They are available exclusively through our trained specialist companies who also perform the proper installation. Our material and colour guarantee can only be used if the product has been installed by one of our partner companies.
PREFA is not a rendered façade. It is a high-quality aluminium façade which is installed as a non-bearing, rear-ventilated façade.
Fears of rusting are completely unfounded because aluminium cannot rust. If the surface of the PREFA aluminium façade is damaged, a new protective oxide layer is formed and the durability of the PREFA façade remains unchanged.
PREFA façades are installed as non-bearing, rear-ventilated façades. This means that there is a gap for rear ventilation between the aluminium façade cladding and the insulation. In summer, the hot air cannot accumulate behind the façade because it rises through the rear ventilation and is transported away. In the winter, this structure provides thermal protection, as the heat transfer resistance is increased in the rear-ventilated space. This temperature buffering in the rear-ventilated space ensures a comfortable indoor climate all year round.
The PREFA façade is the outermost protective layer of your house and simultaneously serves as a visual design element to improve the look of your home. Not only is it nice to look at, it also protects your home from the weather. In addition, durable PREFA aluminium cladding protects the underlying layers (supporting structure, insulation and substructure) from the effects of the weather. Owing to the fact that your PREFA façade is particularly weather-resistant, you can enjoy its beautiful appearance for decades.
It should be noted that PREFA façade products must not be confused with sandwich panels or other products with integrated insulation, as they are exclusively specialised for the functions mentioned above (protection and visual design). If you would also like to have a high-quality aluminium PREFA façade, the skilled workshop will be able to provide you with a suitable substructure and, if desired, suitable insulation in addition to improving the appearance of your home with PREFA façade cladding.
Non-bearing, rear-ventilated façades are designed to prevent moisture from forming. By separating the insulation and façade cladding, there is a constant air flow in the rear-ventilated space which regulates the moisture balance and ensures dryness. Thanks to the permanent ventilation, professional installation will not result in mould formation underneath the façade.
If the PREFA façade is installed properly, a perforated plate or ventilation grid will be installed at the ventilation inlet and outlet which protects against animals. As long as it is installed properly, small animals such as birds or mice will therefore be unable to damage your façade.
PREFA products are exclusively available through our trained, independent 'partner companies', who also perform the installation. This way, we can ensure that our products are installed properly. We offer regular training sessions for our tradesmen at the PREFA Academy, as we want to ensure that our products are handled with consistent quality.
Aluminium can be recycled 100% without loss of quality. In the recycling process, only 5% of the original manufacturing energy is required. PREFA largely uses recycled aluminium, which is also referred to as secondary aluminium. Therefore, aluminium is also an ideal material from an ecological point of view.
PREFA does not supply PE cores in its aluminium composite panels. It uses high-quality FR cores. FR stands for 'fire-retardant' (reaction to fire classification according to EN 13501-1 'B-s1, d0'). In addition, PREFA aluminium composite panels are also supplied with a non-flammable A2 core. Details on the fire classification of PREFA façades can be found in the PREFA information sheet on fire protection.
Do you still have questions about PREFA façades?
Then you are welcome to contact our experts. They will be more than happy to help you with any questions, requests and suggestions.