The advantages of PREFA P.16 roof tiles


highly attractive, modern look thanks to the sleek design

highly attractive, modern look thanks to the sleek design
No adhesive, just nails

It doesn't just look good, it's quick to lay too: By attaching directly to the integrated click-bar, the R.16 roof plate makes the tinsmith's life a lot easier. It also allows for completely new approaches to roof design. With its large size, boasting a component length of 70 cm and width of 42 cm, roofs can be covered using just 3.4 R.16 roof tiles per square metre, whilst at the same time giving the whole thing an elegant shine.
The R.16 roof tile can be used from a minimum pitch of 17°. With a weight of just 2.5 kg/m², this creates a truly lightweight roof that is also stormproof and even rust-proof thanks to the aluminium.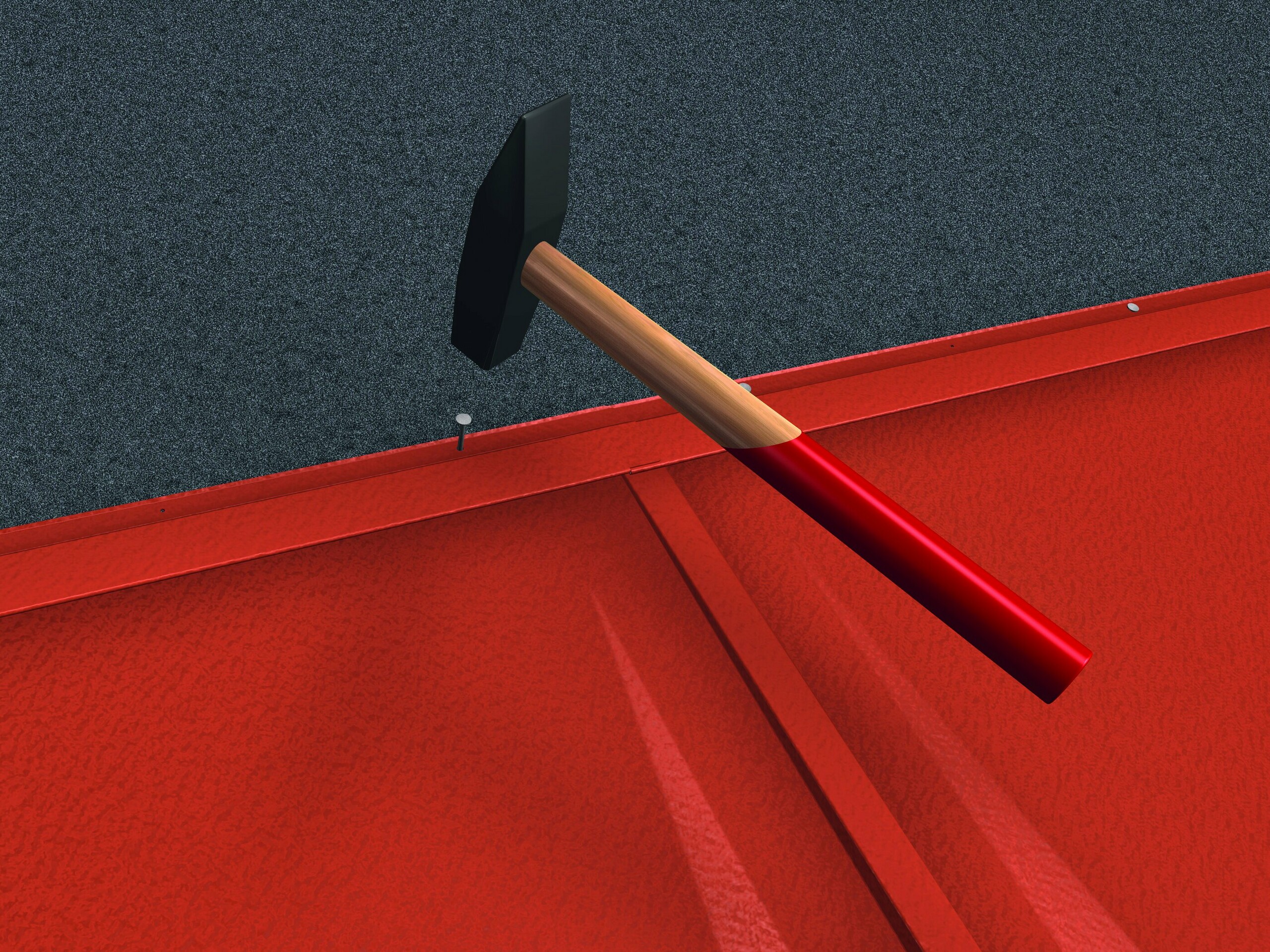 Expert tip


:
The noise-insulating strips make the PREFA R.16 roof tile quieter
Aluminium roofs are quieter than their reputation would have you believe. Everyone perceives noise differently. The PREFA R.16 roof tile has noise-insulating strips (FD.TEC) to keep noise levels to a minimum. For even more comfort in residential buildings, we recommend additionally using a thicker separation layer.
The PREFA R.16 roof tile colour pallette

The R.16 roof tile is available in loads of PREFA standard colours, all in P.10 quality.
The PREFA colour palette ranges from traditional tiled effects to modern grey tones and natural shades of brown. The following roof colours are available as standard:
| | | |
| --- | --- | --- |
| Colour | Code | ~ RAL |
| | P.10 brown | 7013 |
| | P.10 anthracite | 7016 |
| | P.10 black | 9005 |
| | P.10 brick red | 8004 |
| | P.10 oxide red | 3009 |
| | P.10 moss green | 6005 |
| | P.10 light grey | 7005 |
| | P.10 nut brown | 8019 |
| | P.10 dark grey | 7043 |
| | P.10 stone grey | 7031 |
Notes
The RAL values stated are merely approximate values (~), some of which may differ vastly from the original PREFA colour and, under certain circumstances, may not reflect the subjective perception of the colour.
Above all for colour quality P.10, it is almost impossible to define values due to the surface structure.
Plain aluminium: The guarantee does not cover surface appearance alterations caused by processing and environmental influences. Follow the instructions.
Metallic colours may vary in shade.
To identify exact colours for complementary components please consult original samples.
Check out some of the many projects that have already been completed using PREFA R.16 roof tiles for some inspiration.
PREFA detached house gabled roof R16 roof tile stone grey Scheiblingkirchen Anton Kager tinsmiths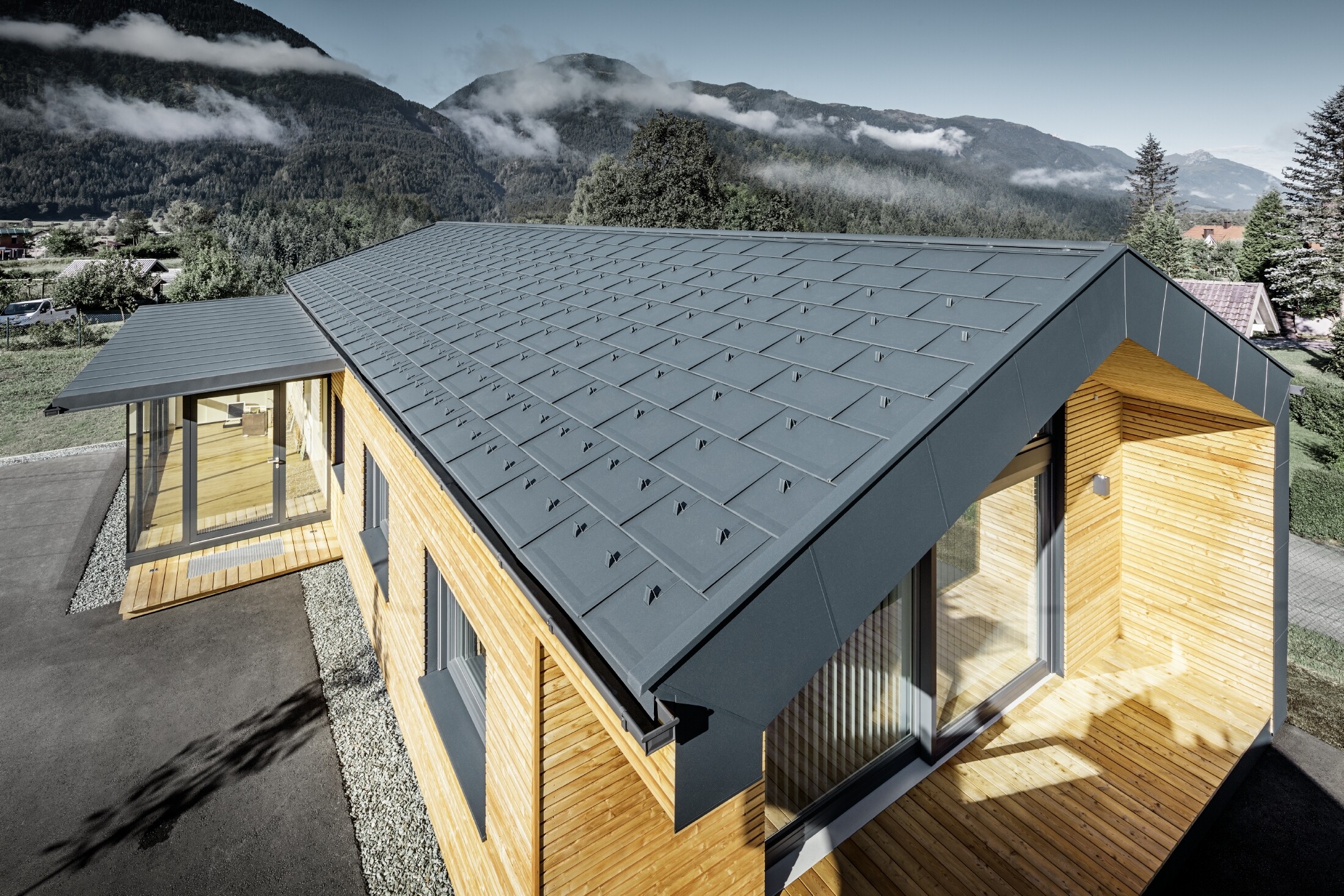 PREFA Kirchbach Ladstaetter Faltheiner R16 roof tile anthracite office building 01
PREFA residential building sheet metal roof R16 roof tile Hendl Thaur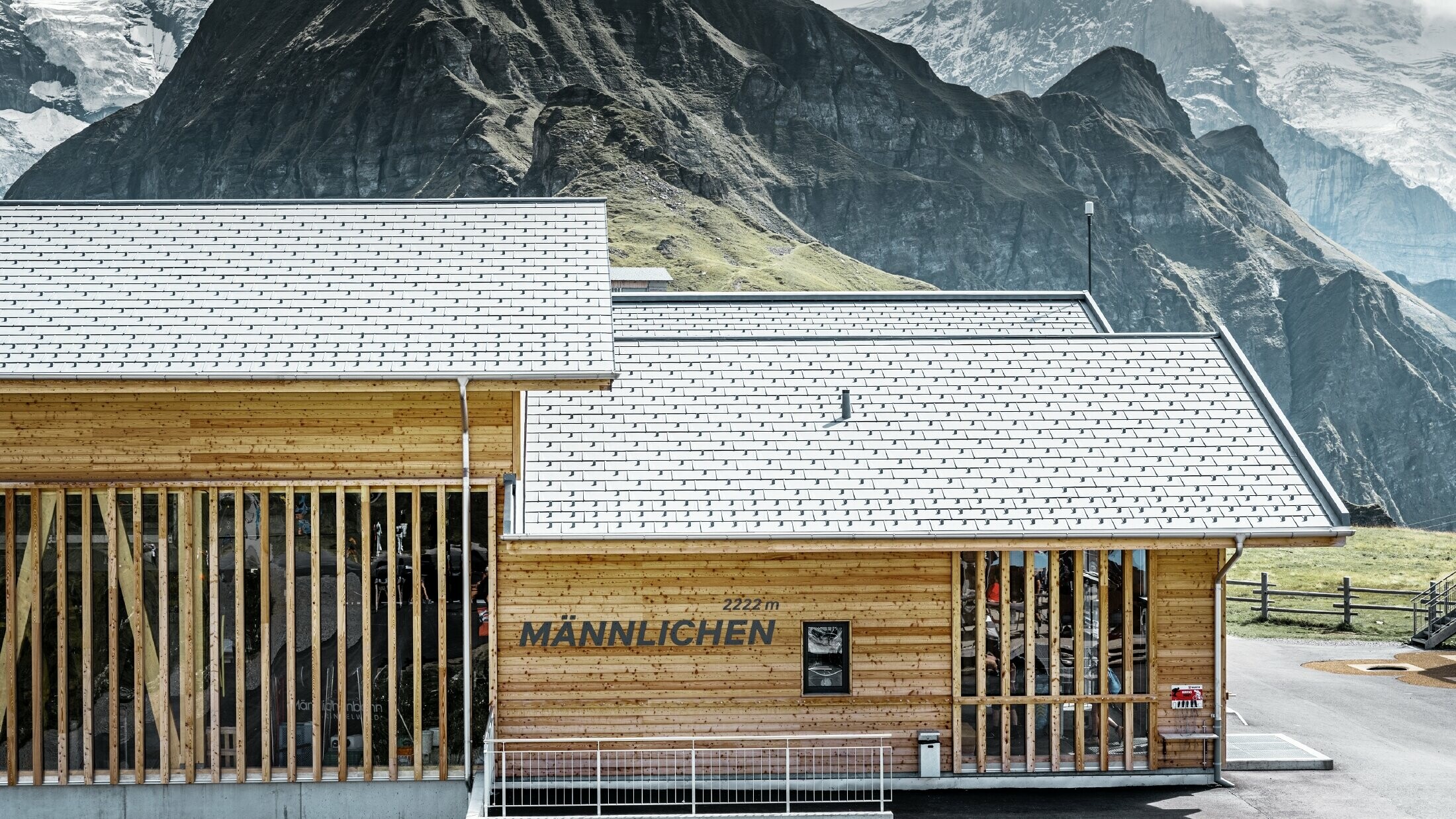 Bergstation Grindelwald-Männlichen eingedeckt mit der PREFA Dachplatte R.16 in P.10 Steingrau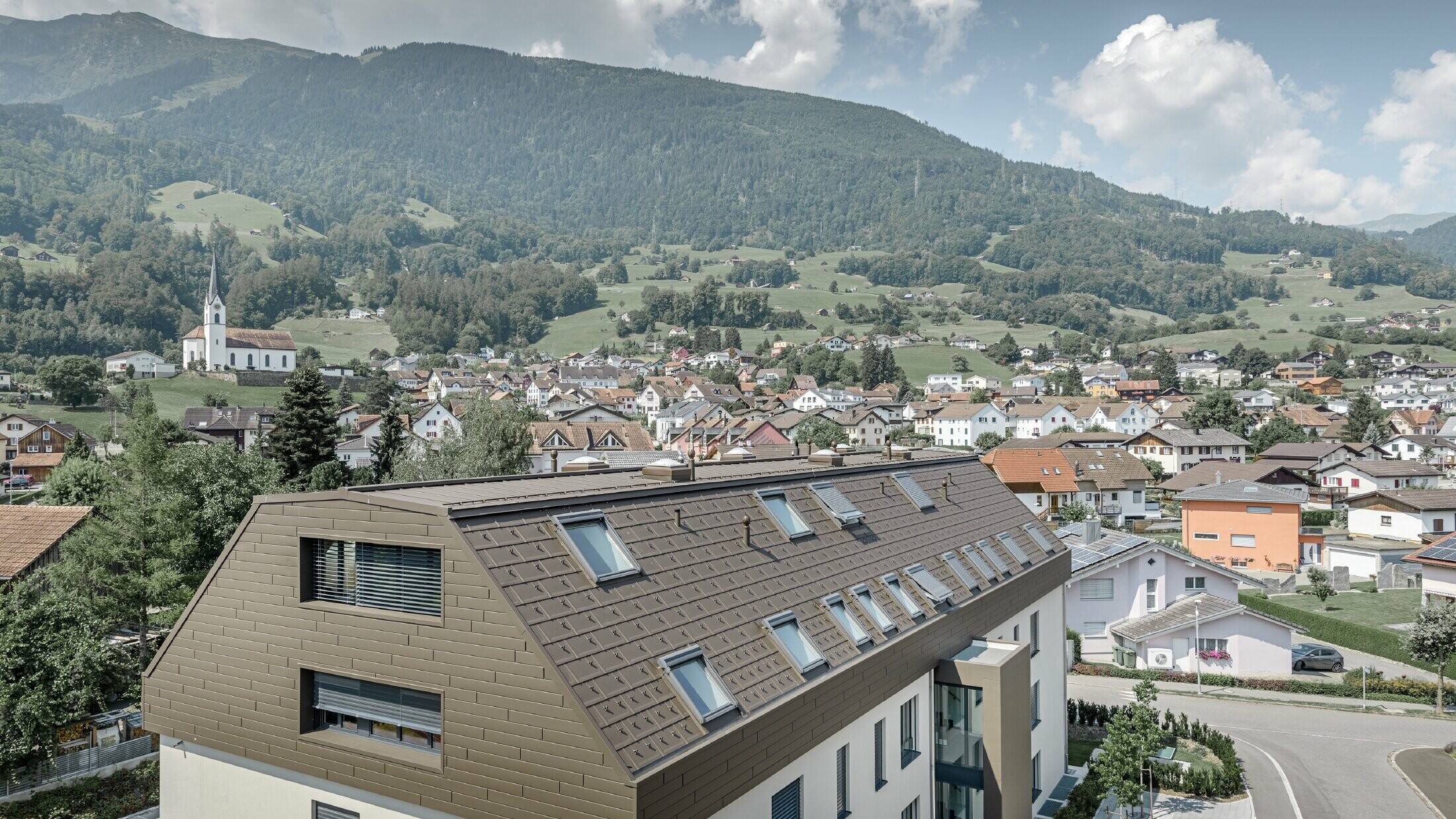 PREFA R.16 roof tile and siding in brown for the Wangs apartment building
PREFA R.16 roof tiles used for an A-frame with roof windows
Classic detached home in Italy with R.16 roof tiles in P.10 nut brown
Traditional home in Italy with a rustic timber façade. Nut brown PREFA R.16 roof tiles were used for the roof covering.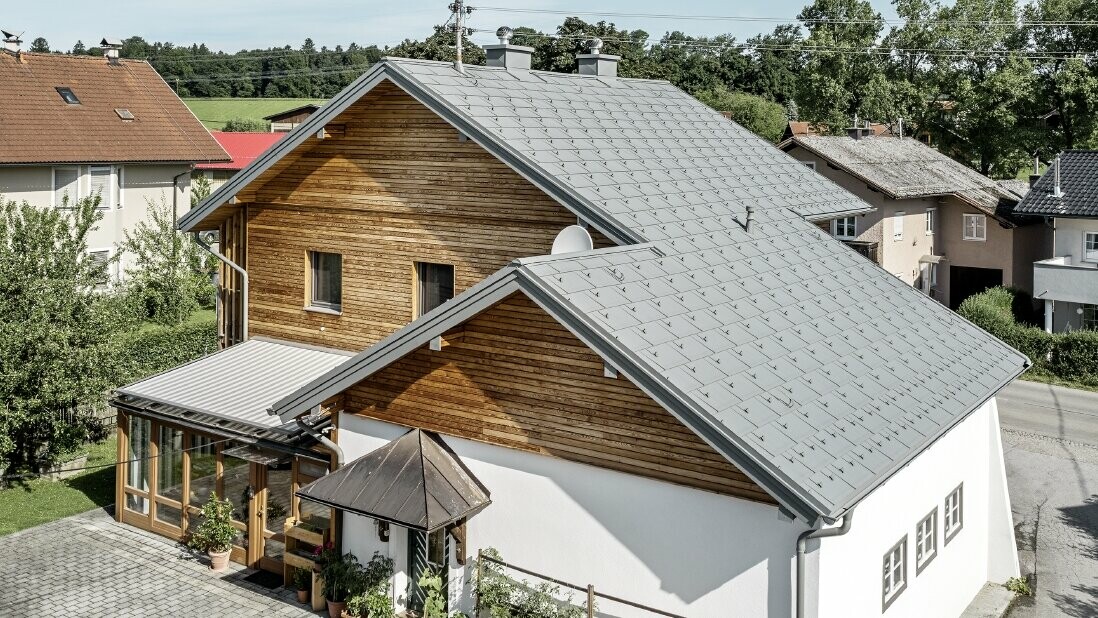 Neu saniertes Dach mit der PREFA Dachplatte R.16 in P.10 Hellgrau
Still got questions about PREFA roof tiles?

:
FAQs
Material

coil-coated aluminium, 0.7 mm thick

Standard finish

stucco

Dimensions

700×420 mm (cover), i.e. 3.4 pc./m²

Weight

approx. 2.5 kg/m²

Minimum roof pitch

17° (approx. 31%)

Supporting substrate and separation layer*

On fully boarded substrate (at least 24 mm), a separation layer is required for roof pitches between 17° and 25°; with snow loads greater than 3.25 kN/m² or in terrain categories 0, I or II, fully boarded substrate with a separation layer is required.

* Observe country-specific standards and specialist guidelines.

Standard fastening

direct fastening, 3 PREFA ring nails per R.16 roof tile (i.e. 10 PREFA ring nails per m²)
Roof structure

PREFA aluminium roofs are produced with a ventilated sub-structure, with the roof cover and thermal insulation layer separated by a ventilated gap. This means any occasional condensation, for example, can be wicked away.
It is mostly the roof membrane that is ventilated, as shown in the first picture. However, the entire attic can be ventilated too (image on right).
Planning & Application

You'll find specification docs and details on the PREFA R.16 roof tile available for download here. Installation manuals and tips for installing roofs, as well as planning guidelines, the roof data entry form and loads of R.16 roof tile installation videos can be found in our Service Area (for tinsmith and roofer partner firms only – please have your log-in details ready).
Information for architecture and planning agencies: 3D and BIM data, as well as textures for our products can also be found here: digital planning
Accessories

You will find a list of matching accessories for PREFA R.16 roof tiles, from verge trim and ridge vents, to roof safety products like snow stoppers and walkways, here.
For a complete, detailed list of accessory products, see our price list (only for processors).