Advantages of the PREFA FX.12 roof panel

available in many standard colours

2 formats (short and long) and variable joint offset for irregular appearance

available in many standard colours

2 formats (short and long) and variable joint offset for irregular appearance

Unique appearance & high resistance
The irregular edges create a lively interplay between light and shadow and further reinforce the panels.

Can be mounted directly on the substructure without clips.

Unique appearance & high resistance
The irregular edges create a lively interplay between light and shadow and further reinforce the panels.

Can be mounted directly on the substructure without clips.
Makes the installer's life easier.
In addition to its individual look, FX.12 also offers many practical advantages in processing – and thus meets all the requirements of both the modern and the traditional tinsmith craft. FX.12 is extremely quick to install due to its direct mounting on the integrated fastening strip. Furthermore, due to their large format, only a few panels are needed to cover 1 m² of roof surface.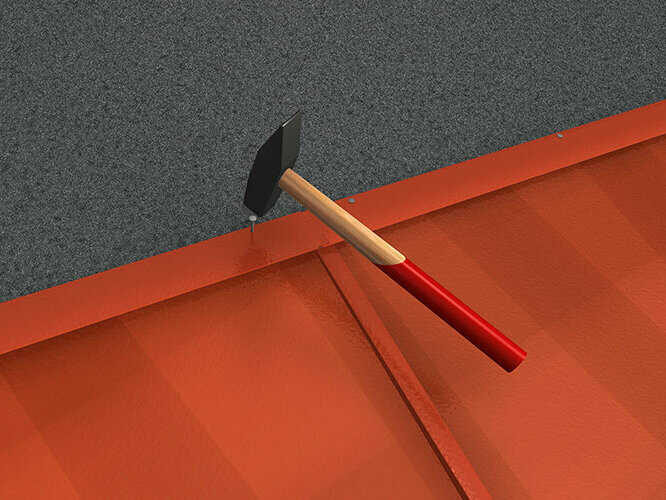 Colour range of the PREFA FX.12 roof panel
The colour palette of the PREFA FX.12 roof panel ranges from classic brick red via modern shades of grey up to brown tones. The following PREFA roof colours are available as standard:
| | | |
| --- | --- | --- |
| Colour | Code | ~ RAL |
| | P.10 brown | 7013 |
| | P.10 anthracite | 7016 |
| | P.10 black | 9005 |
| | P.10 brick red | 8004 |
| | P.10 oxide red | 3009 |
| | P.10 moss green | 6005 |
| | P.10 light grey | 7005 |
| | P.10 nut brown | 8019 |
| | P.10 dark grey | 7043 |
| | P.10 stone grey | 7031 |
Notes
The RAL values stated are merely approximate values (~), some of which may differ vastly from the original PREFA colour and, under certain circumstances, may not reflect the subjective perception of the colour.
Above all for colour quality P.10, it is almost impossible to define values due to the surface structure.
Plain aluminium: The guarantee does not cover surface appearance alterations caused by processing and environmental influences. Follow the instructions.
Metallic colours may vary in shade.
To identify exact colours for complementary components please consult original samples.
Be inspired by reference properties that have already been implemented.
Not only the irregular edges and the resulting lighting effects ensure a visual highlight. Two different panel formats (short and long) also enable the appearance of the roof to be further shaped. We have developed three laying examples for the FX.12 roof panel for you – of course, other variants are also possible.
Whether you're re-laying your roof from scratch or renovating your old roof, you'll find tons of inspiring projects using aluminium roof panels from PREFA in our Reference Gallery and Renovation Gallery. Check out a few examples here: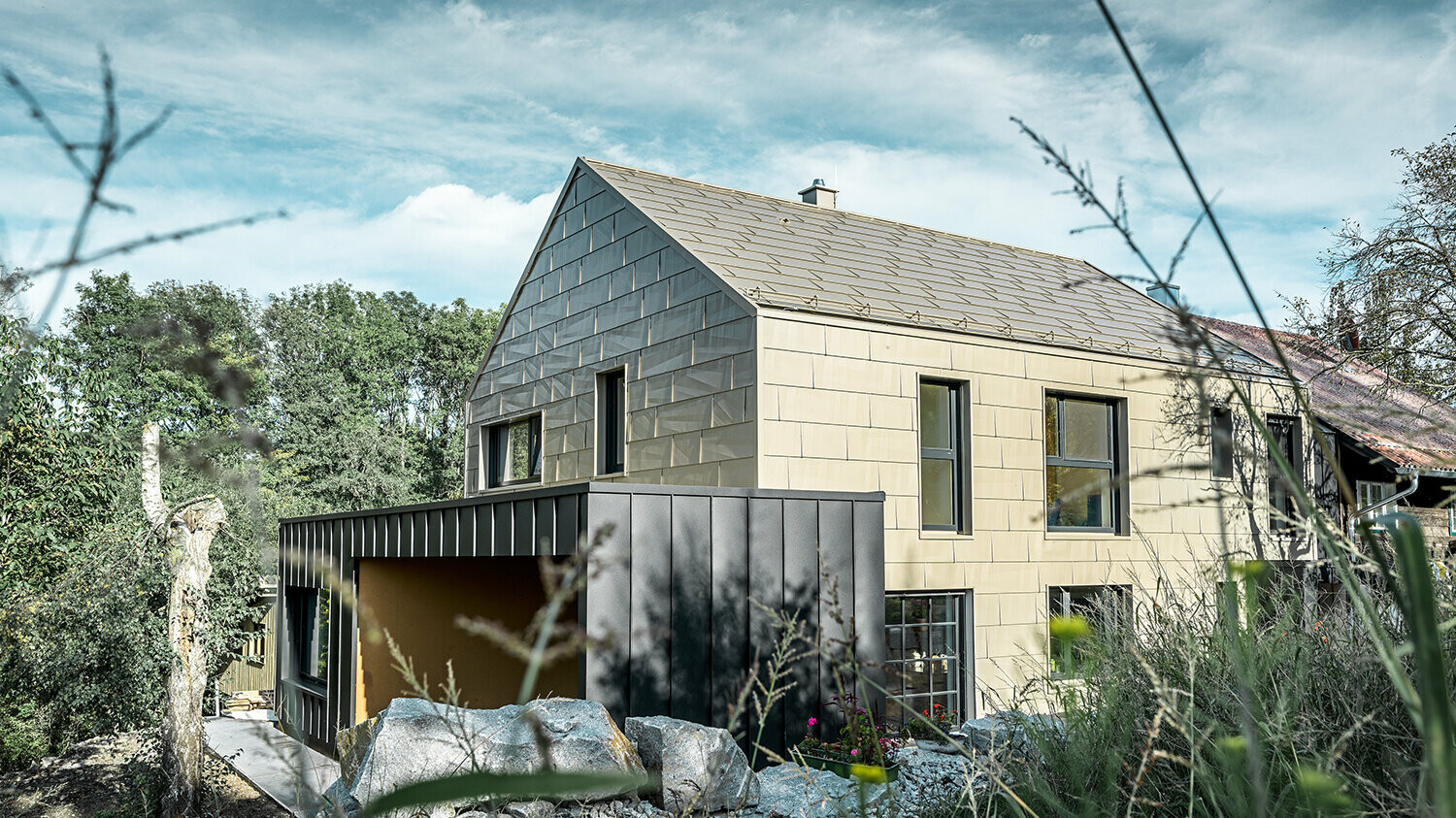 Apartment complex complete with FX.12 roof and façade panels in bronze with extension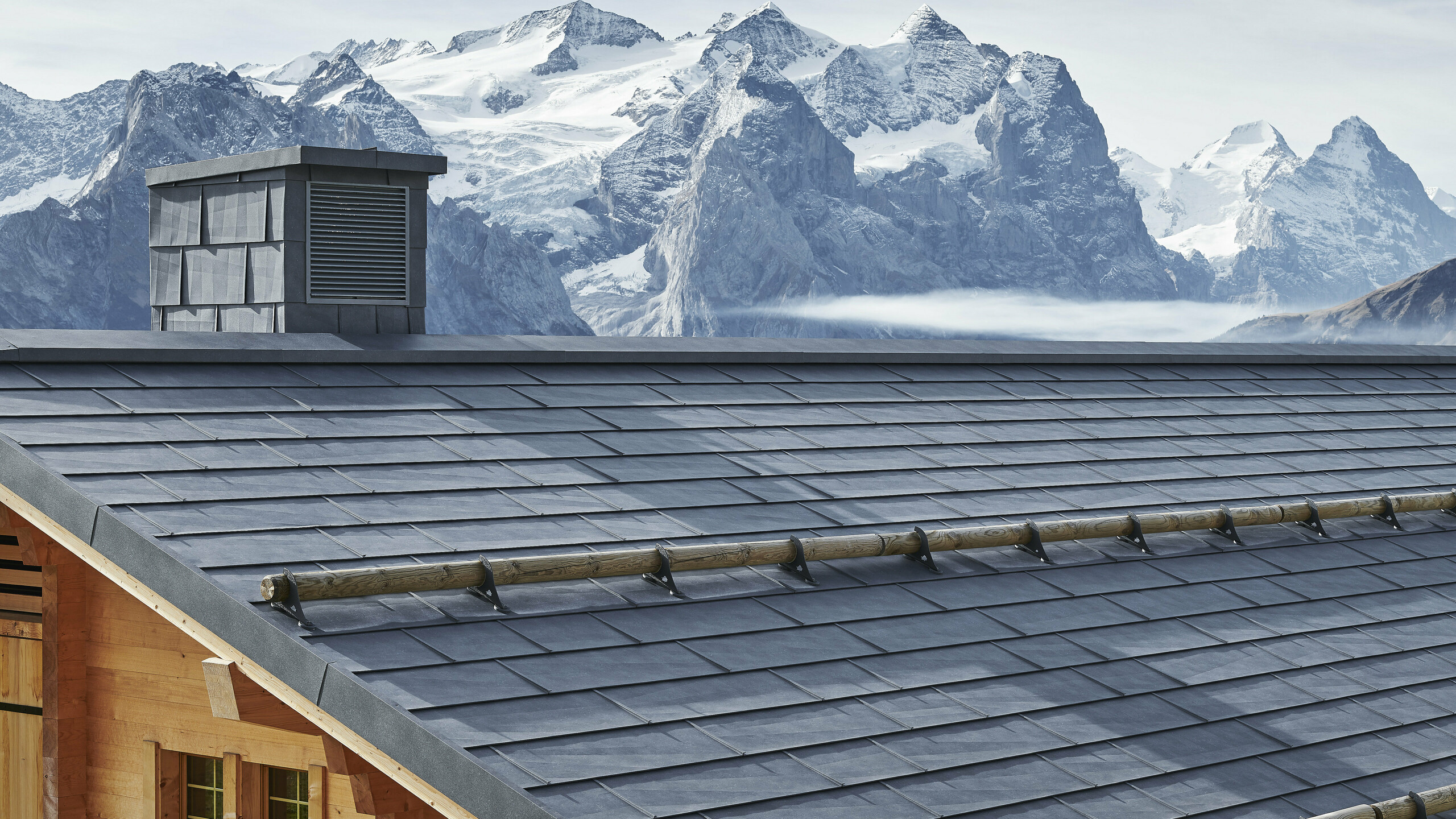 The Reuti hotel and Käserstatt mountain restaurant were constructed with lots of wood and stone. For the Managing Director of Bergbahnen Meiringen-Hasliberg, Hanspeter Wenger, these two new buildings in the region are particularly important, and he commissioned the architectural firm Amstutz Abplanalp Birri from Meiringen and the architect Jost Zumstein for this purpose. The high-quality PREFA products can withstand these conditions and protect the building from damage.
At Käserstatt, at 1850 metres above sea level, the snow is sometimes up to three metres deep and the winds can be up to 150 kilometres per hour.
Still got questions about the PREFA FX.12 roof panel?
Material

coil-coated aluminium, 0.7 mm thick

Dimensions

700×420 mm (cover), i.e. 3.4 pc./m²
1,400×420 mm (cover), i.e. 1.7 pc./m²

Weight

approx. 2.4–2.5 kg/m²

Minimum roof pitch

17° (approx. 31%)

Supporting substrate and separation layer*

On fully boarded substrate (at least 24 mm), a separation layer is required for roof pitches between 17° and 25°; with snow loads greater than 3.25 kN/m² or in terrain categories 0, I or II, fully boarded substrate with a separation layer is required.

* Observe country-specific standards and specialist guidelines.

Standard fastening

direct, with 3 PREFA ring nails per small FX.12 roof panel, with 5 PREFA ring nails per large FX.12 roof panel (i.e. 8–10 PREFA ring nails per m²)
PREFA aluminium roofs are preferably executed with a vetilated build up, whre the substrate and thermal insulation layer is separated by a ventilated gap. This means any occasional condensation can be wicked away.
It is mostly the roof membrane that is ventilated, as shown in the first picture. However, the whole attic space can also be ventilated (second picture).
Our installers and architects can download specification documents and information on the PREFA FX.12 roof panel here. Installation partners will find installation manuals and tips for laying roofs, along with planning guidelines, the roof data entry form, and a wide range of panel installation videos in our Service Area. (Only for partner companies – please have your log-in details ready. Not received your log-in details yet? Please contact your Local Sales Manager).
Special note for our architecture and design studios: 3D and BIM data, as well as textures for our products can also be found here: digital planning
Below you will find a list of suitable accessories for the PREFA FX.12 roof panel – from verge trim and ridge vents to roof safety products like snow guards and walkways. Gutters and drainpipes in matching colours can be found under "Roof drainage". The PREFA range also includes façade systems, flood protection, and photovoltaic products.
For a complete, detailed list of accessory products, see our price list (only for processors).