With the small-format rhomboid façade tile 20×20, architectural features can be effectively highlighted. Smaller façade surfaces, gables, chimneys or bay windows can be covered elegantly and with attention to detail, as can the entire façade surface.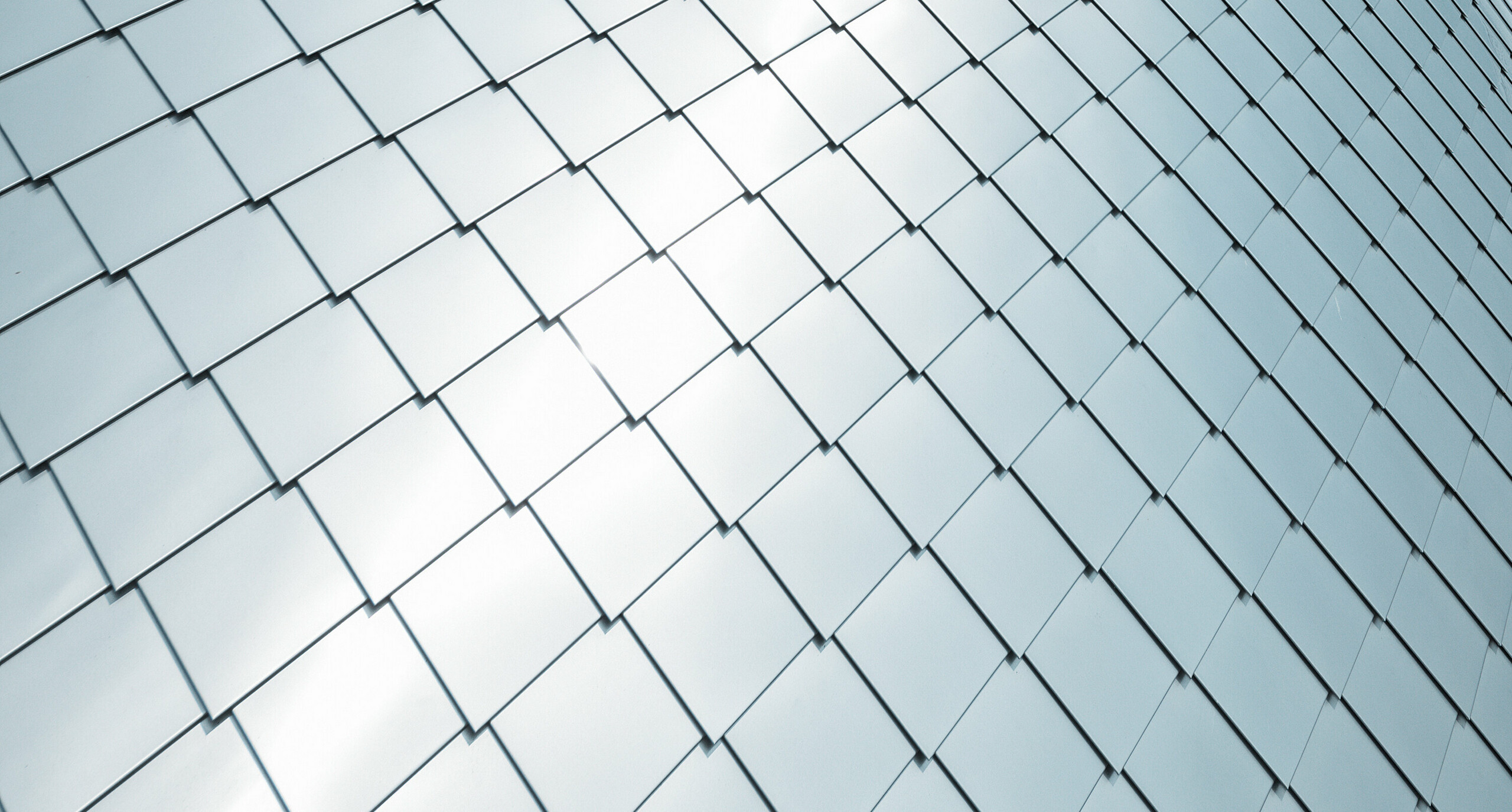 Advantages of the PREFA rhomboid façade tile 20 × 20
Colour range of the PREFA rhomboid façade tile 20 × 20
The PREFA rhomboid façade tile 20 × 20 can be ordered with a stucco finish (structural embossing) or smooth finish.
| | | |
| --- | --- | --- |
| Colour | Code | ~ RAL |
| | P.10 brown | 7013 |
| | P.10 anthracite | 7016 |
| | P.10 black | 9005 |
| | P.10 brick red | 8004 |
| | P.10 oxide red | 3009 |
| | P.10 moss green | 6005 |
| | P.10 light grey | 7005 |
| | P.10 zinc grey | 7030 |
| | P.10 prefa white | 9002 |
| | P.10 nut brown | 8019 |
| | metallic silver | 9006 |
| | P.10 dark grey | 7043 |
| | P.10 stone grey | 7031 |
Notes
The RAL values stated are merely approximate values (~), some of which may differ vastly from the original PREFA colour and, under certain circumstances, may not reflect the subjective perception of the colour.
Above all for colour quality P.10, it is almost impossible to define values due to the surface structure.
Plain aluminium: The guarantee does not cover surface appearance alterations caused by processing and environmental influences. Follow the instructions.
Metallic colours may vary in shade.
To identify exact colours for complementary components please consult original samples.
Be inspired by case studies of already completed projects.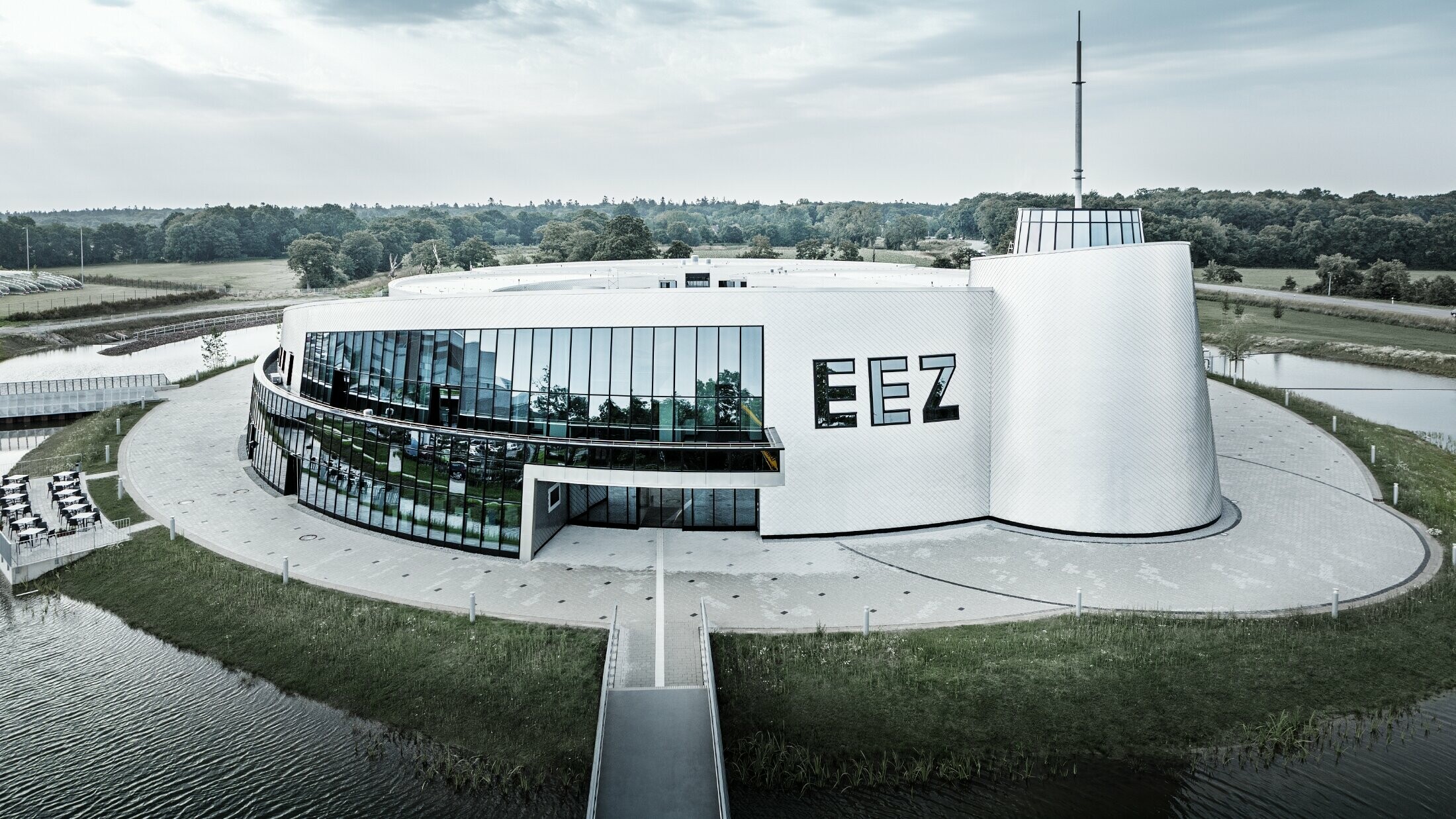 Aurich's Energie-Erlebnis-Zentrum (EEZ) with PREFA rhomboid façade tile 20 × 20 in plain aluminium
You may also like the following option.

:
PREFA rhomboid façade tile 44 × 44 or PREFA rhomboid façade tile 29 × 29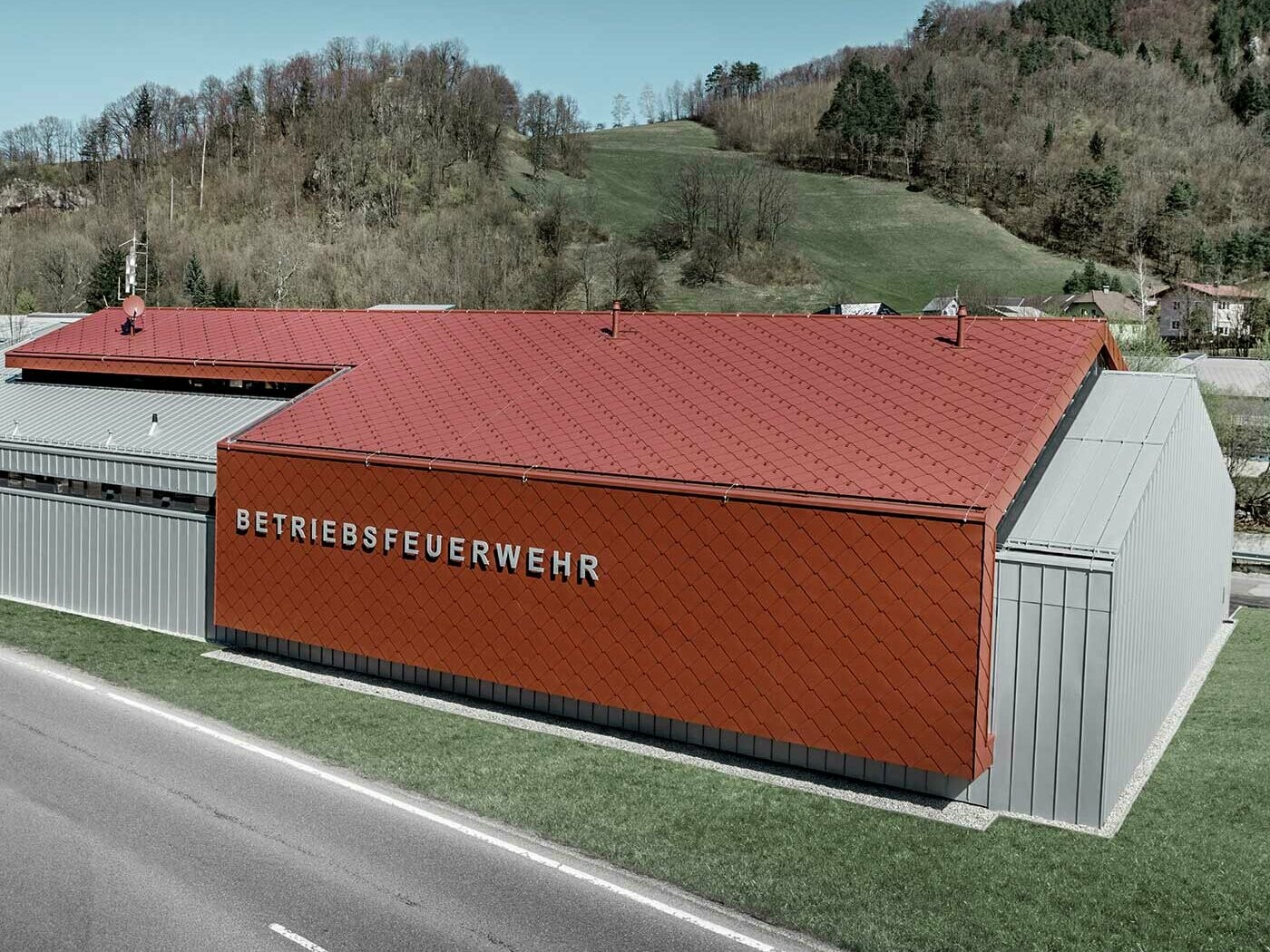 Do you have any questions about the rhomboid façade tile 20 × 20?
PREFA is not a rendered façade. It is a high-quality aluminium façade which is installed as a non-bearing, rear-ventilated façade.
Fears of rusting are completely unfounded because aluminium cannot rust. If the surface of the PREFA aluminium façade is damaged, a new protective oxide layer is formed and the durability of the PREFA façade remains unchanged.
PREFA façades are installed as non-bearing, rear-ventilated façades. This means that there is a gap for rear ventilation between the aluminium façade cladding and the insulation. In summer, the hot air cannot accumulate behind the façade because it rises through the rear ventilation and is transported away. In the winter, this structure provides thermal protection, as the heat transfer resistance is increased in the rear-ventilated space. This temperature buffering in the rear-ventilated space ensures a comfortable indoor climate all year round.
The PREFA façade is the outermost protective layer of your house and simultaneously serves as a visual design element to improve the look of your home. Not only is it nice to look at, it also protects your home from the weather. In addition, durable PREFA aluminium cladding protects the underlying layers (supporting structure, insulation and substructure) from the effects of the weather. Owing to the fact that your PREFA façade is particularly weather-resistant, you can enjoy its beautiful appearance for decades.
It should be noted that PREFA façade products must not be confused with sandwich panels or other products with integrated insulation, as they are exclusively specialised for the functions mentioned above (protection and visual design). If you would also like to have a high-quality aluminium PREFA façade, the skilled workshop will be able to provide you with a suitable substructure and, if desired, suitable insulation in addition to improving the appearance of your home with PREFA façade cladding.
All PREFA aluminium façade systems are produced as rainscreens. A system that has stood the test of time for over a century, and also has a positive impact on the indoor climate thanks to its special structure. Air is allowed to circulate between the masonry and the PREFA façade, wicking away any occasional moisture behind the metal façade.
Material

coil-coated aluminium, 0.7 mm thick

Dimensions

200×200 mm (cover), i.e. 25 pc./m²

Weight

approx. 2.8 kg/m²

Supporting substrate*

on fully boarded substrate (at least 24 mm)

* Observe country-specific standards and specialist guidelines.

Standard fastening

direct fastening, 1 PREFA ring nail per rhomboid façade tile 20×20 (i.e. 25 PREFA ring nails per m²)
Metalworkers and architects can download Tender specifications and Details of PREFA rhomboid façade tiles here. The installation instructions and the planning guide for the façade can be found in our Service area (exclusively for our PREFA partner companies – please have your access data ready).

Note especially for our architecture and planning offices: 3D and BIM data as well as the textures of our products can be found here: Digital planning
The product is rounded off by matching PREFA accessories such as start and end panels as well as the starter strip for the façade. Usually all flashings and trimmings are made from available complementary coil material in matching colours, by the installer himself.

For a complete, detailed list of PREFA accessory products, see our price list (for installers only).