PREFA's mobile flood protection in the aluminium barrier panel system is used to protect buildings and land. It is a reliable water and mud barrier even in extreme situations – from the Danube to the North Sea. Lightweight, robust and easy to assemble, aluminium barrier panels are stacked on top of each other in a tongue and groove system and inserted between two fastening profiles or uprights – in an emergency, they can even be installed by just one person. For this purpose, the profiles are sealed with special, replaceable rubber seals and fixed at the top with a compression clamp. In this way, doors, windows, gates, garages, driveways, basement doors and basement windows, as well as entire buildings and areas, can be safely protected from incoming floods in both residential and commercial districts. If required, an existing protective wall can be extended and raised after structural re-dimensioning. PREFA flood protection can be installed and removed rapidly: it is lightweight, robust, ready for use at any time and otherwise practically invisible.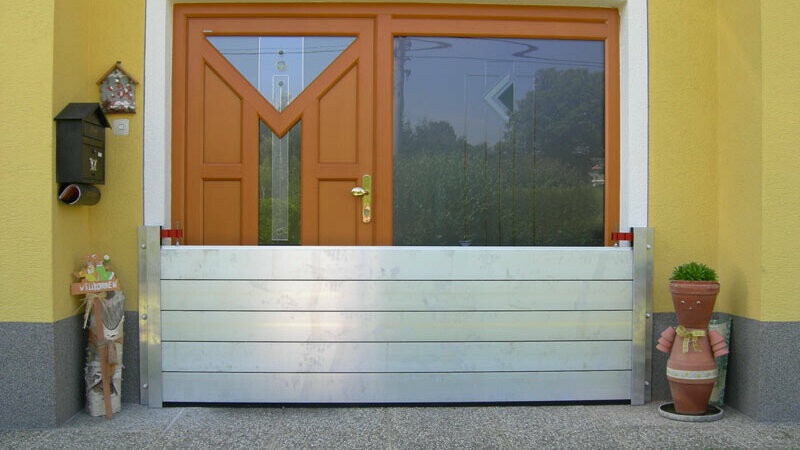 Mobile flood protection system for entrance doors
The special aluminium profiles, which are used as building protection, are suitable for effectively sealing doors, gates and windows. As land protection, the system can protect land areas close to riverbanks or adjacent areas from flooding.
PREFA aluminium flood protection system
PREFA flood protection can be used as land or building protection. It is suitable for protecting both private houses and larger company buildings.
PREFA mobile flood protection, garage door
PREFA mobile flood protection to protect the garage from flooding. The aluminium barrier panels are individually adapted to the respective building.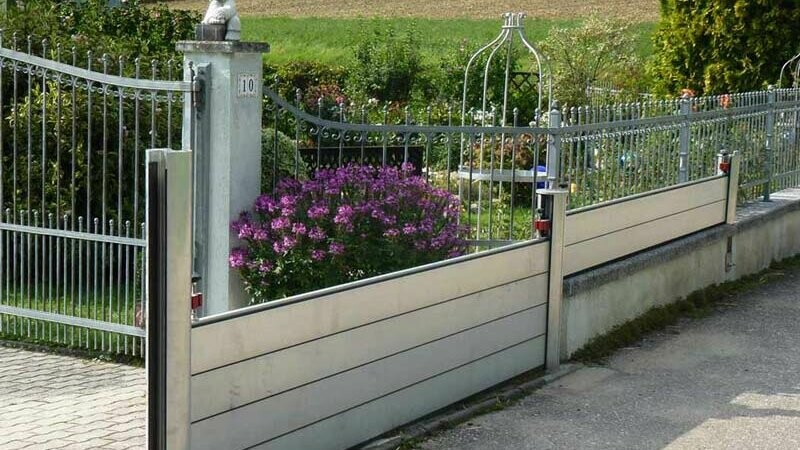 PREFA flood protection system, house driveway
With a modern PREFA flood protection system, you can seal house driveways, gate openings, doors and windows against flooding. The length of the aluminium barrier panels can be individually adapted to different areas.
The design of the PREFA flood protection system
With the PREFA flood protection system, you can protect your belongings from the threat of flooding. The lightweight aluminium barrier panels can be quickly and easily erected in an emergency.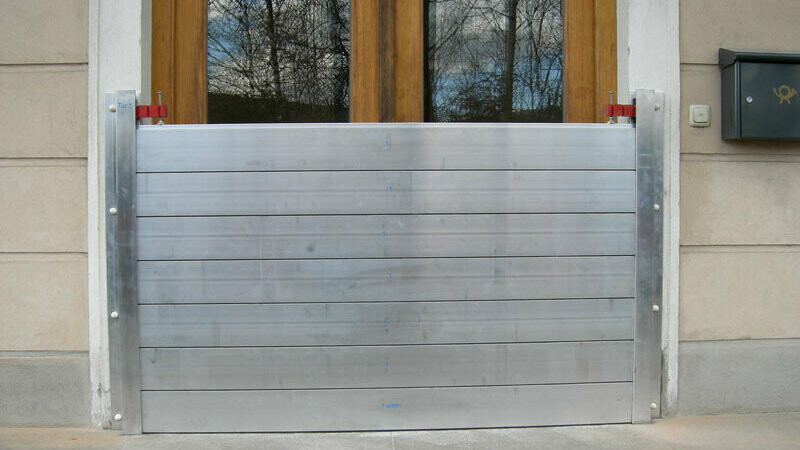 PREFA mobile flood protection
The PREFA mobile flood protection system can quickly seal off various areas of the house that are vulnerable to incoming water. Individually adapted barrier panels provide protection for doors, gates and windows.
Made of unbreakable aluminium
Aluminium is unbreakable, rustproof, weatherproof and extremely lightweight. In an emergency, the product allows for quick and easy assembly – if necessary by only one person! Aluminium is a safe and convenient alternative to sandbags and other flood protection materials. PREFA flood protection walls provide complete safety as soon as the first barriers are inserted. If the water level continues to rise, the number of barrier panels can easily be increased. The material is also 100% recyclable.
Flexible use of the elements
The PREFA flood protection solution can be installed in an emergency and then removed easily afterwards. For flexible storage, PREFA offers the weatherproof wall bracket, cover and edge protector: this means that the flood protection can be stored easily when not in use, so that it remains ready for use but virtually invisible. Permanent use is also possible when using the permanent bottom seal. The system is lightweight and flexible. It can be mounted in front of, in or behind the jamb. An existing protective wall can be extended or raised if necessary after structural re-dimensioning.
Available in many colours
After dismantling, the flood protection system is virtually invisible. The permanently installed fastening profiles can be colour-matched to the façade, as can the barrier panels up to a length of 3 metres. PREFA flood protection can therefore also be designed to be visually appealing. The elements are available in standard RAL colours on request.

BREAK-PROOF AND CORROSION-FREE MATERIAL


EFFORTLESSLY TRANSPORT AND FIXATION

BREAK-PROOF AND CORROSION-FREE MATERIAL


EFFORTLESSLY TRANSPORT AND FIXATION