There it stands with its radiant aura in the Harburg upriver port, in the south of Hamburg – the "White House". It does not have a president, but the building can impress with a total of 35 apartments, plenty of light as well as corners and edges. In a very narrow space, a sculpture-like form was realised right next to one of the oldest buildings in the city. In a play with opposites, a milestone was brought to life whose inclined structure creates a lot of living space in an unusual way.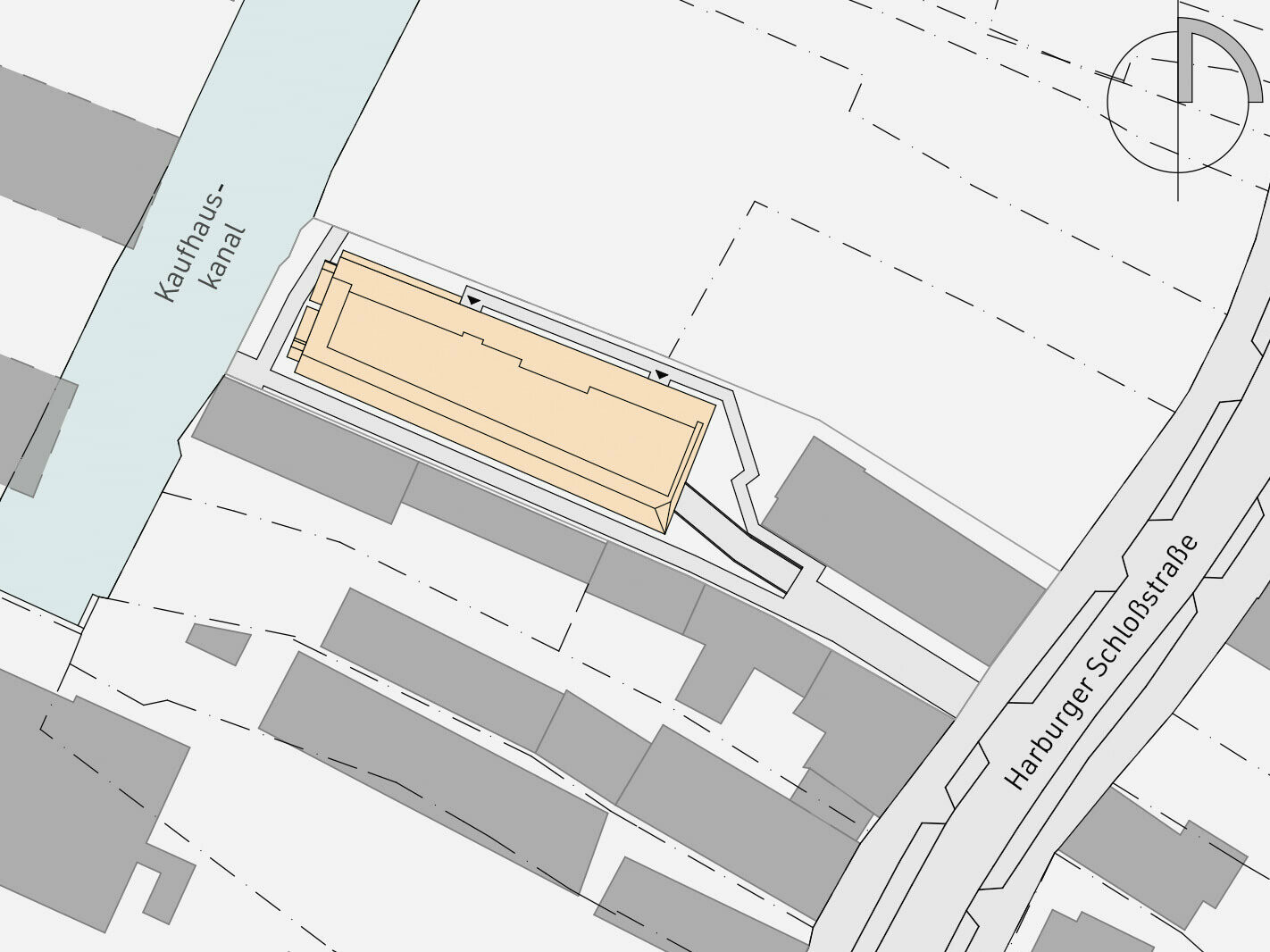 Distance with an unusualness
It is inclined, depending on the light sometimes white, sometimes grey and has a sculpture-like appearance in its surroundings. The "White House" represents perfected innovation in terms of housing densification, right where it was needed. "When we started, there was still an old workshop and a garage. A typical backyard situation," as Christoph Frenzel of the architectural office Frenzel und Frenzel describes the starting situation. The narrow building site is located right by the local Kaufhauskanal, with residential buildings exhibiting a black metal façade on the other side. A listed half-timbered house consisting of bricks and a tiled roof also belongs to the property. "We wanted to distance ourselves from this object as far as possible," Frenzel says. "Therefore, we made sure to move away from it from a design perspective."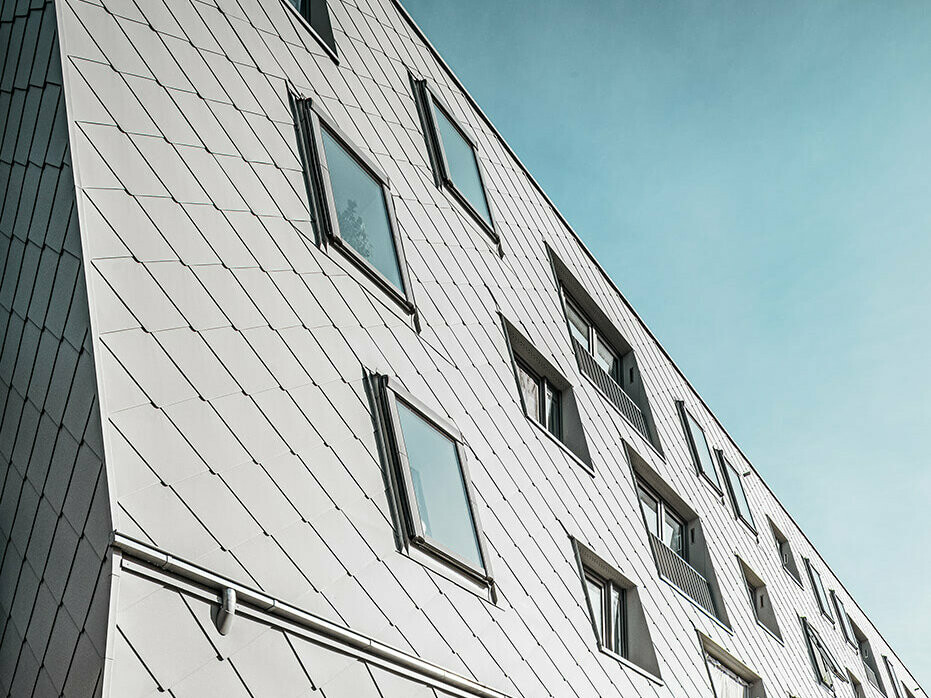 Basically, the "White House" has always been called that way, and the reason for this is rooted in the original plans. The intention was to choose a lighter colour to create a contrast to the dark buildings in the surrounding area, which gave the project its name. However, in line with monument protection, the decision was made to use a greyish façade. Frenzel tells us: "We thought it would be rather strange to call it a 'grey house'. White has a greater appeal, a high degree of recognition, and who is able to say they live in the 'White House'?" Without further ado, they decided to stick to the name and still use the PREFA rhomboids 44 × 44 in P.10 zinc grey. In the stacked storey, Prefalz in P.10 PREFA white was used.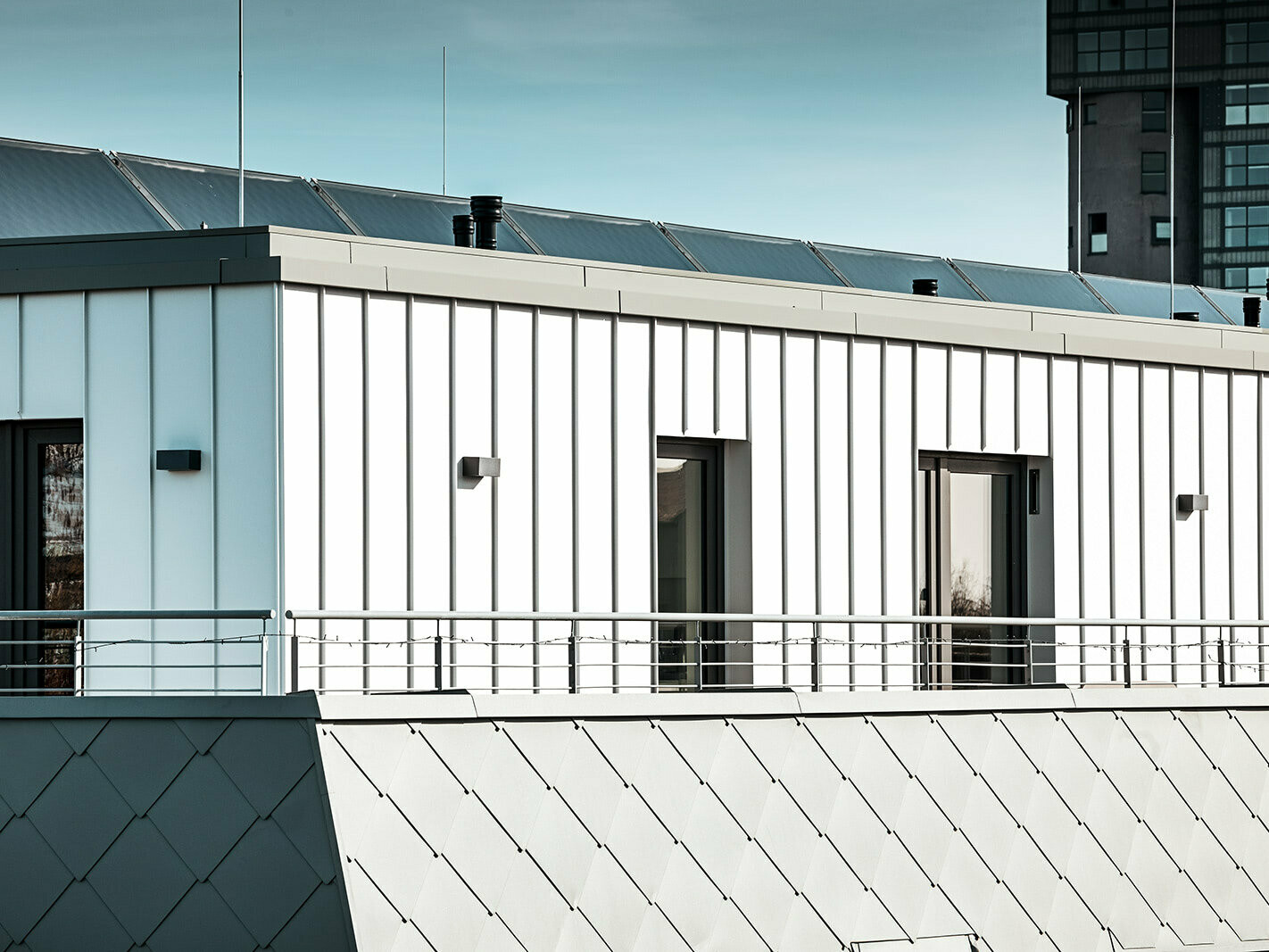 Productively designing opposites
The building requireda wealth of ideas not only in terms of its colour, but also in terms of its shape. The property boundaries are very narrow, which is why the longitudinal building block was planned with a high degree of precision. To generate as much living space as possible despite the small area and ensure that its inhabitants can enjoy plenty of sunlight, the 4-storey building exhibits a fold. "This simply developed from the creativity and the combination of the tasks," as Frenzel describes the idea underlying the project. "It is like a kind of crystal that was cut to suit its requirements and placed there." An impressive example of how you can get the most out of something inconspicuous by thinking outside the box.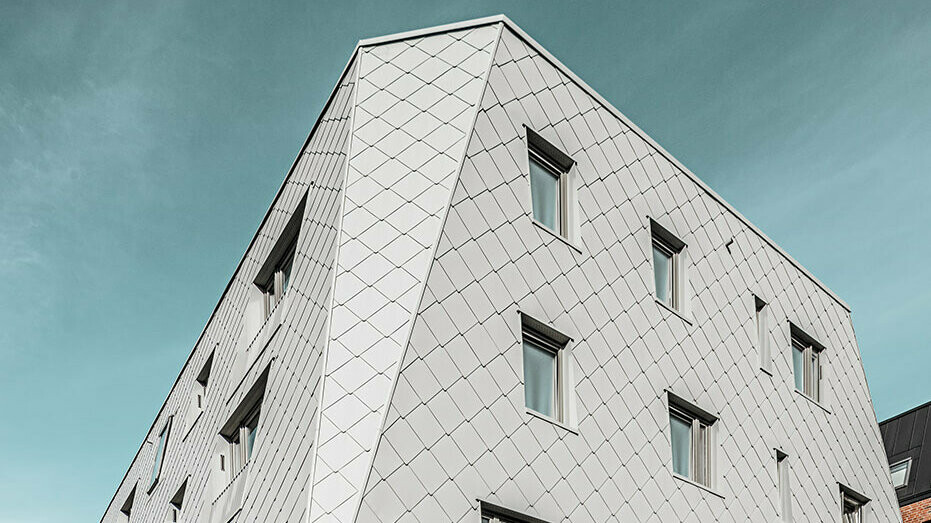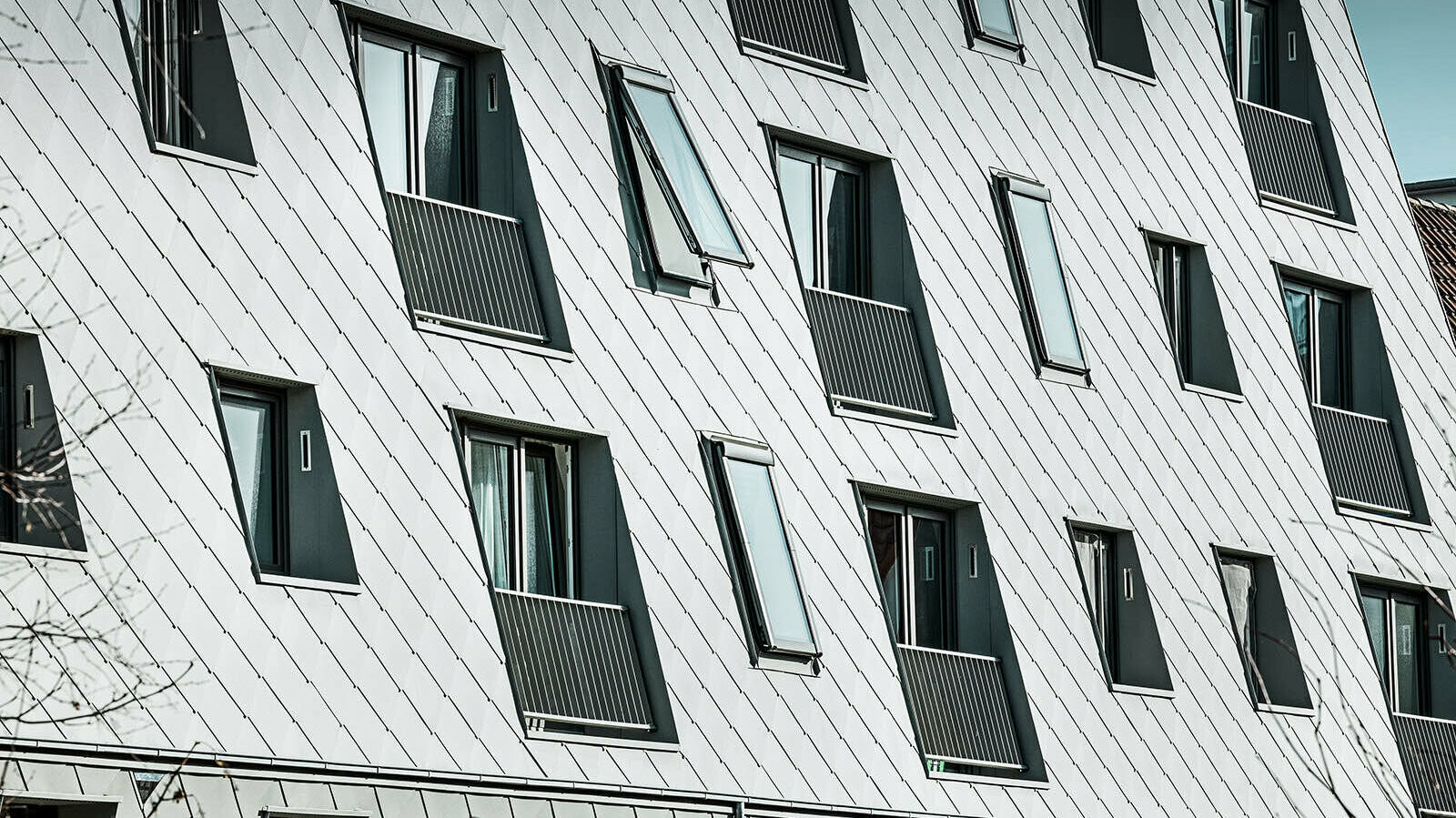 Inclined to think differently
The Buxtehude-based architectural office Frenzel und Frenzel has outdone itself with this concept, which clearly stems from their experience and creativity. "We do have a quite varied field. I always say we are like a large bouquet of flowers because we cover many different areas," Christoph Frenzel tells us. The architects' portfolio includes both housing construction as well as public buildings and commercial construction. Frenzel's highlight of the "White House" is that the building stands there just as it was planned. "We are very pleased with the architectural language that was realised in this object and hope the inhabitants feel well here too."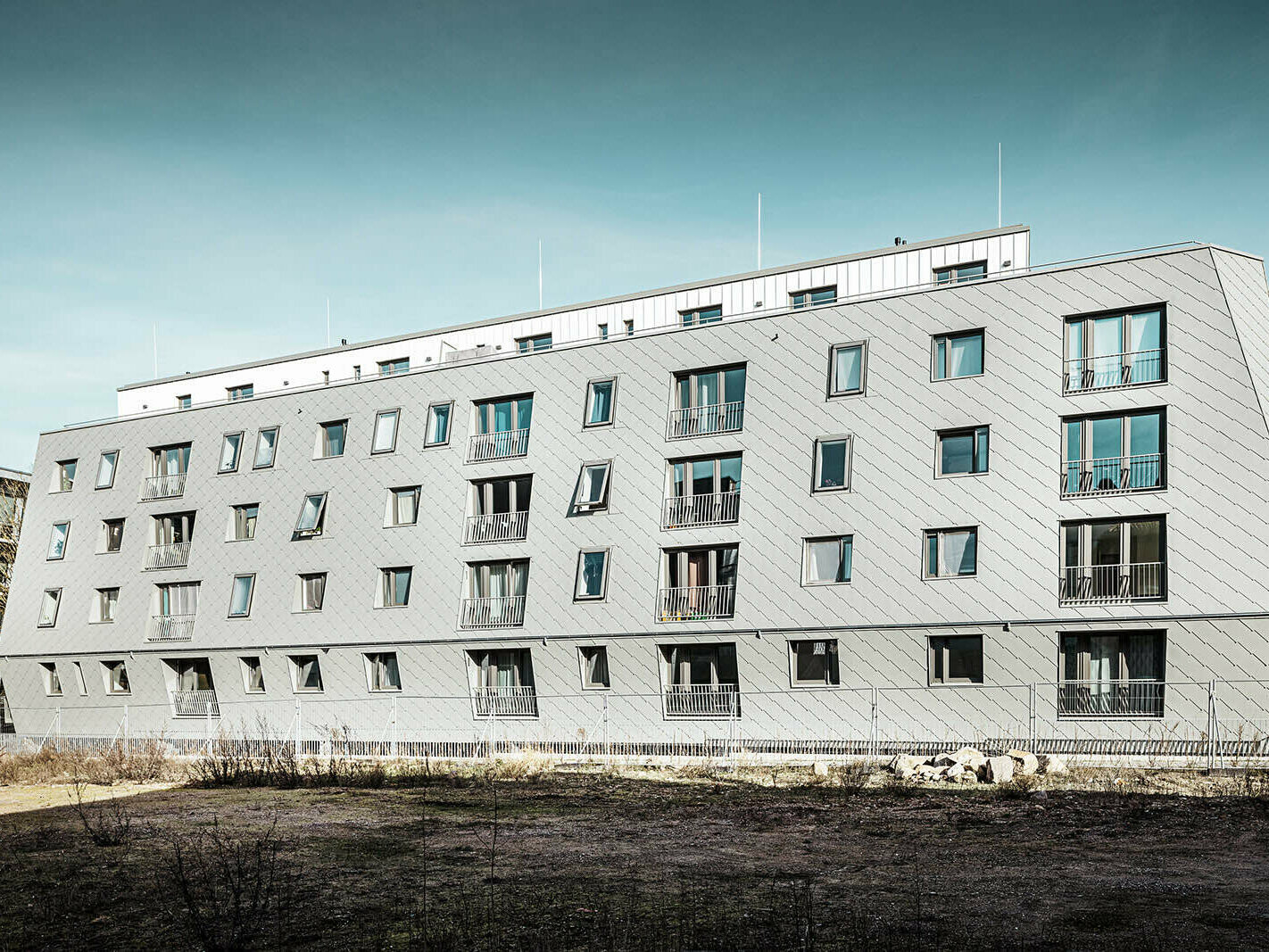 The "White House" - details
| | |
| --- | --- |
| Country: | Germany |
| Building, location: | residential building, Hamburg |
| Category: | new construction |
| Architecture: | Frenzel und Frenzel Ltd. |
| Installer: | D.H.W. Schultz & Sohn Ltd. |
| Material: | |
| Colour: | P.10 zinc grey, P.10 PREFA white |
Text and Interview: Marco Steurer
Photos: © Croce & Wir
Plan: © Frenzel und Frenzel GmbH