Half an hour's drive away from the border to Denmark, the architects from dogs architektur literally built "on water" with 11 floating houses in the Schleswig district "Auf der Freiheit" ("on freedom"). Encased in a façade of larch wood and irregularly folded PREFA aluminium, the new builds illustrate how the office based in Nübel thought conversion on a grand scale.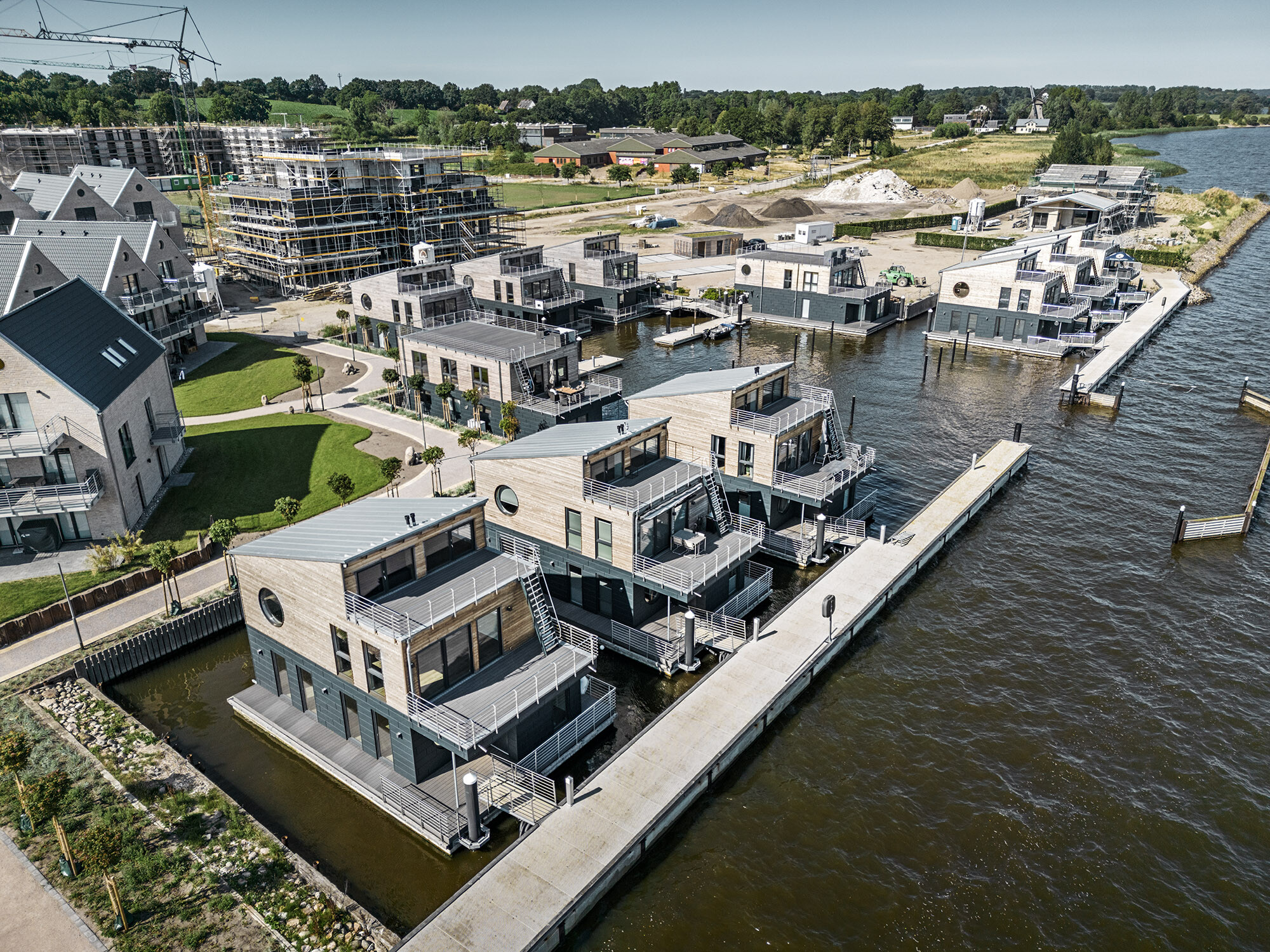 Building with what is there
Architect Gunnar Dogs and his team have been realising everything "from winter gardens to residential areas, from detached houses to industrial areas" in northern Schleswig-Holstein for 40 years. They do not choose the easy way, says Dogs, for they are always looking for the next challenge – in "individual projects," and recently also more and more in converting old estates and creating high-quality holiday homes. Their "water houses" in the Schleswig Pionierhafen (pioneer harbour) belong to this building typology. The chic little buildings were created as part of a targeted urban planning development and promise carefree holidays by the Baltic Sea fjord.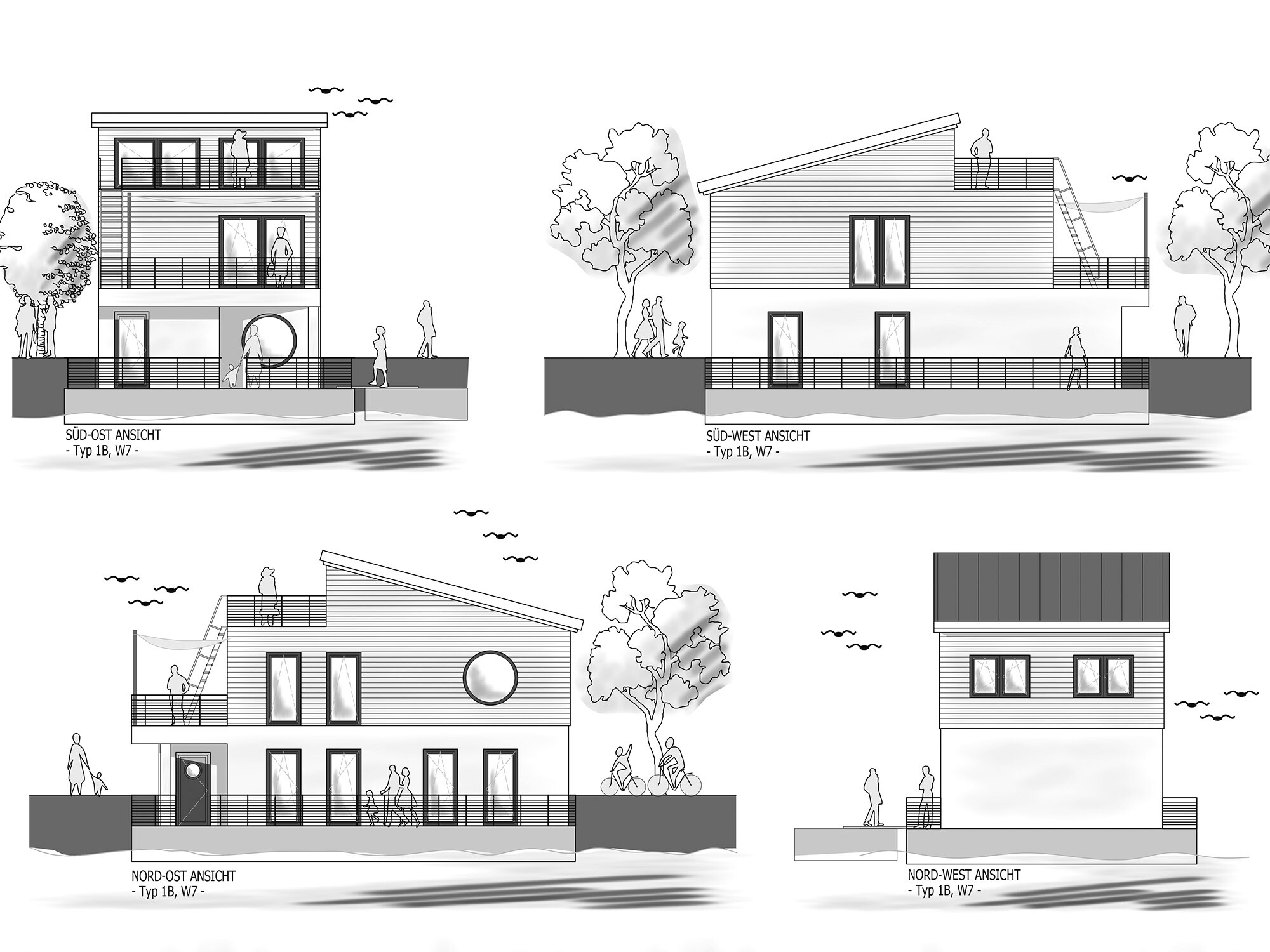 What comes after concrete ...
"Die Freiheit", the part of town where one can find the historic pioneer harbour that has been used in a variety of ways over the centuries, used to be an Armed Forces base until 2004. Once the Armed Forces withdrew, it was necessary to consider how the fallow concrete areas should best be used. "There was an extensively sealed area with a paved harbour apron including a harbour basin. As the water area extending into the land was already enclosed with sheet pile walls and limited in the direction of the Schlei, it made sense to convert the harbour," explains Gunnar Dogs. The idea was to revitalise the district by creating an entire neighbourhood. dogs architektur is participating in this revitalisation to this day, with the "floating houses" right by the Schlei and several residential buildings as well as a commercial building in the immediate vicinity that are currently being built.
There are several reasons why ideas like these make sense: Schleswig's population has increased in the past few years, so it has become increasingly difficult for tourists to find places to stay that are close to the centre. Now, they can discover the city centre or the historic fishing village Holm on foot within just a few minutes and choose from an abundance of nature and water sports right at their doorstep.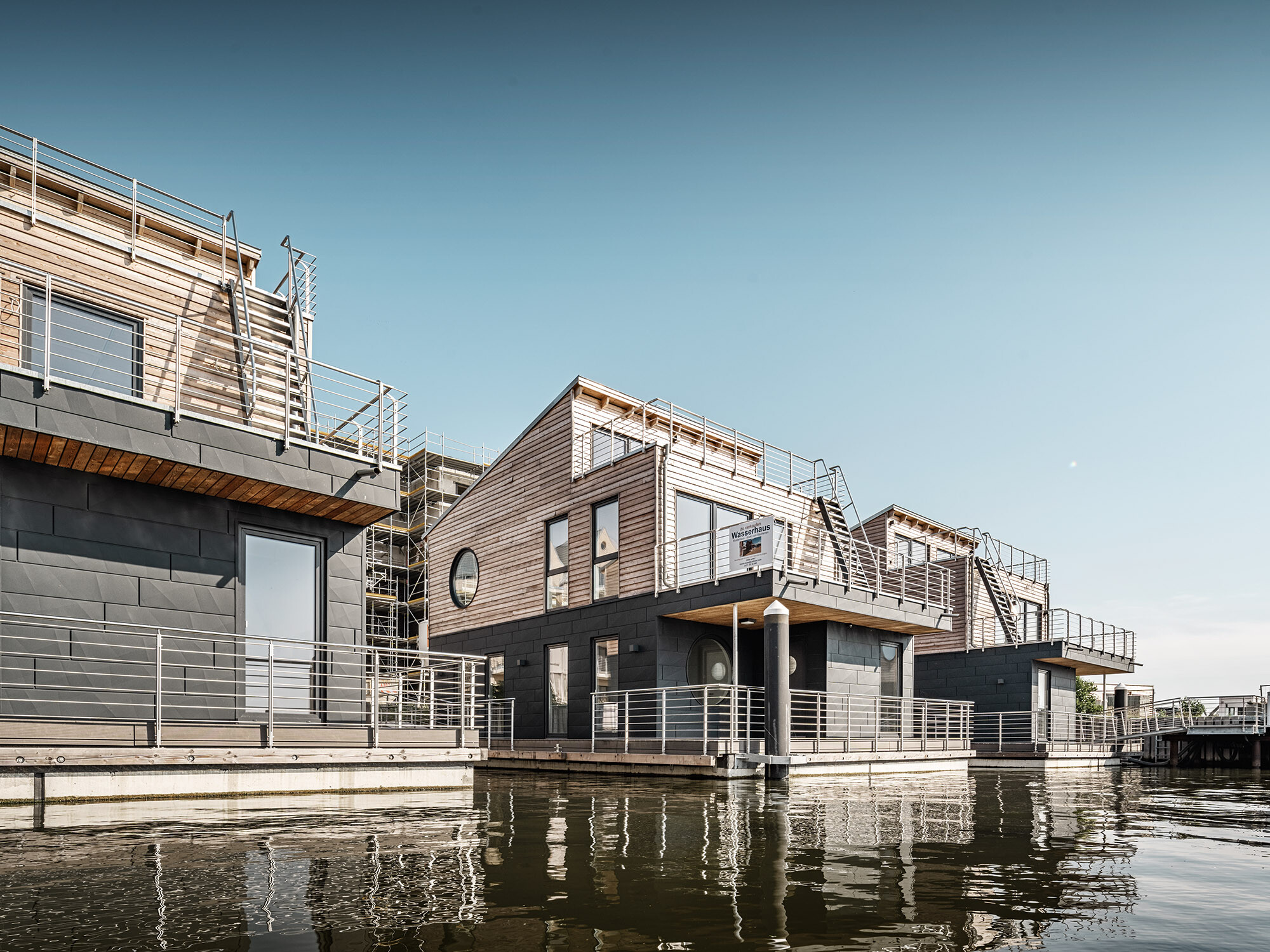 Partly light, partly solid
The little architectural highlights rest on their massive concrete pontoon with an incredible lightness in the harbour. They can be used all year round, but only as holiday flats. Considering their use, the features are top-notch. Two different types of flats can be rented that are connected to a fixed supply and disposal system and to the public district heating and fibre-optic network: with 3 rooms and a bathroom or 2 rooms, a bathroom and a sauna.
On top of their first floor, which is clad with aluminium sheets, Gunnar Dogs placed, at least visually, another floor that is structured with horizontal larch panels. Site manager Oliver Franke reveals that their "decision to use siding.X panels was inspired by a new block of flats located by a sanding line not far from the pioneer harbour building site where they were also used". He continues that with a few samples, they were able to convince the builder of its crinkled look and its harmony with the used wood.
With the design language of dogs architektur, the houses' closeness to the water is also expressed in their maritime flair; for example in the high-quality interior design or the likeable porthole windows. But despite all this idyll, there is the question of what happens if the water rises too high? "In the event of a storm surge, the floating houses may not be inhabited. We have taken appropriate precautions and adhered to the strict regulations. In an emergency, the water houses can float a maximum of 3 metres higher with minor damage." When Gunnar Dogs and Oliver Franke say this, they sound quite confident. But it would definitely be better if the Schlei remained below the edge of the pontoon.
Schwimmende Häuser in Schleswig - Details
| | |
| --- | --- |
| Country: | Germany |
| Object, location: | holiday homes, Schleswig |
| Category: | new construction |
| Architecture: | dogs architektur |
| Installer: | Marten Dethlefsen |
| Material: | |
| Colour: | P.10 anthracite |
Text & interview: Anneliese Heinisch
Photos: Martin Croce
Plan: dogs architektur